When the calendar flipped over to July, the Tampa Bay Rays stood in first place, with the best record in baseball. And yet, the four horsemen never showed. The seas didn't run red with the blood of their enemies. We didn't even get one sign, let alone seven.
A team without a single winning season in its history suddenly surging to the top of the baseball universe didn't signal a coming apocalypse. It was just surprising.
Or was it?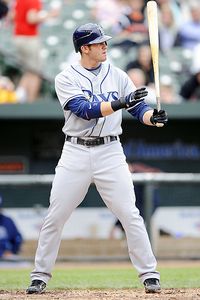 G Fiume/Getty Images
Rookie third baseman Evan Longoria leads the Rays in home runs and RBIs.
In addition to the Rays, five other teams have jumped from under-.500 records last season to contender status this year: the first-place White Sox, and the second-place A's, Marlins, Cardinals and Twins. Sure, none of those teams is on pace for a Rays-like improvement -- 66 wins in 2007 to a prorated 100 at their current pace. But all six have passed the season's halfway point having made big improvements from last year.
So what can we expect in the second half? Will these fast starters keep up their winning ways down to the wire? Or are these six teams merely riding fluky hot streaks, doomed to end their seasons in disappointment?
To better answer those questions, we combed through the past two decades, searching for teams that got off to hot starts immediately following a stretch of futility. We screened for teams that owned a sub-.500 record the year before. If said team was riding a streak of multiple losing seasons in a row, even better.
We found quite a few teams that started fast after long stretches of losing, only to flame out as the season went along. Most of the time, it takes teams at least two seasons -- and often more -- to turn a losing tradition into a date with October baseball. To name three examples:
• The 2005 Baltimore Orioles were coming off seven straight losing seasons. Under manager Davey Johnson, the O's had ripped off two straight playoff berths in 1996 and 1997. They then unceremoniously dumped their skipper, deciding that winning wasn't as important as having a manager who would take flak from the owner while intoning "Please sir, may I have some more." But in '05, Baltimore charged out of the gate, winning 26 of its first 39 games and 42 of its first 70. The Orioles stood in first place as late as June 23. But this was a team with multiple fatal flaws, not the least of which was a starting outfield of Larry Bigbie, Luis Matos and Sammy Sosa that's a contender for worst trio of the past quarter-century. Also, unlike this year's Rays, it was an old team, featuring the likes of 40-year-old Rafael Palmeiro, 40-year-old B.J. Surhoff, the 36-year-old Sosa, 34-year-old Javy Lopez and 33-year-old Melvin Mora. Predictably, this group fell off in the second half (or, in the case of Palmeiro, tested positive for steroids). The O's fell below .500 by the end of July and never recovered, ending the year in fourth place again at 74-88.
FROM LOSERS TO WINNERS
The Rays aren't the only team that suffered a losing season in 2007 only to have a strong first half:

Tampa Bay Rays
2007: 66-96, 5th in AL East
2008: 52-32, 1st in AL East
Keys: Rookie third baseman Evan Longoria, improved defense, better bullpen, trade for Matt Garza and Jason Bartlett, big first half from Eric Hinske

Chicago White Sox
2007: 72-90, 4th in AL Central
2008: 49-36, 1st in AL Central
Keys: Offense up from last in AL in runs to third, pitching up from 12th to first, Carlos Quentin having big year, young starters John Danks and Gavin Floyd have been excellent

Minnesota Twins
2007: 79-83, 3rd in AL Central
2008: 47-38, 2nd in AL Central
Keys: 14-4 record in interleague play, offense up from 12th in runs to fourth, Joe Mauer and Justin Morneau having better seasons, Alexi Casilla has 32 RBIs in 43 games

Oakland A's
2007: 76-86, 3rd in AL West
2008: 46-39, 2nd in AL West
Keys: Justin Duchscherer leads AL with 1.95 ERA, return of Rich Harden, Dana Eveland and Greg Smith have been solid, as pitching is second in AL in ERA

Florida Marlins
2007: 71-91, 5th in NL East
2008: 44-41, 2nd in NL East
Keys: Lead NL in home runs, MVP-type season from Dan Uggla, scrap-heap pickup Jorge Cantu has 15 HRs, Scott Olsen and Ricky Nolasco improved/healthy in rotation

St. Louis Cardinals
2007: 78-84, 3rd in NL Central
2008: 49-38, 2nd in NL Central
Keys: Monster first-half from Ryan Ludwick, trade for Troy Glaus, full-time duty from Rick Ankiel, surprising starts from Kyle Lohse (10-2, 3.67) and Todd Wellemeyer (7-3, 3.86)
• The 2003 Kansas City Royals were in even worse shape at the start of the 2003 season. They'd suffered through eight consecutive losing seasons, including an abysmal 62-100 record in 2002. They then shocked the baseball world by zooming to a 9-0 start, later racking up a 16-3 record and 5½-game lead in the AL Central. The Royals had made some moves that pointed to a possible change of direction, though not necessarily such a fast one. Tony Pena took over in his first full season as manager; Angel Berroa took the starting shortstop job and ran with it, going on to win rookie of the year honors; and scrap-heap find Darrell May had a solid year as the team's unlikely ace. Those contributions, added to incumbent stars like Carlos Beltran and Mike Sweeney, led to a big turnaround. The Royals eventually slowed down, going just 67-76 after their blistering start. Still, that was good enough for an 83-79 record and third-place finish. Sadly, it proved to be a fluke season, as the Royals traded Beltran in 2004, the pitching predictably imploded (May was the only pitcher to win 10 games in 2003), and the team lost 100-plus games in 2004, '05 and '06.
• For a while, it looked as though the 2002 Montreal Expos might deliver the biggest shocker in the history of baseball: a division title just before the franchise got contracted. The Expos owned the best record in baseball at the time of the 1994 strike, only to sell off their best players for pennies on the dollar before play resumed in 1995. After a surprise winning season in 1996, the Expos suffered five straight losing seasons, in the process shedding manager Felipe Alou for Frank Robinson, bringing in Omar Minaya as the GM and setting themselves up to be wards of the state. Shockingly, the team ran out to a 17-10 start in '02, grabbing an early lead in the NL East. After a rough May that saw the team fall back to .500, the Expos resumed their winning ways in June.
With Bud Selig and the lords of the realm targeting the team for contraction, Minaya figured he had nothing to lose. In what may go down as this generation's best collection of prospects traded in one deal, Minaya shipped Grady Sizemore, Cliff Lee and Brandon Phillips to Cleveland, part of a six-player trade that landed the Expos Bartolo Colon. Like the Mark Langston-Randy Johnson trade 13 years earlier, the Expos got a solid performance from a new staff ace in the deal while also giving up elite young talent. Also like the Langston-Johnson trade, the Colon deal and subsequent acquisition of Cliff Floyd didn't pan out the way the team hoped. The Expos went 24-31 in July and August, ending their playoff chances. A big September enabled the team to finish 83-79, but like the '03 Royals and '05 Orioles, the Expos simply didn't have the horses (beyond Vladimir Guerrero and Jose Vidro) to play into October.
Many other losing teams started fast, only to come up well short by season's end. In fact, a search of the past two decades revealed that few teams have followed long losing traditions with a fast start, then gone on to leverage that fast start into a playoff berth. We did find three fast starters that went on to play well all year long, though, transforming themselves from also-rans into playoff teams.
2007 Arizona Diamondbacks: 90-72, won NL West
Previous season's record: 76-86, fourth place
The D-backs came into '07 riding three straight losing seasons, including a 51-111 fiasco in 2004 that slammed the door on the Randy Johnson-Curt Schilling-Luis Gonzalez era that earned Arizona a World Series title in 2001.
Last season started auspiciously for the Snakes. They reeled off a 16-11 record in April, then followed up with a 16-12 mark in May. By June 1 they were 33-23, tied for first place. Over the next two months, Arizona played just .500 baseball. Thanks to the weakness of the rest of the division to that point, though, the D-backs actually widened their division lead to one game. A 31-23 record down the stretch allowed Arizona to hold off the hard-charging Rockies and win the West.
What was shocking was how the team pulled it off. The D-backs actually scored fewer runs than they allowed -- 712 for versus 732 against. Using the Bill James concept of Pythagorean (or expected) record, that translates to a mark of just 79-83, a full 11 games worse than Arizona's actual result. Simply put, the D-backs were a terrible offensive team. Playing in a ballpark that enhances offense by about 6 percent above league average, Arizona finished last in the NL in batting average (.250) and on-base percentage (.321). The D-backs succeeded largely because of pitching, defense and smart managing. Brandon Webb headed a starting rotation that led the league in complete games and shutouts, the staff as a whole finished fourth in NL ERA and the defense was ninth in MLB in defensive efficiency -- the percentage of balls in play turned into outs. Arizona racked up a sparking 32-20 record in one-run games as manager Bob Melvin successfully leveraged his best relievers for the toughest assignments, while letting the scrubs close out blowouts.
After a blistering start this year, Arizona has fallen back to .500, thanks largely to the same offensive problems. As great a job as the D-backs did in winning close games last season, it may well be that luck played as big a role as any other factor in leading their turnaround.
2006 Detroit Tigers: 95-67, won AL wild card, AL champs
Previous season's record: 71-91, fourth place
Remember the 1984 Tigers, the team that started the year 35-5 and all but locked up a playoff berth by Memorial Day? The 2006 Tigers weren't too far off that pace, ripping off a 55-25 start. Though the team played sub-.500 ball the rest of the way, that hardly matters when you're unbeatable in the first half.
Like the '07 D-backs, the '06 Tigers suffered through a historically bad season three years before engineering their turnaround -- in this case, a 43-119 travesty in 2003 that ranks as one of the worst seasons of all time. Unlike the Diamondbacks, who relied almost exclusively on young players acquired through their farm system and via trades, the Tigers blended homegrown talent with high-profile acquisitions in scratching their way back to the top.
Immediately after their 2003 fiasco, the Tigers somehow (cha-ching!) convinced Ivan Rodriguez to sign a long-term deal as the team's starting catcher. A year later, after the team improved by 29 games (finishing with a still lousy 72 wins), Detroit signed Magglio Ordonez to a long-term deal. Before the '06 season, the Tigers rolled the dice on over-40 lefty Kenny Rogers. All three gambles worked. Pudge showed he had plenty left in the tank, at an age where most catchers break down or peter out. Meanwhile, Ordonez staged an impressive recovery from major knee problems -- his best season actually came in 2007, a year after the Tigers' World Series run, when Maggs hit .363 and finished second in AL MVP voting. Rogers went 17-8 with a 3.84 ERA in '06, finishing fifth in Cy Young balloting.
The 2006 Tigers resembled the 2005 World Series champion White Sox in many ways. The offense was built on power hitting, especially from the right side: Four righty hitters socked 20 homers or more, while six hit 13 homers or more. The team finished fifth in the league in slugging average, but just 12th in on-base percentage. Also like the '05 White Sox, a balanced pitching staff led the way: The Tigers' 3.84 ERA topped the AL, with four starters logging ERAs of 4.08 or better and fire-breathing rookie Joel Zumaya anchoring a solid bullpen. This was a well-built, well-balanced team.
1999 Arizona Diamondbacks: 100-62, won NL West
Previous season's record: 65-97, fifth place
Arizona's dreadful 1998 result came in the team's expansion season, so with no time to develop their own prospects, the D-backs adopted a win-now approach in their second season. The plan worked like a charm. Expansion season free-agent signings Matt Williams and Jay Bell put up huge numbers in '99, with 38 and 35 home runs respectively. Luis Gonzalez, a milquetoast doubles hitter through the first eight years of his career, was acquired from Detroit and suddenly exploded for a .336-26-111 season. Thirty-four-year-old center fielder Steve Finley reached a career high in homers, matching his age. The crown jewel was big-ticket free agent Randy Johnson, who established career highs with 271 1/3 innings pitched and 364 strikeouts, taking home a Cy Young.
Riding those vets, Arizona jumped out to a 31-21 start through the end of May, claiming a 3½-game lead in the NL West. A losing record in June (12-14) briefly cast doubt. But the Snakes went a blistering 55-26 the rest of the way, running away with the division title. The team had no real weaknesses, leading the league in runs scored and finishing second in ERA.
Don't try this at home though, kids. Giving multiple lucrative, long-term contracts to aging players doesn't usually work. In fact, it often blows up in a team's face. When Arizona's expansion cousins in Tampa Bay tried to copy the D-backs' model by signing the likes of Greg Vaughn, Jose Canseco and Vinny Castilla, the team not only didn't get anywhere in the standings, but shackled itself with financial commitments that took years to unwind, in the process delaying a needed youth movement that's only now bearing fruit nearly a decade later.
A sample of three winning teams isn't what you'd call all that statistically significant. Still, some common themes do emerge. Turnaround teams, even those that eventually flame out, often make significant changes, be it handing playing time to top prospects, signing free agents or making aggressive trades. Like any winning team, a turnaround team can succeed in a number of ways, be it through great pitching, defense, hitting or healthy doses of all three. And as last year's Diamondbacks team demonstrated, a little luck doesn't hurt either.
So which of this season's six surprise fast starters look like the best bets to crack the postseason? The same two that currently lead their divisions. The Rays may not be able to hold off the loaded Red Sox, who'll get reinforcements in the form of David Ortiz and Clay Buchholz and possibly more via trade. But with lefty pitcher David Price, last year's No. 1 overall pick, waiting in the wings and Carl Crawford and Carlos Pena underachieving so far, the Rays should get their share of second-half help too. Add in what Baseball Prospectus calls the most improved defense of the past 50 years and a pitching staff that's reaped the benefits, and Tampa's a good bet to keep playing in October.
As good as the White Sox have been, they're actually playing at three games below their expected record. Monster breakouts by John Danks and Carlos Quentin have fueled the starting rotation and the offense respectively, while slow starts from Jim Thome, Nick Swisher and Paul Konerko offer hope for improvement even if the young guys start to trail off in the second half. Besides, who's going to catch the White Sox at this point? The Twins have been playing over their heads and don't figure to have the talent to keep up; the Tigers don't have the pitching to keep up with their scary offense; the Indians have enough talent if they get healthy, but they're unlikely to make up 12 games and four places in the standings.
The Marlins, A's, Cardinals and Twins look like longer shots, given their places in the standings and the tough competition they face. Still, you never know. Once in a while a team just turns the corner, faster than anyone would expect.
Fred Katz contributed to this article. Jonah Keri can be reached at jonahkeri@gmail.com.