Following our rundown of National League teams, we now look at the 14 American League teams. Again, instead of giving each team a letter grade, we're assigning each one a member of the 1984 Chicago Cubs, in honor of the Cubs' great first half this season.
CHAT WITH JONAH
Jonah Keri chatted about the first half of the baseball season, what to expect for the second half and all the All-Star Game festivities.
•
Chat wrap
For this portion of the article, we'll be eschewing "When Doves Cry" and firing up Van Halen's "Jump," which Cubs fans assure me was the 1984 team's unofficial theme song (although a Prince/Van Halen mash-up has serious potential).
AL EAST

Boston Red Sox (57-40): Scott Sanderson
Rick Sutcliffe won the Cy Young, Steve Trout led the staff in innings pitched and Dennis Eckersley's legacy lives on in the Hall of Fame. Yet Sanderson was a quiet but highly effective pitcher in his first season with the Cubs, posting a park-adjusted ERA 24 percent better than league average and allowing just five homers in 140 2/3 innings.
Meanwhile, the Sox are also lurking, battling the darling Rays for first place and well positioned for their fifth playoff berth in six seasons and a shot at a repeat. They've played well without David Ortiz, getting improved contributions from J.D. Drew, Dustin Pedroia and others. Clay Buchholz is up to solidify the starting rotation; if he doesn't pan out, the team can go back to Justin Masterson, or just trade one or more of their many prospects to upgrade as needed. It may be painful to hear for the many, many fans sick of the Boston love that's spread throughout the sports world, but there's no other way to say it: The Red Sox, right now, are baseball's model franchise.
Tampa Bay Rays (55-39): Ryne Sandberg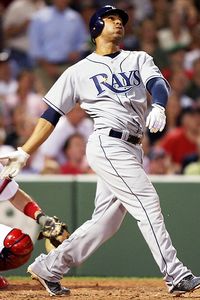 Elsa/Getty Images
If Carlos Pena starts mashing like he did in 2007, the Rays will be tough to beat in the East.
Sandberg went from a promising but slow-developing prospect to NL MVP in '84. His monster breakout season included a .314/.367/.520 line, 200 hits, 114 runs scored, 19 homers, 74 extra-base hits (19 triples!) and 32 steals. In today's game, we barely bat an eyelash when a Dan Uggla or a Chase Utley tops Sandberg's full-season home run total by the All-Star break. But back in '84, Ryno's numbers made him a giant among middle infielders, and a worthy MVP.
The Rays, full of youth and promise, earn the honor of having Sandberg as their representative. This past week's struggles have brought the Rays back to the pack a bit, but it's tough not to like this team's chances. Their defense has made one of the biggest year-over-year improvements in major league history. Scott Kazmir leads a strong starting rotation that's been bolstered by the offseason trade for young righty Matt Garza. The offense has improved as the season has gone on, with Carlos Pena now starting to hit and Rookie of the Year shoo-in Evan Longoria leading the team in most offensive categories despite starting the season in the minors. Tampa Bay also has a loaded farm system, giving the team a literal ace in the hole in former No. 1 draft pick David Price as well as the trade chits needed to acquire whatever additional help they need. The Rays should no longer be considered underdogs. If anything, it would be an upset if they didn't make the playoffs.
New York Yankees (50-45): Tim Stoddard
Stoddard lettered in both baseball and basketball at NC State, just like the Yankees' top pick in the 2007 draft, Andrew Brackman. But while Stoddard finished second in strikeouts for the '84 Cubs, Brackman is one of several highly touted pitching prospects who've been no help to the Yankees this year. That's a shame, because the team has played better lately in moving to within six games of first place, fueled by resurgent seasons from 30-somethings Jason Giambi, Johnny Damon and Mike Mussina. With Phil Hughes and Ian Kennedy failing to contribute and Chien-Ming Wang's injury forcing knighted Arubans into the rotation, the Bombers could use some pitching help. Whatever happens the rest of 2008, an influx of under-30 hitters is a must for the Yanks to keep up with Tampa Bay and Boston beyond this season.
Toronto Blue Jays (47-48): Mel Hall
Hall was a promising player whose career never lived up to the promise shown by his rookie season, in which he hit .283/.352/.488 and finished third in Rookie of the Year voting. His life went downhill after his playing days, and Hall now faces trial on sexual assault charges, which could carry a possible life sentence. You also have to wonder what will become of the Jays this offseason. GM J.P. Ricciardi's plan never panned out. First, the Jays lacked the pitching to complement a strong offense. Then after finally building a championship-caliber rotation, the offense tanked (only Kansas City and the hopeless Mariners have scored fewer runs among AL teams). The problems go beyond on-field results, to the Frank Thomas blow-up resulting in Ricciardi dumping one of the team's few power threats, to A.J. Burnett tipping his cap to fans booing him off the field after one of several disastrous starts.
Will Ricciardi now do the right thing for the franchise, trading Burnett and other veterans for young players who could realistically be part of a future playoff team? The Jays are taking a big risk in leaving Ricciardi in charge of decisions that probably won't bear fruit until he's long gone -- or maybe, ever.
Baltimore Orioles (45-48): Rich Bordi
Bordi was the last player signed by maverick Oakland Athletics owner Charlie Finley, marking the end of one of baseball's most tumultuous eras. The Erik Bedard trade also signaled the end of an era for the O's. With Peter Angelos overruling a string of hapless GMs, the Orioles wasted far too much money on aging talent, waiting nearly a decade too long to start an honest rebuilding effort. Under Andy MacPhail, they're finally rebuilding through the draft, player development and well-placed trades for young talent. In Nick Markakis, Adam Jones and up-and-coming catcher Matt Wieters (maybe the best prospect in baseball), Baltimore has the nucleus of an upper-tier offense. There's enough young pitching coming up through the minors to offer future hope too. Aubrey Huff's out-of-nowhere monster first half adds another trade chit for MacPhail to shop in the next two weeks, along with closer George Sherrill and others. If the O's can get half the bounty they got for Bedard in trading their next round of veterans, they could become relevant very quickly.
AL CENTRAL

Chicago White Sox (54-40): Jody Davis
Davis was a solid player in his prime in '84, one who fared even better in the postseason, hitting .389 with two homers and slugging .833 in the NLCS. With apologies to ESPN.com's latest Power Rankings, the White Sox aren't quite the best team in baseball -- unless these are in fact the Max Power Rankings.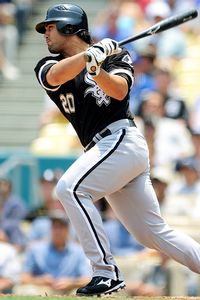 Matt A. Brown/Icon SMI
The White Sox got Carlos Quentin from Arizona in the offseason. Think Arizona would like a re-do?
But what the South Siders do have is a team that could be tough to beat in the playoffs. John Danks' dominant stretch of 18 starts (adjusted ERA 62 percent better than league average), combined with his pedigree as a top pitching prospect, go a long way toward justifying his status as a front-line starter. Combined with veteran lefty Mark Buehrle, the Pale Hose can match up well with most teams in the postseason, even if Jose Contreras and Gavin Floyd regress after their fast starts and Javier Vazquez continues to be a pitching tease.
The offense has finally caught up to the pitching, with Jermaine Dye and Jim Thome back in vintage form, rookie Alexei Ramirez taking the second base job and running with it, and Paul Konerko working his way back into the lineup. Like the Rays, the White Sox have also benefited from a vastly improved defense: Opponents are hitting .292 on balls in play against the Sox, down from .311 last season. With the Indians bottoming out, the Tigers still pitching-deprived and the Twins seemingly winning by voodoo, the Sox have a great chance to test their postseason mettle.
Minnesota Twins (53-42): Steve Trout
Trout was another in the long list of characters (Jay Johnstone, Ron Cey, Richie Hebner) who manned the Cubs' '84 roster. It wasn't just clever marketing that led him to release a 2002 book about himself and dad Dizzy Trout entitled, "Home Plate: The Journey of the Most Flamboyant Father and Son Pitching Combination in Major League History." Trout was a soft-tosser who struck out less than four batters per nine innings in his career, with barely more K's than walks allowed. However he did it, Trout somehow found success: His 13-7 record in '84 was a career best, his 3.41 ERA the second-best mark of his career.
In breaking down baseball's surprising fast starters (the Rays, White Sox, Twins, A's, Marlins and Cardinals), the Twins may be the unlikeliest of all. Riding a recent hot streak, including a 10-game win streak in late June, the Twins are now right on the White Sox's heels. That's despite a plus-16 run differential that's 67 runs worse than Chicago's. Kansas City Star columnist and blogger extraordinaire Joe Posnanski loves to credit Twins manager Ron Gardenhire for the team's ability to beat expectations. ESPN's own Rob Neyer takes a more skeptical view, arguing that the Twins owe their success largely to abnormally good numbers in clutch situations, numbers that are likely to regress back toward the mean as the season progresses and eventually sink Minnesota's playoff hopes.
It may be that both Posnanski and Neyer are right: Gardenhire does have a track record of success managing some flawed Twins teams as Posnanski posits, and it's also tough to see the Twins continuing to remain at or near the league lead in hitting with runners in scoring position, and with runners on and in close and late situations, if they remain middle of the pack or worse overall in getting on base and slugging percentage. Whatever the case, the Twins are where they are: breathing down the White Sox's necks, with Francisco Liriano about to be promoted and looking ready to dominate again. At the moment, the Piranhas aren't going away.
Detroit Tigers (47-47): Jim Frey
Frey was a feast or famine as a manager, with two division-winning teams totaling 193 victories (including a Manager of the Year award in '84) and three other seasons in which his teams finished below .500. But Frey's biggest gaffe came later, as a GM. A 1988 trade of Rafael Palmeiro and Jamie Moyer for a package that included Mitch Williams helped the Cubs rally to another division title in 1989. But Williams struggled in 1990, got traded to the Phillies and was Joe Carter-ized three years later. Meanwhile, Palmeiro and Moyer went on to huge success, with Moyer still affecting a pennant race 20 years later.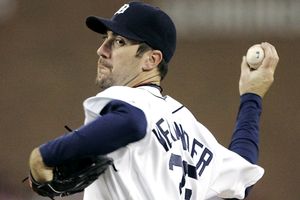 AP Photo/Duane Burleson
After a slow start, Justin Verlander is pitching better. But is too late for Detroit?
The Tigers' roster is a mixed bag in its own right, one that may be as fatally flawed as the Mitch Williams deal. The 1,000-run offense that optimists expected may miss that mark by 200 runs, as Gary Sheffield is on his last legs and Edgar Renteria has morphed into Argenis Salazar's evil twin. The starting pitching has been awful, with only one rotation member -- rookie Armando Galarraga -- posting a better-than-average ERA. The bullpen has had a few pleasant surprises, but whether or not Joel Zumaya and Fernando Rodney can regain their old form is an open question. There are some slivers of hope: Justin Verlander's finally started earning his keep and unheralded rookies like Matt Joyce have opened some eyes. But it would take a Rockies '07-style second-half surge for the Tigers to play October baseball.
Kansas City Royals (43-53): Davey Lopes
Yes, Davey Lopes was on the '84 Cubs for a short time, acquired at the Aug. 31 deadline, given 17 at-bats, then a surprise spot on the playoff roster at age 39. Lopes didn't follow the typical baseball player's aging pattern either, posting above-average adjusted OPS figures in each of his final five seasons before retiring at age 42.
Some similarly surprising notes about the Royals:
• Zack Greinke's officially an ace starting pitcher (ninth in the AL in IP, eighth in K's, 11th in ERA).
• David DeJesus has become an upper-echelon center fielder (fourth in OPS, second in average, among AL CFs).
• Joakim Soria might be the best closer in the game today not named Mariano Rivera (46 K's, just 22 hits and nine walks allowed in 43 innings).
• Tony Pena Jr. could've challenged for the title of worst offensive season in the history of MLB (.155/.176/.204).
The first three story lines are great signs for the Royals' hopes in the next few years. Even the Pena saga may have a happy ending: Since being rescued from minor league purgatory at the end of May, 27-year-old rookie Mike Aviles has hit .310 and slugged .486 as the Royals' new shortstop. Kansas City still has a long way to go, with top prospects like Alex Gordon, Luke Hochevar and Billy Butler trying to catch up to expectations, and plenty of roster holes to fill. But when you're the Royals, it's all about baby steps.
Cleveland Indians (41-53): Bill Buckner
Buckner played a forgettable 21 games with the Cubs in '84, hitting just .209/.239/.209. Traded to the Red Sox, Buckner fetched Dennis Eckersley, giving the Cubbies a vital piece to their playoff run in exchange for what appeared to be a washed-up benchwarmer.
The Indians have already started the process of moving past what's been a forgettable 2008 campaign. While some critics have wondered if the Tribe could've fetched more than minor league slugger Matt LaPorta and change for CC Sabathia, six years of LaPorta under team control still could be huge, coming in exchange for three months of Sabathia in a lost season. There's plenty more work to be done: The Indians might need to upgrade at four or more positions, with Travis Hafner's health a huge question mark and Ryan Garko, Asdrubal Cabrera and Franklin Gutierrez flopping in spectacular fashion. Tribe fans can only hope the reloading process doesn't go the Buckner route: a reversal of fortune, followed by much bigger heartbreak.
AL WEST

Los Angeles Angels of Anaheim (57-38): Leon Durham
Durham was the unheralded second banana on the '84 Cubs offense, earning a few top-10 MVP votes of his own with a .279/.369/.505 season. The Angels have also flown under the radar a bit this year, even though they're odds-on favorites for a fourth division title in five years and fifth playoff berth in seven years.
Give a ton of credit to the starting rotation, whose collective 3.75 ERA ranks second in MLB. John Lackey has been outstanding in his return from injury, while Joe Saunders and Ervin Santana have carried the load all year, with Lackey missing a big chunk of time and Kelvim Escobar out for the year. But save some scorn for the offense, just 11th in runs, 11th in average, 12th in OBP and 10th in slugging among AL teams. The Angels figured to win the West before the Rich Harden trade. But you can't help but look at this team and wonder if, yet again, they're one big bat away from being true championship contenders. Actually, you could say the same thing about every Angels team since 2002. Here's another team that should be bombarding the Reds with trade offers for Adam Dunn.
Oakland Athletics (51-44): Dennis Eckersley
Eckersley enjoyed another solid season as a starter in '84, going 10-8 with a 3.03 ERA. But the best was yet to come, as Eck would go on to become one of the most dominant relievers ever. The A's could be on same path, after Billy Beane's deft, on-the-fly rebuilding job landed 2008 contributors Greg Smith, Dana Eveland and Ryan Sweeney, not to mention the main targets of those trades: outfielder Carlos Gonzalez and pitching prospects Gio Gonzalez and Fautino De Los Santos. You can now add intriguing 22-year-old righty Sean Gallagher to the list, as well as Eric Patterson, Matt Murton and Josh Donaldson, the bounty received for Harden and Chad Gaudin. To paraphrase Neyer again, the A's now have the best collection of young pitching talent in the game.
Now here's the fun part. What happens if the A's stay in the race, or even draw closer to the Angels, in the next couple of weeks? Gallagher tossed a seven-inning, seven-strikeout, two-hit masterpiece in his first start with Oakland, while Murton knocked in a pair of runs in the same game. Murton could upgrade a weak-hitting outfield, while Gallagher could thrive given the best-in-baseball defense that's helped Justin Duchscherer and company excel. Bobby Crosby should soon return from the DL, with Frank Thomas and possibly Eric Chavez not far behind. Could the A's end up buyers and sellers all at once, the way they were in 1999? Could that kind of strategy net the same results as last time, when the A's made the playoffs in each of the following four years? All things are possible under Beane (and the supremely underrated David Forst).
Texas Rangers (50-46): Rick Reuschel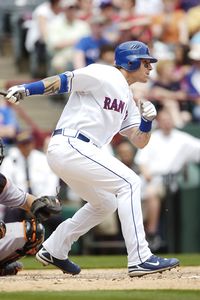 John Williamson/Getty Images
Josh Hamilton will start for the AL in the All-Star Game after hitting .310 with 95 RBIs before the break.
You can't mess with Texas anymore, not after the Rangers added Josh Hamilton and Milton Bradley, two mercurial players who are also MVP candidates this season. Add rising star Ian Kinsler and a slew of strong contributions from role players and you get the highest-scoring offense in the game, a status only slightly mitigated by the Mashpark at Arlington. Of course you can't explain away the Rangers' 27th-ranked team ERA just by pointing to its home park, either. The starting rotation remains as Swiss cheesy as ever, and the bullpen took a step back after a terrific 2007. The Rangers have some pieces they can build around. It's a shame they had to give up the great Edinson Volquez to get Hamilton, though.
You couldn't mess with Reuschel either. Larry Bowa, Reuschel's teammate on the '84 Cubs and opponent for many years beforehand, tells a great story about the big righty. Playing for the Phillies one series in the late '70s, Bowa's team got smoked by the Expos in Montreal. Bowa told Montreal reporters he didn't mind, because the Phillies would be traveling to Chicago, where they'd beat up on a lousy Cubs team -- and by extension, Reuschel. The first time Bowa stepped to the plate, Reuschel drilled him in the ribs. Bowa swore at Reuschel as he hobbled down to first, while Reuschel stayed silent. Leading off first base, Bowa shouted to Reuschel that he was going to steal second. Reuschel quickly picked him off. Later in the game, Reuschel singled with one out. Bowa told his double play partner Dave Cash that if a grounder comes his way, send him a good toss and he'll bean Reuschel in the forehead on the throw to first. Sure enough, the next batter hit a perfect double play grounder to Cash. But the Phillies' second baseman juggled the ball before flipping it to Bowa. The bobble gave Reuschel extra time, which he used to slide high into second, spiking Bowa (Reuschel outweighed him by 80 pounds), unleashing a pool of blood and forcing Bowa to leave the game. Back in the dugout, Bowa waved a white towel of surrender in Reuschel's direction. Reuschel quietly tipped his cap, thanking Bowa for the tribute.
Seattle Mariners (37-58): Henry Cotto
Cotto was a former Cub, Yankee, Mariner and Marlin who was in the first season of a lousy, and surprisingly long, 10-year career. He was a typical Seattle player during the late '80s and early '90s, playing on teams that finished a combined 67 games under .500 in the six years he spent with the M's.
This year's Mariners have looked so bad at times, you might wonder if they'll finish 67 games under .500 this year alone. Richie Sexson was so unspeakably bad that the team benched him, then released him, in favor of Miguel Cairo. Jose Vidro is threatening to become the worst designated hitter in the history of the known universe. The bloated three-year contract ownership made GM Bill Bavasi give to offensive sieve Kenji Johjima just before Bavasi walked the plank was a slap in the face to fans who will keep on giving into the next decade. Bedard could be traded in the next couple of weeks, but he may not fetch half as much as the Mariners gave up to get him. The M's may as well run Ichiro, Felix Hernandez, Adrian Beltre, Brandon Morrow and Jeff Clement out there, then invite fans to apply for the remaining 20 roster spots.
But hey, have you tried the Ichiroll? That's good eatin'.
Jonah Keri can be reached at jonahkeri@gmail.com.