MVP voters often work backward when making their choices.
First, they look at the four teams that made the playoffs from each league. Then, they attempt to figure out how they got to the postseason, and which player was most responsible for that success. If a player puts up big numbers in one category -- say, a .350 batting average, 50 homers or 150 RBIs -- his chances of winning are even better.
If the Angels win the AL West and K-Rod rings up 60 saves, voters might have a difficult time going through the nuanced process of figuring out:
• If the contributions of Angels teammates Ervin Santana and Joe Saunders are more valuable to the team (they are).
• If the Twins' Justin Morneau and the Red Sox's Jon Lester helped their teams more than K-Rod helped his, should Minnesota and Boston get into the playoffs (at this pace, they would).
• Or if Josh Hamilton's monstrous stats, Grady Sizemore's overall excellence and the work of a dozen other AL players on nonplayoff teams deserve more votes than K-Rod.
That confusion wouldn't be a surprise, given the many wrongheaded MVP votes we've seen in the past. Here are a few of our favorites:
The head-scratchers of '87

AL 1987: George Bell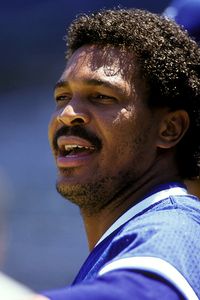 Mitchell Layton/Getty Images
George Bell won the 1987 AL MVP, even though Alan Trammell had a comparable OPS and played a much larger role defensively.
Voters are usually so eager to pick an MVP winner from a playoff team that it's memorable when they don't. In 1987, they passed over playoff-bound players in both leagues. Picking George Bell in the American League was weird enough. The Blue Jays left fielder had a great season, hitting .308/.352/.605 with 47 homers and 134 RBIs in what was widely considered a juiced-ball year. But Alan Trammell played Gold Glove-level defense at an up-the-middle position (shortstop) on a division-winning team (the 98-64 Tigers), while putting up huge numbers of his own (.343/.402/.551, 28 HR, 105 RBIs, 109 R, 21 SB/2 CS). In any other year he'd be a near-lock -- just not in '87.
NL 1987: Andre Dawson
But the AL vote was nowhere near as puzzling as what transpired in the National League. Andre Dawson led the NL in homers (49) and RBIs (137) that season, his first with the Cubs, after baseball's owners colluded so egregiously that Dawson walked into the Cubs' spring training camp and begged them to sign him for any amount they deemed fit. It was a great story of redemption for a great player and one of baseball's class acts. It was also a terrible MVP choice. Those who believed an MVP should come from a playoff team (or at least a contender) were shocked that Dawson won while playing for the last-place Cubs. Meanwhile, the stat-head community at the time (which consisted of Bill James, Pete Palmer and crickets) couldn't understand how an all-or-nothing power hitter like Dawson (.328 OBP), could beat fellow collusion-victim Tim Raines (.330/.429/.526, 50 SB), as well as Tony Gwynn (.370/.447/.511, 56 SB), Eric Davis (.293/.399/.593, 37 HR, 120 RBIs, 50 SB) and Jack Clark (.286/.459/.587 for the first-place Cardinals).
Wills steals one … literally

NL 1962: Maury Wills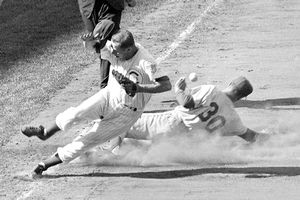 AP Photo
Maury Wills dazzled with 104 stolen bases in 1962, but his slugging percentage was a meager .373.
When Maury Wills stole 104 bases in 1962, it marked the start of an exciting new era of base stealing in baseball. Apparently voters equated "exciting" with "most valuable" that year. Wills was an otherwise unremarkable player, slugging .373 and posting an adjusted OPS figure that was exactly league average. Meanwhile, Willie Mays hit .304 with 49 homers and 144 RBIs and played breathtaking defense in center field. Plus, the Giants actually beat the Dodgers that year for the pennant. This may be the weirdest MVP pick of all time.
Juan Gone steals two

AL 1996 and '98: Juan Gonzalez
Voters have found so many excuses to deny Alex Rodriguez the MVP award, we've lost count. Later in his career, they'd penalize him for having lousy teammates, possibly even docking points for playing in a great hitter's park, too. In 1996, A-Rod enjoyed a season for the ages, hitting .358/.414/.631 with 36 homers and 123 RBIs while flashing a great glove at short. But Juan Gonzalez was deemed the better choice that year, despite missing 28 games, posting a batting average 44 points lower and an OBP 46 points lower, playing in a superior hitter's park and offering no defensive value. But hey, more homers, more RBIs, winning team. Plus A-Rod just turned 21 that year. Pay your dues, young man; then we'll think about voting for you.
In '98 you could've made a case for A-Rod again over Gonzalez. Albert Belle, Nomar Garciaparra, Ken Griffey Jr., Derek Jeter, Bernie Williams, Mo Vaughn, Edgar Martinez, Roger Clemens and Pedro Martinez were probably better choices, too.
A-Rod gets snubbed again …

AL 2001: Ichiro Suzuki
Ichiro was a phenomenon in his rookie season, hitting .350, stealing 56 bases and playing a brand of spectacular defense that took the league by storm. Of course, if the Mariners didn't win 116 games that year, the award would've likely gone to Jason Giambi (.342/.477/.660, 38 HR, 120 RBIs), A-Rod (.318/.399/.622, 52 HR, 135 RBIs -- from a shortstop), Roberto Alomar or Juan Gonzalez. So thanks, Bret Boone, Edgar Martinez, Mike Cameron, John Olerud, Freddy Garcia and Jamie Moyer, for winning the 2001 MVP award for Ichiro.
… and again …

AL 2002: Miguel Tejada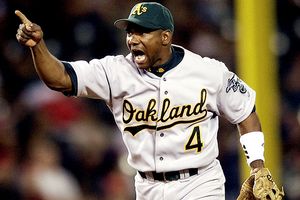 AP Photo/Kevork Djansezian
Miguel Tejada won the 2002 AL MVP over A-Rod despite clearly inferior OPS and home run marks.
Playing on a team that won 102 games and the wild card while posting vastly superior numbers wasn't enough for Jason Giambi to beat Ichiro in 2001. But win 103 games and throw in a 20-game second-half winning streak? Plenty good enough for Miguel Tejada (.304/.354/.508, 34 HR, 131 RBIs). A-Rod hit .300/.392/.623 that year with 57 homers and 142 RBIs while playing the same position. We'd like to think that MVP voters may have done some deep analysis in picking the 2002 AL MVP. But apparently they were just mad at Alex because the Rangers' pitching stunk that year.
At least he was in the top five … on his own team.

NL 1979: Willie Stargell
Stargell shared the award that year with Keith Hernandez. But the Cardinals first baseman actually deserved the honor, hitting .344 with a .930 OPS and sparkling defense, at a time when such numbers were huge. Meanwhile, Stargell missed 36 games that year, hit .281, drove in just 82 runs, scored just 60 and finished fifth in VORP (Value Over Replacement Player) … on his own team. No wonder the Pirates were the "We Are Family" team that year. Stargell's relatives probably cast the MVP votes.
More Pirates shenanigans

NL 1960: Dick Groat
As biased as voters are today toward players whose teams make the playoffs, some of the picks from the days before expansion defy belief. The Pirates' two best players in their World Series-winning year of 1960 were Bob Friend (275 IP, 18-12, 3.00 ERA, 16 complete games) and Vern Law (271 IP, 20-9, 3.08 ERA, 18 complete games). But voters weren't going to pick a pitcher. The top five in VORP that year were all no-name players -- some dudes named Ernie Banks, Willie Mays, Eddie Mathews, Frank Robinson and Hank Aaron. Meanwhile, Groat hit .325 that year -- while playing in just 138 games and hitting two homers.
Jovial trumps serious

NL 1998: Sammy Sosa
We're cynical about it now, but when Mark McGwire and Sammy Sosa chased down, caught and passed Roger Maris' single-season home run record in 1998, it was one of the most enjoyable summers baseball had ever seen. In the end, McGwire beat Sosa in a head-to-head matchup: 70 homers to Sosa's 66, not to mention an OPS almost 200 points higher. Unfortunately, McGwire made the mistake of playing with Royce Clayton and Manny Aybar, while Sosa teamed with Mark Grace and Rookie of the Year Kerry Wood.
Fred Katz and Warren Margolies contributed research for this article.
Jonah Keri is a regular contributor to Page 2 and the editor and co-author of "Baseball Between the Numbers". You can contact him at jonahkeri@gmail.com.