In January 2001, Google was just a baby, with a mere 1.3 billion Web pages waiting to be perused. To celebrate its 10th anniversary, the Internet search juggernaut has brought back its oldest available index.
You know what that means: Time to find out how wrong we all were! Baseball, basketball, football, the economy … going back in time helps remind us how unpredictable sports are, and always will be. Life too, for that matter.
With a hat tip to the backward-looking forward thinkers at Baseball Think Factory, here are some of our favorite search terms from January 2001. Feel free to punch in your own here.
"Tampa Bay Devil Rays contraction"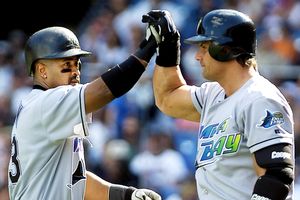 AP Photo/Ed Betz
Who in their right mind would want to contract
a team with Greg Vaughn and Jose Canseco?
One of Bud Selig's most despicable gambits involved a short-lived, ill-fated plan to kill off two major league teams and disperse their players to the four corners of the earth. At least four teams were mentioned as contraction candidates: the Montreal Expos, Minnesota Twins, Florida Marlins and the formerly underworld-dwelling Tampa Bay Devil Rays.
Choice headline: "Contraction!"
Result: The Twins went on to win four division titles in the next six seasons, and the Marlins won their second World Series. As for the Rays … these lads just might have a future.
"St. Louis Rams Greatest Show on Turf"
The nickname hadn't quite caught on yet for the Rams, even a full year after winning their first Super Bowl. Still, the team took on the less-clever title of "Greatest Show on Earth," with Kurt Warner leading a fast-paced attack under offensive guru Mike Martz. Though the defensive-minded Ravens rose up to win Super Bowl XXXV, the prevailing thought was that the Rams' unstoppable offense would win it all again -- maybe multiple times.
Choice headline: "Rams Don't Plan To Be One-Season Wonders"
Result: Martz took over for Dick Vermeil in 2000, guiding the Rams back to the Super Bowl the following season, this time against the Patriots. The Rams were knocked off their perch by a 14-point underdog. Today they're battling for the coveted title of most objectionable football team in Missouri.
The Bombers had won four World Series in the past five years at that point. With a veteran core of Derek Jeter, Bernie Williams, Jorge Posada and Mariano Rivera, the Yankees were expected by smitten experts to win even more championships. The signing of Mike Mussina a few weeks after the 2000 win only cemented the Yanks' dynasty status in the eyes of the media.
Choice headline: "Yankees Dynasty Might Have Even Brighter Future"
Result: The Yankees went on to add Jason Giambi, Bobby Abreu, Randy Johnson, Alex Rodriguez … pretty much every big-name player in existence. Eight seasons later, they're still looking for their next ring.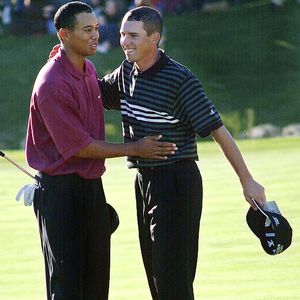 AP Photo/Ben Margot
In 2001, Tiger Woods vs. Sergio Garcia seemed like the rivalry to sink our teeth into for years to come.
Not content with one legitimate young superstar in Tiger Woods, the golf world tried to manufacture another with Spanish sensation Sergio Garcia. Garcia would inevitably join Tiger at the top of the sport, the pundits raved, winning fistfuls of majors and forging one of the greatest rivalries in sports.
Choice headline: "Microsoft Teams Up With Sergio Garcia, Golf's Newest Superstar, To Bring Sports Into the 21st Century Via Links and the Internet"
Result: Garcia has had some success: seven PGA Tour wins, six European Tour wins and several top-five finishes in majors. Still, the notion that Garcia would become a fierce rival of Tiger's seems preposterous now. Garcia is still searching for his first major win. Tiger has won nine since January 2001.
Did you own a house eight years ago? Was said house in Florida, or Vegas, or one of those booming suburban subdivisions dominating California? If so, you, my friend, were in boomtown.
Choice headline: "Housing Boom in Effect, Study Shows"
Result: Oy.
"USC football Pete Carroll fourth choice"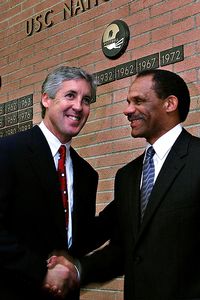 AP Photo/Reed Saxon
Pete Carroll might not have been Mike Garrett's first choice, but things have turned out OK for USC.
USC athletic director Mike Garrett's top choice for the job was then-Oregon State coach Dennis Erickson. But Erickson reportedly turned down a five-year, $7.2 million contract offer to stay in Corvallis. After two other potential candidates -- Mike Bellotti and Mike Riley -- didn't work out, Garrett finally settled for his consolation to the consolation to the consolation prize, Pete Carroll.
Choice headline: "USC Hires Pete Carroll to Lead Football Squad"
Result: Under Carroll, the Trojans have won six consecutive Pac-10 titles and two national championships (sort of). USC has also crowned three Heisman Trophy winners during that time. The Trojans were seen as favorites to win another national championship this season -- until Oregon State, coached by Riley, knocked off USC in Corvallis.
This was a thoroughly fruitless search. We have a few scattered message-board posts, a voice in the wilderness in veteran sportswriter Dave Kindred, and a bunch of stuff about the immortal Manny Alexander getting busted. People were buzzing a bit over Mark McGwire taking andro, a substance that was perfectly legal at the time. Other than that, there was little to no talk of any baseball player not named Manny Alexander being suspected of steroid use.
Choice headline: "Steroids found in Red Sox infielder's car"
Result: Bonds, Clemens, Giambi, Canseco, Palmeiro, congressional hearings, the Mitchell report, "Juiced," the media feeling duped, fans feeling duped because no one bothered to look, etc.
Vancouver was, and still is, considered one of the best places to live in the world: a beautiful, cosmopolitan city with a vibrant nightlife and a picturesque skyline. But to Steve Francis and most other NBA malcontents, it may as well have been Siberia. The combination of incompetent management and the team's inability to bring top talent to British Columbia created some of the sorriest basketball ever seen in the NBA.
Choice headline: "Grizzlies lose 26th straight road game"
Result: Major progress since then: The Grizzlies continue to play some of the sorriest basketball ever seen in the NBA. Only now they do so in Memphis.
Jonah Keri is a regular contributor to Page 2 and the editor and co-author of "Baseball Between the Numbers". You can contact him at jonahkeri@gmail.com.