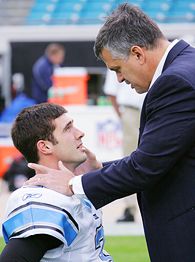 David Drapkin/Getty Images
Matt Millen is the gold standard for incompetence by which other general managers are measured.
1. Matt Millen, Detroit Lions:
• The Lions went 24-72 in Millen's first six seasons as team president, CEO and de facto GM.
• Four years into that tenure, owner William Clay Ford was impressed enough to give Millen a five-year contract extension.
• Has drafted 5,720 wide receivers in the first round of the NFL draft, a record that will never be broken.
• The "Fire Millen" slogan has become a phenomenon in Michigan and elsewhere. "Fire Millen" chants, signs and T-shirts have shown up at Lions, Red Wings, Pistons, Michigan and Michigan State games, at WrestleMania, even as far away as Kansas and Alabama. A Detroit radio station organized the "Millen Man March" after Millen's contract extension was announced in December 2005. Fans of rival teams have been seen holding up signs that say "Keep Millen."
2. Scott Layden, New York Knicks: Signed Latrell Sprewell to a $62 million contract just as his off-court issues were peaking; signed Allan Houston for at least $25 million more than anyone else was offering, then watched injuries end Houston's career; took on a litany of terrible contracts from other teams, from Howard Eisley to Keith Van Horn; dealt away first-round draft picks every chance he could get. OK, that last criticism isn't fair. Layden would've just drafted Maciej Lampe's extended family if he had more picks at his disposal.
3. Billy King, Philadelphia 76ers: Bill Simmons' Atrocious GM Summit article nicely sums up the bumblings of King (and other NBA GMs). Here's what King said at the summit: "Since we made the 2001 Finals, I gave Mutombo a $68 million extension even though he could have been, like, 48 years old for all we knew. I gave $35.5 million to Aaron McKie. I gave $29 million to Eric Snow. I gave $18 million to Greg Buckner. I gave $40 million to Kenny Thomas and $25 million to Brian Skinner. I gave $25 million to Kyle Korver and $60 million to Sam Dalembert last summer. That's $300 million of contracts to guys who were either on the decline or never that good in the first place. Plus, I traded for other bad contracts, guys like Keith Van Horn, Glenn Robinson, Kevin Ollie, you name it. And then, last February, the pinnacle -- dumping three bad contracts for C-Webb, who everyone thought couldn't be traded because of his contract and because he ran with a limp."
Remember, all that was before King traded Allen Iverson for 55 cents on the dollar. He's an absolute maestro.
4. M. Donald Grant, New York Mets: Part of the old guard that still saw players as indentured servants, Grant refused to pay anything close to market value for top talent, preferring to trade away the team's most expensive players. That led to the infamous trade of Tom Seaver, an event which still drives many longtime Mets fans nuts. Don't forget Grant's including Nolan Ryan in a package deal for Jim Fregosi in 1971, one of the most lopsided trades ever made in any sport.
5. Kevin Malone, Montreal Expos and Los Angeles Dodgers: Best known for his antics in L.A., which included announcing himself as the "new sheriff in town" upon his 1998 hiring, giving disastrously huge contracts to Kevin Brown and Darren Dreifort, and getting into a argument with a Padres fan. Malone also unfairly took much of the blame for the Expos' 1995 fire sale, trading away or waving goodbye to Larry Walker, Marquis Grissom, John Wetteland and Ken Hill for little or nothing in return, after ownership gave him less than a week to sell off the team's high-priced talent.
6. Rob Babcock, Toronto Raptors: When Vince Carter told Raptors management he was either going to tank or not play at all until he was traded out of town, Babcock could've told Carter to shove it. Instead, he pulled off one of the worst trades in decades, acquiring three useless players/big contracts in Alonzo Mourning (who also refused to play for Toronto, got shipped to Miami and miraculously became an impact player again), Aaron and Eric Williams (both of whom barely played before being traded again) and a pair of draft picks. Free to actually try for his new team, Carter went back to being one of the league's most prolific scorers. Babcock's prior pick of Rafael Araujo, No. 8 overall in 2004, was just the icing on the cake.
7. Mitch Kupchak, Los Angeles Lakers: The Lakers went from a dynasty with Shaq and Kobe to a borderline playoff team with Smush Parker playing point guard. Kupchak's trade of Caron Butler and Chucky Atkins' expiring contract for Kwame Brown isn't much worse than the Shaq deal with Miami, and that's saying something. The Isaiah Rider signing was also a work of art.
Ned Dishman/Getty Images
Knicks fans miss the days when Isiah Thomas was innocently running the CBA into the ground.
8. Isiah Thomas, New York Knicks:
His cap-killing trades have become the stuff of legend, one of the NBA's most passionate fan bases has been alienated, and now he's on trial for sexual harassment charges. Remember the old days, when the most damage Isiah could do was to single-handedly destroy the Continental Basketball Association? Those were some good times.
9. Dave Littlefield, Pittsburgh Pirates: No GM had more of a knack for trading great talent and getting so little in return. From getting next to nothing for established stars like Jason Schmidt and Aramis Ramirez, selling low on players who blossomed elsewhere like Chris Young and Oliver Perez, to trading for Matt Morris and his $9.5 million contract in 2008, Littlefield's six-year track record will go down as one of the most extraordinary in MLB history. Only Sandy Koufax's run in the '60s was more impressive.
10. Cam Bonifay, Pittsburgh Pirates: Going from Cam Bonifay to Dave Littlefield as your GM is like getting over a raging case of the clap, only to learn you have leprosy.
11. Kevin McHale, Minnesota Timberwolves: Think Kevin Garnett might've fared better in Minnesota if David Stern hadn't stripped the team of all those draft picks after the Joe Smith fiasco? Of course, the T-Wolves still might've had a chance if McHale had acquired players other than Eddie Griffin, Michael Olowokandi, Marko Jaric and Troy Hudson.
12. Ed Wade, Philadelphia Phillies: Traded Curt Schilling for a package that included some Omar Daal and a plate of vegetable pakoras. Traded Scott Rolen for a package headed by Placido Polanco, then dumped Polanco because future Hall of Famer David Bell had to play third base. Oversaw a farm system that produced such top prospects such as Eric Valent, Brandon Duckworth and David Coggin. Reader and Phillies fan Mike Morrone, on Houston's recent signing of Wade to be their new GM: "I feel genuinely sorry for the Astros."
13. Jim Paxson, Cleveland Cavaliers: If you're going to spend high draft picks on the likes of Trajan Langdon and DeSegana Diop, why not just trade one of them for Jiri Welsch and save yourself the trouble. Earns a point for somehow dumping Shawn Kemp's hellacious $70.8 million contract on Portland seven years ago. Subtract 50 points for botching the Carlos Boozer negotiations, with Boozer then going to Utah and instantly becoming a top-20 player.
14. Jim Duquette: Scott Kazmir for Victor Zambrano.
15. Rejean Houle, Montreal Canadiens: Oh sure, we could catalog the long list of miserable draft picks Houle made while running the Habs. But he'll always be best remembered as the guy who traded away one of the best goalies in hockey history, Patrick Roy, as well as Mark Recchi, Pierre Turgeon, Valeri Bure and Vincent Damphousse, for far less than they were worth. Few teams in pro sports go to greater lengths to hire coaches and GMs for reasons other than seeking the right man for the job. Few teams have suffered more for choosing that path.
16. Wally Walker, Seattle SuperSonics: Inherited a terrific core of players that included Shawn Kemp, Gary Payton, Detlef Schrempf, Sam Perkins and Nate MacMillan, coasted for a few seasons, then watched the team fall apart in the late '90s due to his inability to acquire any useful players. Well that's not entirely true. The $33.6 million signing of Jim McIlvaine was the best signing in league history. Just ask McIlvaine's accountant.
17. Harry Sinden, Boston Bruins: After a long run of success, Sinden presided over some really bad Bruins teams in the tail end of his 28-year tenure as GM, although most of the blame belongs with ownership for tying one hand behind his back by ordering constant payroll slashing.
18. Woody Woodward, Seattle Mariners: What's your favorite Woody Woodward trade? Jason Varitek and Derek Lowe for Heathcliff Slocumb always will be the signature Woodward deal, of course. But how about Omar Vizquel for Felix Fermin and Reggie Jefferson? Mike Hampton and Mike Felder for Eric Anthony? Tino Martinez, Jeff Nelson and Jim Mecir for Russ Davis and Sterling Hitchcock? No, my favorite has to be a 1996 deadline deal, one that slipped under the radar under the time. In the trade, the Mariners acquired a useful veteran hitter named Dave Hollins. In return, they dealt a prospect who first came up under the name David Arias. You now know him as David Ortiz.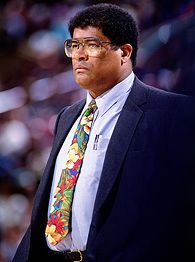 Nathaniel Butler/Getty Images
Say what you want about Wes Unseld's performance as a GM, but you have to admit that's a pretty sweet tie.
19. Wes Unseld, Washington Wizards:
Could've easily made the list as a coach too, given his 202-345 record on the bench.
20. Frank Lane, multiple teams: No one made more trades for trading's sake than the former GM of the White Sox, Cardinals, Indians and Brewers. "Trader Lane" still is vilified in Cleveland for dealing away Rocky Colavito. Cardinals owner Gussie Busch stepped in just before he could trade away Stan Musial. Had that one gone through, Lane might've been No. 1 on the GMs list.
21. Jim Beattie, Montreal Expos and Baltimore Orioles: As much as Beattie struggled in his early days with the cash-strapped Expos, he was an even worse GM when ownership finally threw him a few bucks to spend. In Montreal, he used that money to acquire Hideki Irabu, Lee Stevens and Graeme Lloyd. He signed even more expensive busts in Baltimore, where Beattie teamed up with co-GM Mike Flanagan to form Beatagan, a force so powerful it actually could put up with Peter Angelos for a few years, before inevitably self-destructing.
22. Bill Bavasi, California/Anaheim Angels and Seattle Mariners: Pretty good track record as a farm director, highly quotable, never backs away from criticism. But Bavasi has made a bunch of head-scratching moves as GM of the Angels and Mariners. Six years after signing fat, past-his-prime first baseman Mo Vaughn to a disastrous multi-year contract with the Halos, Bavasi signed lanky, past-his-prime first baseman Richie Sexson to a disastrous multi-year contract with the M's.
23. Joe McIlvaine, San Diego Padres: Some GMs get judged on one trade for their entire career. For McIlvaine, it was Joe Carter and Roberto Alomar for Tony Fernandez and Fred McGriff.
24. John Weisbrod, Orlando Magic: … and for Weisbrod, it was Tracy McGrady, Juwan Howard and Tyronn Lue for Steve Francis, Cuttino Mobley and Kelvin Cato, a move so unpopular it sparked death threats from fans.
25. Randy Smith, Detroit Tigers: Traded six players for Juan Gonzalez. Offered Gonzalez $140 million … and had the deal rejected. Signed players such as Bobby Higginson and Damian Easley to expensive contracts, even though interest from other teams was mimimal. Matt Anderson (No. 1 overall in 1997) and Eric Munson (No. 3 overall in '99) headlined his draft disasters. Traded away Luis Gonzalez, Travis Fryman, David Wells, Cecil Fielder and Brad Ausmus (twice) in lopsided deals. Architect of three 100-loss teams.
Honorable Mention: Tim Purpura, Houston Astros; John Ferguson Jr., Toronto Maple Leafs; Jerry Angelo, Chicago Bears; Dan Duquette, Boston Red Sox; Brian Sabean, San Francisco Giants; Mike Milbury, New York Islanders.
Jonah Keri is a regular contributor to Page 2 and the editor and co-author of "Baseball Between the Numbers." You can contact him here.