By Kevin Jackson
Page 2
SEATTLE -- I was rudely awakened at 1:22 a.m. Wednesday morning by a blaring fire alarm in my downtown Seattle hotel.
The ear-piercing beeps and sirens annoyed me for nearly 10 minutes before a voice finally came over the loudspeaker, said it a false alarm and told us all to go back to sleep.
Under normal circumstances, I would have been furious. Probably would've called the front desk to demand something free or just to vent at some poor, unfortunate soul working the overnight shift.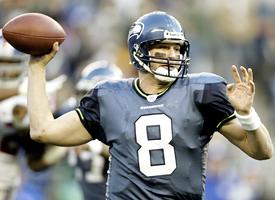 Otto Greule Jr/Getty Images
Why is there hope in Seattle? Matt Hasselbeck and the Seahawks led the NFL in points. (Otto Greule Jr/Getty Images)
But these aren't normal circumstances in Seattle. Not even close.
I've already lost too much sleep this week to be angry over someone mistakenly tripping a fire alarm in the middle of the night.
After all, Carolina Panthers wide receiver Steve Smith has probably cost me a full night's worth of winks already.
Add in my worries about Shaun Alexander's ill-timed concussion, Sean Locklear's ill-advised extracurricular activities and the all-around ill feeling I get whenever anyone mentions the words "Julius "or "Peppers," and it's a wonder that I've slept at all since the matchup for the NFC Championship game was officially set Sunday night.
In case you can't tell by now, I'm a diehard Seattle Seahawks fan, which makes me a professional worrywart by trade. (I first admitted my Seahawk-induced angst to the world in a Page 2 column back in early December, if you need background on what it's like to root for one of the NFL's most cursed franchises.)
Sayonara, Seattle!
Skip Bayless can't believe what he's about to see -- the Seahawks in the Super Bowl. They wouldn't even have made the playoffs had they played in the AFC West instead of the NFC West. It's like seeing William Hung win "American Idol."
All of that can change in four hours Sunday night.
Like all the long-suffering NFL fans of my hometown, I've waited 22 years for these four hours, so, naturally, us Seattleites are a tad bit pensive this week. (Note to Page 2 editors, if any of you slap a "Sleepless in Seattle" headline on this story, you'll be immediately asked to clean out your desk.)
You see it and hear it everywhere you go in the Northwest this week.
While lunching at a burrito joint in Pioneer Square Tuesday, I heard one table discussing how to defend Smith, Carolina's 5-foot-9 mighty mite of a receiver, who had something like 37 catches for 457 yards and six TDs against the Bears in the NFC divisional playoffs. Meanwhile, a couple at a nearby table griped about the unavailability of tickets for Sunday's game.
The TV stations have switched squarely into all-'Hawks all-the-time mode, and you can't flip more than five channels without finding someone talking about Alexander's medulla oblongata.
When he first came to Seattle five years ago, Matt Hasselbeck told a reporter pal of mine that he was shocked by how few Seahawks jerseys and hats he saw while driving around town. Well, I hope Matt's out on the streets this week (just not too late at night), because Seahawks jerseys and hats are everywhere.
One local writer summed up the mood of the city before last Saturday's Redskins game by declaring that "Life in Seattle will end today if the Seahawks lose to Washington and add one more year to their playoff drought."
(Personally, I think he was guilty of a gross understatement.)
I don't want to think about what will happen if the Panthers, winners of eight of 10 road games already this year and five straight away playoff games, leave Qwest Field with the NFC trophy Sunday night.
I was 13 the last time Seattle played for the chance to go to the Super Bowl. Now I'm 35, which, of course, is 245 in "Seahawk years."
In between, I've seen the Sonics become the first No. 1 seed to lose in the opening round of the NBA playoffs, the Mariners fail to make the World Series despite winning as many regular-season games as any team in history, and the Seahawks go 21-plus years between playoff wins.
When I saw the reigning NFL MVP dazed and being helped off the field last Saturday, I was overwhelmed by Seattle's ghosts of playoffs past. Dikembe Mutombo celebrating while laying spread eagle on the floor of the Seattle Center Coliseum. Arthur Rhodes serving up a gopher ball to David Justice, and then another to Bernie Williams. Al Harris streaking down the sideline at Lambeau. Nick Van Exel shooting the lights out -- literally! -- at the Tacoma Dome. Bobby Engram dropping a game-tying TD pass in the end zone.
My friend Vic turned to me with a smirk, shook his head and just said, "This franchise is cursed, man. It's truly cursed."
But a funny thing happened to Team Linda Blair last weekend. Our demons finally were slain. Hasselbeck put us on his back and earned this city another full week of sleepless nights.
Perhaps this team really is different. Perhaps this is finally our year. Perhaps we're going to leave behind the Browns, Lions, Saints, Jaguars, Cardinals and Texans on the short list of teams that have never reached the Super Bowl.
Perhaps it'll end up being worth all of these nights of tossing and turning in what's starting to seem like the world's largest hotel bed.
I sure hope so.
After all, I'll be 57 the next time a chance like this comes around.
Kevin Jackson is an executive editor for ESPN.com and one of the founding editors of Page 2. You can e-mail him at kevin.jackson@espn3.com.