SEATTLE -- One of the more meaningful relationships of my life came to an end Sunday night.
WHAT'S YOUR PRICE?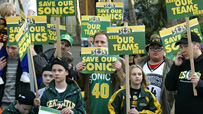 •
Jackson: Sonicless in Seattle?
•
Page 2 writers name their prices
•
Jones: It's Bennett's right
•
Vote: What's your price?
The breakup isn't official, but the signs have been there for months, and on Sunday, I finally quit pretending and confronted the inevitable.
The SuperSonics are leaving Seattle.
Seattle's spirited 99-95 victory over the Dallas Mavericks, one of hundreds of Sonics games I've attended at KeyArena (not to mention all those before at the Seattle Center Coliseum, the Kingdome and, regrettably, the Tacoma Dome) will go down as my last.
I took my 7-year-old daughter to Sunday's game, hoping the joy of watching her experience her first NBA game might distract me from the funeral atmosphere in the building. That idea -- like most things associated with the Sonics this season -- was a colossal failure.
Maybe it's because I also took my childhood friend, Brandon, and every time I looked at him, I was reminded of all the games we've attended over the past two decades -- a run that started when we were high school punks and ended Sunday with two 30-something dads watching their daughters dance during timeouts and chant "Save Our Sonics" until they were hoarse.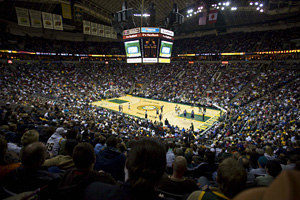 AP Photo/John Froschauer
Have the Sonics played their last game in Seattle?
That took me back to all the games I'd experienced with my own father, starting with a 1980 afternoon at the Kingdome when we sat high in the upper deck to catch our first glimpse of a rookie named Bird.
Much of the crowd seemed to be caught in the same emotional conundrum. For the first quarter and a half, the building was eerily pensive. There were no video tributes, no commemoration of 41 years of history, no acknowledgement of the elephant in the arena. Then, midway through the second period, the Jumbotron flashed an image of Sonics legend Gary Payton sitting courtside. A long, raucous standing ovation awakened the place, and the next two hours -- perhaps the final two hours of KeyArena -- harkened back to the glory days of the old barn.
I'm not the least bit ashamed to admit that I "had something in my eye" as the final seconds ticked off the most surreal season in "Seattle" SuperSonics history.
And, no, I don't consider myself a bit shallow because I place such a high premium on my relationship with a sports franchise.
In February, when (fill-in-the-blank with our own despicable adjective) Sonics owner Clay Bennett attempted to buy his way out of town by offering the city $26 million to break the team's KeyArena lease, Page 2's Jim Caple asked me if I'd be willing to let the team go if a chunk of that $26 million would go directly into my own pocket. Maybe a few thousand dollars or perhaps a refund on all the tickets I had purchased over the years.
I scoffed and said my fanhood wasn't for sale. That was met with more scoffing from the Page 2 staff and cries of "C'mon, everyone has a price." The result was a spirited debate that caused those of us at Page 2 to place a price on our hometown franchises -- and we'd like you to do the same.
I thought long and hard about my no-price stance. Maybe there is a number somewhere. If enough zeroes were added to the check, maybe I'd become a willing participant in Bennett's plot to become the Art Modell of the Northwest. (Although it's difficult for me to imagine accepting anything from David Stern's BFF.)
But it would have to be enough money to significantly change my life. You know, in the never-work-another-day, your-kids-are-set-for-life variety.
Other than that, keep your green, Clay (but not the green and gold, or the team nickname, or the banners, or the retired numbers, all of which must remain in the Northwest). I'm not giving up my team for, say, a new sports car or a nice vacation somewhere. Those things would eventually be discarded, unlike the enduring memories we get from sports.
Now, this is a sports Web site, so I'm betting a lot of you out there understand where I'm coming from.
For those who don't, I ask a simple question: What makes the joys and triumphs we get from watching sports any less significant than life's other emotional highs? Why are those emotions considered so trivial?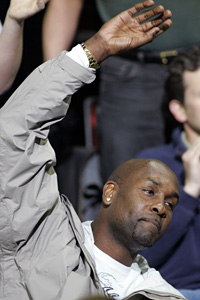 AP Photo/John Froschauer
Gary Payton got a raucous ovation from Seattle fans on Sunday, and 41 seasons of memories began flooding into KeyArena.
If I said there was no price on the memory of my wedding day, my daughter's first steps, or my last day with my grandfather, no one would blink an eye.
But if I say the night the Sonics won the 1979 NBA title was one of the best evenings of my life, some people think I need a reality check. (If I'd only known that I was going to peak at 9 years old.)
Well, screw 'em.
I'm about to lose my team. And if you live in Cleveland, Houston, Los Angeles, Kansas City, Charlotte or countless other cities, you know the pain I'm feeling … and understand that it gives me every right to be irrational. (And if you live in Cleveland or Charlotte, drop me an e-mail to let me know how I'll feel if the NBA ever returns to Seattle. Will my bond with a new franchise be the same?)
Last week, the Seattle Times tried to help fans like me cope by publishing a series on the five stages of grief. Unfortunately, I'm still stuck on the second installment about "anger." Given the revelation Thursday about Bennett's outrageous e-mails revealing the long-standing plot to steal our team, I expect to be stuck there for quite some time.
I just keep thinking of all the Sonics gave me through the years:
•The Sonics taught me basic English. It was pretty simple, really. I just listened to how my dad and uncle talked about Denver's Dan Issel during the '78 playoffs. If the word in front of Issel's name ended in "ing," it was a profane adjective. If it didn't, it was a profane noun.
•They taught me how to deal with pain. When this happened in May 1994, I was in the midst of a painful divorce. My soon-to-be ex-wife called me the next day to make sure I was OK after the worst loss in Sonics' history. She didn't call to make sure I was OK when she left me, but she worried Dikembe Mutombo might push me over the edge.
•They taught me that sometimes being a bit rebellious can be very good. I still remember the spring night in 1992 when the Supes came out wearing black socks and all-black shoes for a playoff game at Golden State. That was the symbolic beginning of the in-your-face era of Payton and Kemp. Combine that with the height of the grunge music scene, and there was never a cooler time to live in the Great Northwest.
•The Sonics taught me that sometimes life is fixed against you, sometimes you catch a lucky break and very often good things come to those who wait.
•They taught me that loyalty is much more important than currency -- no matter what Mr. Coffee would tell you.
•And they taught me that joy knows no limits. I won't forget the Wizard, DJ, JJ, Downtown Freddie, Sikma, X Man, 3-D, the Reign Man, Det or the Glove. And I'll always remember Eddie's half-courter vs. the Rockets, Shawn slamming the door on the Warriors (No. 8 here), Big Smooth's triple in Phoenix and Gus throwing the ball skyward at the Cap Center.
I'll remember all the time I invested with my family and friends in "our team." Maybe the basketball was just a backdrop -- but I can't imagine another backdrop that would bring us together more. My wife, Melanie, and I had our first date at a Sonics game (considering it was a game against the pre-LeBron Cavaliers, it's amazing I got a second date). One of my fondest memories was watching the championship parade with my grandpa and having him buy me this T-shirt, which I then wore for 113 consecutive days.
Nothing -- no saber-rattling commissioner, no sinister owner, no greedy coffee magnate, no misguided city council, no cowardly state legislature -- can take any of that away from me.
At the end of Sunday's game, as "Celebration" blared from the loud speakers, my daughter turned to me and asked, "Do we get to keep the Sonics now that they won?"
The more I think about it, there's no price on any of it -- the good times or the Mutombo times. In fact, the more I think about it, the only real question is what would I pay to have them stay.