By Chuck Klosterman
Page 2
Editor's Note: Columnist Chuck Klosterman is in Detroit to update Page 2's Super Blog multiple times each day throughout Super Bowl week.
PAST BLOGS:
FRIDAY
|
THURSDAY
|
WEDNESDAY
|
TUESDAY
|
MONDAY
Saturday, 11:28 a.m.
I should really pick the Seahawks. Much of the free world, it seems, is taking the Steelers in Super Bowl XL, and -- when it comes to sports prognosticating -- there isn't much upside to agreeing with the consensus: People who get rich through predicting the future live off the upsets. If I predict that Pittsburgh will win Sunday, it won't even matter if I get the score exactly right; I will simply be one of many, many people who had (roughly) the same idea. A clever person would absolutely take Seattle in a blowout.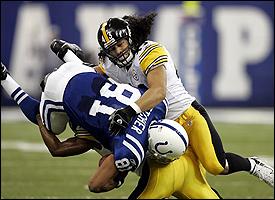 AP
Chuck expects the Steelers to win by much more than a hair.
But I am not clever.
Pittsburgh will win, and I don't think it will be very close. The final score might look reasonable, but I don't think the game will ever be in question. And this, I suspect, will be the sequence of events.
1.)
The Steelers will jump out early by scoring on defense. The turnover might be forced one of the predictable sources (Troy Polamalu being the obvious candidate), but it will just as likely be one the Steel drones making "The Biggest Play of his Career." Very quickly, Pittsburgh will lead 7-0.
2.)
The Seahawks will not respond with poise. They will make the mistake of not running left; they will out-think themselves and play against their strengths (this often happens when teams have two weeks to prepare for a single game -- they over-scout themselves and drift away from the things they do best).
3.)
Pittsburgh will score again. It will not be a gadget play, but it will involve Antwaan Randle El; it will be some sort of vertical attack off of play action. The completion will be more than 40 yards, and Pittsburgh will take an early 14-0 lead.
4.)
With its back firmly against the wall, Seattle will start to move the pigskin. On the shoulders of Shaun Alexander, they will drive down to the Steelers' 10. But then Matt Hasselbeck will make a critical mistake; he will miss Darrell Jackson in the end zone or he will take an unnecessary sack. The Seahawks will settle for a field goal, making the score 14-3 at the end of one quarter.
5.)
At this point, the game will be over. If the Steelers get a two-touchdown lead early (and I predict they will), the totality of the contest will rest on Seattle's ability to cut that lead in half as soon as possible. If the Steelers take an 11-point advantage into the meat of the game, they will just run the ball and chomp clock and throw 5-yard passes to Hines Ward anytime they face third-and-4. Seattle will put up some meaningless numbers late in the night, but the only people who'll care are those who bet on the over/under. Pittsburgh wins 34-24, but it will never feel that close. In a related postgame story, I predict many people will ask Jerome Bettis how he feels after carrying the ball eight times for 37 yards and one touchdown. And I predict he will shock America by saying, "To be honest, kind of itchy."
Chuck Klosterman is the author of "Killing Yourself to Live: 85% of a True Story" and is a senior writer for Spin magazine and a columnist for Esquire. Sound off to Page 2 here.