By Ted Kluck
Special to Page 2
EDITOR'S NOTE: This column is written exclusively for NFL players.
February is a month filled with tough decisions. Where to vacation in the offseason? How to spend my millions? How to get out of the midwest and back to Miami where I can work out at UM and be united with my buddies?
Perhaps the biggest decision, though, is how to get out of the Pro Bowl -- the NFL's annual end-of-the-year convention; its cup of coffee and aspirin the morning after a two-week Super Bowl bender.
If you're an NFL player, keep reading -- this column may clue you in as to whether or not you'll be one of the scores of players jumping ship this week. Whether your reason is an "undisclosed injury," or "family issues," what really matters is, you're not going.
Here are 10 signs that you may skip the 2005 AFC/NFL Pro Bowl:
10. Your name is Edgerrin James and there is no bonus provision in your contract for playing in the Pro Bowl.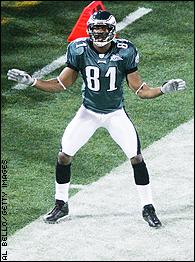 Maybe Owens will play in the Pro Bowl, just to earn some more TV time.
9. You just won the Super Bowl and have nothing more to prove. Or, you just don't feel like going.
8. You miraculously played in the Super Bowl on a recently repaired ankle, which still contains some screws, plates, etc. For some inexplicable reason you haven't yet withdrawn from the Pro Bowl, citing the ankle, or undisclosed family issues, as a reason. But then again, the Pro Bowl is on TV and you like the TV. By the way, if Brett Favre had done the same thing he would have been called a hero. They just called you selfish. Life is so unfair.
7. You have undisclosed family issues. Incidentally, you have chosen a great, cover-all-the-bases excuse for missing the Pro Bowl. This covers the gamut from shooting a cousin and burying him in the backyard, to not wanting to miss your daughter's soccer game. Either way, it's a great excuse. Why not just come right out and say that you don't want to blow out your knee in a meaningless game. We all know what you're thinking.
6. You have an undisclosed injury. No, wait, Edgerrin James used that one. OK, you have a sore back.
5. You really want to give Deion Sanders just one more moment in the limelight.
4. Your name is Randy Moss, and you may very well decide that you are skipping the Pro Bowl midway through the third quarter of ... the Pro Bowl. Because, as we well know, you do what you want and nobody can tell you what to do.
3. The starter, Chris McAlister, is unable to make the trip because of an injury. You are named to the AFC squad in his place. You decide not to go to give Nate Clements an opportunity. Next in line: Terrell Buckley.
2. You're just an idiot kicker.
1. You were named to the 2005 Pro Bowl. And your first "voluntary" minicamp starts in nine days.
Updated 2005 Pro Bowl Roster Additions (Partial)
AFC PLAYERS
QB: Tony Banks -- passed for 16 yards in 2005, but has tremendous athletic ability. Really, he does.
WR: JoJo Townsell -- haven't thought about this guy in a while, have you?
NFC PLAYERS
QB: Eli Manning -- Archie Manning's son, Peyton's brother. Archie is currently brokering a deal for him to be traded to the AFC squad, as he would rather play there. Stay tuned.
RB: Kevan Barlow -- the man that made people forget ... Maurice Hicks.
WR: Dennis Gentry -- Is he a RB? Is he a WR? So versatile.
TE: Jeff Thomason -- I dare you to find a better feel-good story in sports, or the building trade.