Commentary
Running the Urban Iditarod
Originally Published:
March 16, 2011
By
Rafi Kohan
| Special to Page 2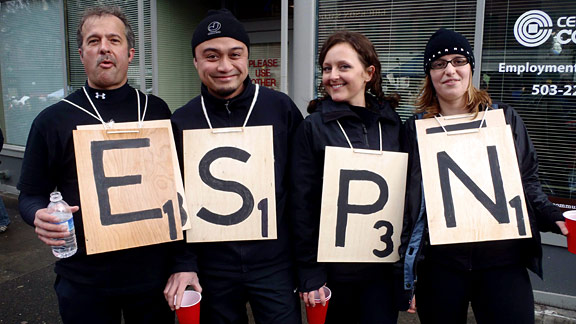 Raphael Kohan The Urban Iditarod definitely embraces it's not whether you win or lose, but how you play the game.
The sky was gray and rainy but one got the sense that crowds of 750 don't often gather under the Interstate, along the east side of the Willamette River. Not, at least, to avoid a late-winter drizzle. Two of Portland's finest had already taken notice, eyeing the crowd from a distance, though they didn't intervene -- apparently not wanting to distract these athletes before the event, the big race. Upon closer inspection, the crowd revealed a wide variety of competitors, some dressed as crayons, others as Angry Birds, all in costume. Pre-race preparation included curious chatter, excited giggling, heavy amounts of milling about, but a general lack of stretching. Hopefully no one would pull a muscle. Then, rather abruptly, we were off, 130 teams rushing past the police officers, and into the streets, dragging, pulling, and pushing temporarily absconded shopping carts with us. We wove through traffic, dodging raindrops and side view mirrors, as cars pulled to the side of the road, honking to no avail.
Welcome to Portland's Urban Iditarod, an annual shopping cart race, modeled on the 1,150-mile Alaskan Iditarod. On the Saturday after the sled dogs took to the frozen tundra, we took to the streets, with humans instead of dogs and shopping carts in lieu of sleds. Portland's first running took place in 2001, and a laundry list of cities across the nation, from New York to Cincinnati to L.A., now hold versions of the event, as well. The very first Urban Iditarod, however, took place in San Francisco, back in 1994, the brainchild of a Stanford graduate student named Tom Kramer, nee Marsh, a.k.a. Tundra Tommy.
"Keep it on the street," Tommy yelled from behind our cart. This year, Tommy ventured north to check out Portland's incarnation of the event he spawned. We competed on the same team, an opportunity I could not pass up. (Like playing H-O-R-S-E with James P. Naismith, or shagging flies from Abner Doubleday.) He was our musher, cajoling us forth, as we pulled the cart, attached to our belts via nylon harness. "Good doggies!" he said.
Turning left off Main Street, we passed some slow-moving squads and were leapfrogged by others, as our harness occasionally tangled under the wheels of the cart. But no matter -- the goal was not to finish first. In fact, as Tommy earlier pointed out, some cities actually have a rule that the team that finishes first loses.
So what's the strategy of a race with no winners? I put this to Brian Davies, a.k.a. Lead Dog, the Portland event organizer, when we pulled in at the first rest stop. (Like the actual Iditarod, it is a mandate to stop and rest your dogs.) "It's based on having a good time, showing off," Davies said. "I just choose one winner when I feel like it, but the real winning team is the one that has the most fun."
And a quick lap through the pit-stopped throng exposed plenty of folks having fun. Some teams were topical (there were several Charlie Sheens), others were political (Wisconsin teachers union), and beer pong was a prevalent theme -- for athletes of a different stripe, one supposes. For Dave Brigg, a past winner, this was his seventh race. "I hate running," he said," but this is offbeat and a great way to meet people."
One team wore Brandon Roy jerseys and slings, hobbling along on crutches. They told me they were the Frail Blazers, explaining, "We didn't have an Oden jersey." Another team dressed as a menagerie of sports figures: Plaxico Burress, Brett Favre, Tonya Harding, Jennifer Capriati, Tiger Woods, and the Duke lacrosse team. They were "Athletes Gone Wild."
All of which impressed Tommy, the father of the Urban Iditarod. "The quality of outstanding costumes blows the doors off anything San Francisco has ever done," he said. Although Tommy's day came to a controversial end, when a team of referees (unofficial) began handing out red cards.
"That's the worst thing about this event," he said, shaking his head. "The refs threw me out!"