Commentary
Chris Hayes boosted by Miami family
Originally Published:
October 30, 2009
By
Kory Kozak
| Special to Page 2
Why do it?
Every walk-on playing college football has to ask himself that question at some point. He is not on scholarship. He is actually paying the school to be cannon fodder for the guys who are getting their tuition paid. He is a practice dummy with a jersey.
Why?
There can only be one answer.
"You have to have love for the football game," said Miami head coach Randy Shannon. "The life of a walk-on is very brutal."
[+] Enlarge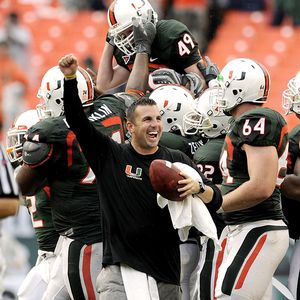 University of MiamiAfter Miami's win over Wake Forest last season, Chris Hayes' Hurricanes teammates gave him a
tremendous boost, literally and figuratively.
It's so tough that Miami only brings in about six walk-ons per season.
Four years ago, Chris Hayes wanted to be one of the six. At 5-foot-9 and 160 pounds, he seemingly didn't have the size.
But he had the love.
"I've always been joking about it since like my freshman year of high school that I would try out for the Miami Hurricanes," Hayes said. "All my friends thought I was crazy."
So did his parents. "We just went, 'Sure,'" his mother, Kathie Hayes, said sarcastically.
They all had a point. Hayes' high school, Out-of-Door Academy in Sarasota, Fla., didn't even have a football team when he attended.
He not only tried out for the Hurricanes, but he made the team as a wide receiver. It's unlikely more than a few of his new teammates noticed. Just another walk-on. What kind of impact could he make, anyway?
Hayes didn't care. He was living the dream. He called his father, Mike, to share the news.
"He's a man that rarely swears at all," Hayes said. "He goes, 'Pardon my French,' and then just goes on this tirade about just how amazing this is."
Hayes' mom was just as shocked. "This can't happen. He's going to get killed."
If Hayes was ever going to get hurt, it would have to happen in practice. Despite never missing a workout, meeting or practice throughout his first two years on the team, he never played in a game.
He never even suited up for a game.
"Chris is a try-hard guy. He goes out there and he gives you all the effort he can," said Joe Pannunzio, Miami's special teams coordinator and tight ends coach. "Not everybody is good enough to play at this level."
Hayes kept working. He returned for his third season with the Canes in 2008. Coaches and teammates knew who he was by now. They liked him. Shannon said they nicknamed him "Make-A-Wish" because, "when you look at him, you say, ah, he can't really do anything."
He inspired teammates by bringing energy, enthusiasm and toughness to practice. Despite playing only on the scout team in practice and not in games, he was a Hurricane. He had become part of the Miami family.
---
Last October, as Miami prepared to play Wake Forest, Hayes got a call from his mom.
"She just said, 'Your father is gone,'" Hayes said.
Silence.
"I told him that this was a suicide," Kathie Hayes said. "I mean, I did not keep that from him. I couldn't, really."
Silence.
"What do you mean?" Chris Hayes said. "What do you mean? He did this?"
Hayes had lost his biggest fan and had no idea why. He turned to his team, which he needed more now than ever. Pannunzio said exactly what Hayes needed to hear, "Chris, you got me -- whatever you need, I've always been here for you."
Hayes said Pannunzio provided a "safe place" for him. The Miami family was looking out for him. Teammates volunteered to drive Hayes home.
"We were putting it all down for him," Pannunzio said. "This kid had never suited out. He had never played in a game, but he was that important because this is a football family here … and that's what he is to us."
Pannunzio helped make sure Hayes made it home safely to Sarasota.
Four days later, his father was buried.
---
[+] Enlarge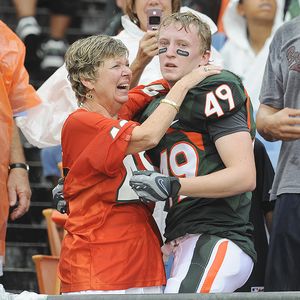 University of Miami For Miami's Chris Hayes and his mother, Kathie,
the worst week of their lives ended in optimism.
During that week, Hayes made a decision about Saturday's game against Wake Forest. He was going. He had to. "It's just how I start the next chapter in my life," he said.
Kathie agreed. "The team had given him strength to get through the week," she said. "And the team was going to give him strength to keep going after he was back."
Miami's coaches wanted Hayes there, too. He arrived at Dolphin Stadium just an hour before kickoff, but something was different. This time, he would suit up. He would run out of the tunnel with his teammates through the pregame smoke.
While the Canes gave Hayes a lift, he returned the favor. "Our kids put their arms around him and were hugging him. We had starters that were crying. I was crying. Chris was crying, and you know it was a magical moment," Pannunzio said.
Once the game started, Hayes took his place on the sideline and watched as the game played out. The Hurricanes led Wake 16-10 in the fourth quarter. Miami was running out the clock and needed to run one last play.
Victory formation.
Pannunzio grabbed Hayes. "Go. You are a tight end."
Hayes sprinted onto the field and took his place next to left tackle Jason Fox. Hayes' heart was pounding. He was really on the field.
He looked up and saw Wake Forest's All-American linebacker, Aaron Curry, lined up across from him. Pannunzio said he thought, "Oh God, I'm gonna make the news. I'm gonna get this kid killed."
Fox saw Curry, too, and whispered to Hayes, "Hey man, just stay with me, stay with me."
Hayes said to himself, "Oh boy, I will try to block him as best I can, but if he comes in hard, this might be an issue."
The ball was snapped. Miami quarterback Robert Marve kneeled down. Hayes stayed with Fox. The game was over. But the most memorable moment was just beginning.
"I just hear guys screaming, 'Get him up! Get him up!'" Hayes said. Teammates lifted him on their shoulders. Hayes couldn't control himself. He lost it, and so did his teammates. "It was just tears of joy," Hayes said.
He couldn't help but see the metaphor playing out all around him.
"I know I have the people under me to help me and support me and that what is going to happen," Hayes said. "I will always have people that are going to look out for me."
After his teammates put him down, Hayes climbed into the stands and found his mother. They hugged. And cried.
"This was a fabulously positive end to the worst week in our lives," Kathie Hayes said. "It was enough for both of us to move forward."
Chris Hayes couldn't help but think about his father watching this scene unfold.
"If he was there, I know -- tears. He was crying," Hayes said. "And the same thing -- it was joy. It wasn't sadness. I know that for a fact."
Hayes has learned why he walked on at Miami. He knows why he became a Hurricane.
"I'm not here for my athletic ability. I'm not here for that," Hayes said. "But I realize that I'm here to help this team any way I can. They are here for me when times are tough. If things are going wrong, they are the ones that are with me and getting me through a hard part in my life right now."
Kory Kozak is a producer at ESPN. You can contact him at kory.kozak@espn.com.
ESPN
Kory Kozak is a producer for ESPN.