The Toms River Little League legacy? Let's begin with a story. One day a few years ago, a baseball player named Chris Cerullo, on a trip to New Orleans with his college team, pulled on a T-shirt and headed out to the French Quarter to take in the scenery. He didn't make it very far before a passerby stopped him and pointed at his shirt.
"Mike Gaynor?" the man asked. "The Little League Mike Gaynor?"
It happened again, and again -- Cerullo looked at his chest in silent amazement. In his haste, the former Toms River East Little League all-star had paid no attention to the fact that the shirt he put on was a "Mike Gaynor Baseball Camp" vintage.
"About four or five people stopped me to ask about it before I finally got out of the Quarter," Cerullo said, shaking his head at the memory. "I mean, how did they know who Mike Gaynor was?"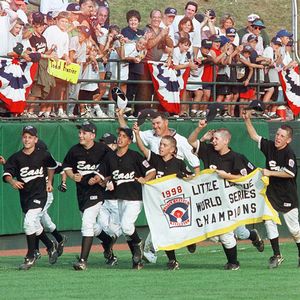 AP Photo/Rusty Kennedy
The Toms River Little Leaguers became national sensations when they won the Little League World Series in 1998.
But they did. Many people did. That's because Gaynor was the coach of Toms River East, one of two Little League teams from a once-unheralded New Jersey shore town. His team stunned the world by reaching the Little League World Series not once, but three times in five years -- a feat that stands today as one of the most improbable binges of success in youth baseball history.
Included in that run was the team of 1998 that won it all, capping its journey to Williamsport with a shocking 12-9 victory over Japan in the LLWS final. It was a monumental achievement. And in an era of increasing television coverage of the event, the victory made stars of kids such as Todd Frazier, Casey Gaynor and Scott Fisher, to say nothing of the stuffed gorilla mascot the team adopted along the way to victory.
The boys appeared on Rosie O'Donnell's TV show and were interviewed by Peter Jennings on ABC. They returned home to a parade in which thousands of Toms River families and fans lined the streets and jammed themselves into the Little League park that the boys called home. They were on the front pages of many newspapers.
It was an otherworldly experience. It was 10 years ago this month.
And it is one reason I spent the summer of 2007 in Toms River, trying to figure out what happens when a town's identity becomes intertwined with the success of its 12-year-old kids.
"All the time, I have guys tell me that I screwed things up forever," Mike Gaynor told me with a thin smile.
You know what? It isn't easy trying to recreate a beast.
---
Toms River is like a lot of other towns when it comes to Little League baseball, only more so. If you think your town is into it, Toms River can do you one better. If you think the parents are sometimes out of control, Toms River has been there, done that.
And if you think your kids feel pressure, meet the boys from either of Toms River's Little League teams today. They can tell you all about it.
Johnny Puleo is one of the players who became a significant character in "Six Good Innings," the book I wound up writing about Toms River's baseball lifeline. When he first took the field last summer with his all-star teammates, he wasn't necessarily thinking about Todd Frazier or Casey Gaynor or that '98 team that was nicknamed "The Beast of the East." But he was thinking about Williamsport -- and not just as an abstract idea.
Reaching Williamsport, statistically speaking, is a once-in-a-lifetime shot for most Little League teams. It's just so hard to do. Everything has to break exactly right, and at precisely the right moments, for a single team to win its district, section, state and regional tournaments -- the stepladder of victories that all LLWS entries from the U.S. must climb.
But in Toms River, what happened in the '90s made it seem easy -- as if Williamsport was simply the preferred destination, not the equivalent of a moon landing. The success of Gaynor's teams suggested that any team from Toms River could do it, if only it would get its act together and stay on track.
Johnny Puleo and his teammates believed they were the worthy heirs to that distinguished group. The summer before, as 11-year-olds, they'd won their district and section championships and finished third in the New Jersey state tournament. They had every reason to think they could go all the way the following year. It happened in their town all the time.
"Everybody thought we were going to win," Puleo told me, and it wasn't just the kids he was talking about. Walking through the Toms River Little League complex, he was routinely stopped by well-meaning adults who said, intending to sound encouraging, "So you guys are gonna get us to Williamsport, huh?"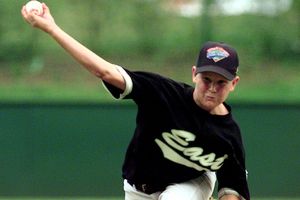 AP Photo/Chris Gardner
Casey Gaynor, one of the members of the '98 Little League champions from Toms River.
As if it could happen just like that. But, of course, Gaynor's teams had made it seem that way.
What Gaynor knew was that, glorious as it was, his three-times-in-five-years run was a majestic fluke. He had good players, but that's only half the battle. Even great teams get derailed all the time, for one reason or another. And success in Little League all-star competition is very often the direct result of which 12-year-old hits his growth spurt first, or whose arm gets sore, or which team has a bad-luck rainout. A multitude of things can happen.
Watch the games in Williamsport this week. You'll see three or four players of about the same size, and then suddenly you'll see a kid who looks like he drove himself to the ballpark. He'll look bigger, stronger -- older. He has hit his growth spurt. And of such life transitions Little League champions often are made.
No matter the level of expectation, luck plays a role, too. One example is that incredible run of 10 years ago, the one that ended with Toms River East's upset of Kashima, Japan, in the title game. None of that run would have happened if Gaynor's team, as talented as it was, hadn't gotten out of New Jersey's tough state tournament -- and that wouldn't have happened except that, in the final inning of an early-round game that Toms River was losing, the dominant opposing pitcher uncorked a wild throw that hit a metal pole and ricocheted wildly up the first-base line. Gaynor's team scored the tying run on that freak play, then won the game in extra innings.
"Second game at State that year," Gaynor said, "and if we lose it and go to the loser's bracket, we aren't coming back out. The field was too strong that year. But the ball hit a pole. It hit a pole."
Such are the vagaries of life in Little League, even for the elite. But Gaynor's team did win. He was the right coach with the right players at the right time. Gaynor drove the kids hard in practice, then backed off during games and let them play -- constantly positive and upbeat during the heat of competition. It was a magical combination, one that John Puleo -- father of Johnny and coach of the Toms River American all-stars -- tried to emulate in 2007.
"Mike is the best coach I ever had, and I had great high school and college coaches," said Cerullo, who played on Gaynor's breakthrough team of 1995, the first from Toms River to make it to Williamsport. "He never put pressure on us. He didn't yell. He let us know he supported us, and taught us the kind of stuff that helped us do our jobs better. It was really just a great time."
It was also the first time, which meant the 1995 team didn't deal with the weight of expectation. During the great summer of 1998, Gaynor went to extraordinary lengths to revive that sense of adventure without pressure, avoiding mentioning Williamsport -- "the 'W' word," as he called it -- at all. It was just too much to put on the kids. As Frazier has said, they didn't realize what they were doing until they'd done it.
---
Fast-forward to this 10-year anniversary of the '98 team's success, and it's clear that the new-era boys of Toms River no longer can avoid the "W" word. Win or lose, it's there. When their parents drive them from one place to another, they often swing onto Little League World Champions Boulevard, the main route through the town to the Jersey Shore. News clippings from 1998 still adorn the walls of restaurants, bars, sports shops and, of course, the Little League parks.
"It's hard to forget about it," one player told me, "when it's just about everywhere you look."
Said another: "There is no such thing as losing here."
When I met John Puleo, whose 2007 all-star team spent its summer trying to clear the World Series bar that Toms River has set, it quickly became apparent that his time would be devoted to walking that fine line between healthy competition and outright craziness. The summer before, Puleo's all-stars did indeed win district and section titles, which had stoked the fires of anticipation for a Williamsport run. But they also either practiced or played every day for 56 straight days. Is that crazy, or just enough to win?
Puleo considered everything, including the reality of Toms River's extraordinary baseball history. His approach? Embrace it outright. On the first day of practice with his all-stars, he brought out a huge aerial photo of the Little League complex in South Williamsport and spread it on the infield grass for his players to see.
"This," he said, "is where we want to go."
Ten years after the miracle of '98, Toms River's goal remains the same. The odds really have nothing to do with it. The history does.
Mark Kreidler's book "Six Good Innings", about Toms River and the pressure of upholding a Little League legacy, is in national release. His book "Four Days to Glory" has been optioned for film/TV development by ESPN Original Entertainment. A regular contributor to ESPN.com, Kreidler can be reached at mark@markkreidler.com.