By John Kruk
Page 2
We're a few weeks away from columns about who should and shouldn't be in the All-Star Game; but let me stop some of these people about to write them before they get started, because it's not about that anymore.
First of all, the game is an exhibition. You're supposed to have the best players in the world face off for the fans. That's why they vote. Well, that's all gone now. Ever since the infamous 2002 tie game, MLB has been trying to make the All-Star Game mean more than it should. Putting stock into whoever wins the game -- giving home field in the World Series to the league that wins the All-Star Game? I don't agree with that at all.
You want to know why? Look at the 2004 game. Joe Torre manages the A.L. and Jack McKeon heads the N.L. Both their teams have a shot at going back to the World Series, so of course they want to win.
Now, does that mean it affects the way they manage? Does McKeon keep Roger Clemens on the mound for an extended appearance? Houston has a shot this year, too. I don't think the Astros would look too kindly on that move. Does Joe Torre pitch around Barry Bonds? Sure, there's another All-Star right behind him in the batting order, but it isn't Barry Bonds. This new format is supposed to be good for baseball, but how will fans react if this is the only time they get to see Bonds hit and he gets three intentional walks?
And what about the rest of the roster? If Torre takes "too many" Yankees this year, he'll get a lot of heat. Give me a break. The guy wants to win. He'll want home field in the Series. You don't think McKeon is going to take a bunch of Marlins? He's crazy if he doesn't. These guys know what's at stake, and they're going to go with the guys they know.
If they want to do it this way, then make it like the NFL's Pro Bowl. Have it after the World Series, when no one cares about the rest of the season.
Despite all this, the stories you're going to see will be about who makes the squad and who doesn't. And to some extent, I have to agree with these writers. The whole game is a popularity contest. I bet half the fans in the National League don't know that Derek Jeter is barely hitting over .200, but he'll get a ton of votes because he's well-known and he's a class act.
Look at Craig Wilson in Pittsburgh. He's hitting .350 with 10 HRs and 29 RBI, and he's probably not going to make it. Jack Wilson will probably go as a shortstop, and Craig stays home because only one guy from the Pirates is going to the game.
Could he get picked as a backup? Sure, but odds are he gets pushed out by the other big-name players. I know that's one-siding the game; but it isn't going to change anytime soon, so get used to it.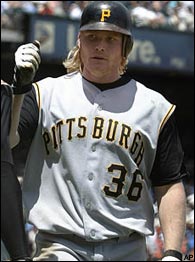 Craig Wilson can put up numbers, but he can't beat the system.
Like I said before, the All-Star Game is an exhibition. It's where people come to see great pitchers pitch and great sluggers hit. And, it's one game. If they want to do something to keep baseball interesting, they should give home field throughout the playoffs to the teams with the best records. I'm telling you, that would create more excitement and drama than some exhibition game in early July.
The last couple weeks of the season are pretty damn boring. Most of the playoff spots are set, and even more teams are definitely out of the running. Everyone ends up using those games to give unknown September call-ups some playing time. You can change all that by making the best record matter. Now all those games mean something -- not just for teams in the playoff mix, but the bad teams, too. If you can go out there and take home field away from someone? I'll tell you, being a spoiler is the only motivation you have when you stink.
Sometimes, the best ideas are the simplest ones.
SLOW MOTION
Everyone talks about great hitting and great pitching, but it seems like most people forget that it takes some speed to get around the bases. So let's take a trip around the league and pick out some of the guys you'd pinch-run for in the first inning if you could:
AL EAST
Kevin Millar (Boston): He may have coined the whole "Cowboy Up" thing; but unless he's on a horse, Kevin isn't getting to home plate anytime soon.
Honorable Mention: David Ortiz (Boston), Tino Martinez (Tampa Bay).
AL CENTRAL
Eric Munson (Detroit): Our lone young guy on the list. If he could, Alan Trammell would have Kirk Gibson run the bases for him.
AL WEST
Edgar Martinez (Seattle): I know Edgar is older and has a bunch of leg problems. But even when he was young and healthy, he was never that fast.
Honorable Mention: John Olerud (Seattle).
NL EAST
Jason Phillips (New York): This guy is pitifully slow. Coaches have all sorts of speed drills you can do; but if it's not there, it's not there. Hey, Jason. Sorry, but it's not there.
NL CENTRAL
Albert Pujols (St. Louis): I know he's great, but he's slow. Then again, it doesn't really matter here, because where Albert hits them, you don't need to have speed.
NL WEST
J.T. Snow (San Francisco): Now, you look at J.T. and you'd think he'd be a fast guy. Guess again. He's not too rapid.
Honorable Mention: A.J. Pierzynski (San Francisco).
Look, I hope I didn't offend anyone with this. It's not why I do this column every week. If any of these guys have a problem with it, they can run on over here and ... wait, that'll take too long. Just call me.
HAIR CARE 101
Johnny Damon definitely did a good thing by shaving the beard last week. Man, he was looking more like the star of a serial killer movie than a ballplayer.
His long hair, I don't mind. Everyone knows I went with the long scraggly look when I played. Still, Johnny needs to learn a few things.
First of all, I know he can't go with the mullet. It's not fashionable, and being fashionable is more important to these guys than you know. I know, this isn't the NHL or NASCAR.
Still, mullet or no mullet, Johnny needs to learn to wet his hair down before the game. That's the key to keeping the cap on. Right now, when Johnny breaks out in a jog in center field, his cap comes flying off with the massive mane he has going.
I've heard that some people don't think he's professional, or all about the team, with his hair the way it is. Umm, what? How is that a me-first thing? It's hair. If guys in the league are worried about a teammate's hair affecting on-field performance, than we have a problem. And it isn't with the haircut.
The '93 Phillies all had long hair, and we were just as much a team as anyone ever was. Like with Damon, no one on our team grew his hair so people would look at him. It's just a choice. So stop all the crap about it being a statement or something dumb like that.
Now, if he had an ad shaved in his head, then Johnny and I would have a problem. The last time I saw his cap fly off, I didn't see one. So I don't have a problem -- and neither should anyone else.
MAILMAN GOES POSTAL
I was watching Game 2 of the NBA Western Conference Finals, and I have to tell you something. I've always admired Karl Malone. I know he plays physical and throws his body around. I was always the first person to defend him for that. But this time, I can't. That shot to Darrick Martin's throat was just chicken s---. For lack of a better word.
Listen, I know emotions are part of the game, but isn't part of that knowing how to control your emotions? Use your head. You're a veteran, a sure Hall of Famer.
The beauty of it is that Martin made the free throws and Minnesota won the game. I know Malone took less money to come to L.A. because he only wanted to win. Yeah, I've heard the same damn speech from everyone who's ever switched teams. Here's a question for Malone: If you want to win so badly, shouldn't you try to stay in the game? I didn't see Shaq or Kobe trying anything like that.
That didn't send a message about anything. His explanation that he was retaliating for a hit Latrell Sprewell put on Derek Fisher earlier in the game was lame. First of all, that wasn't a hit. It was a pick, and it was clean. Second, why the hell do you go after Martin? You're trying to tell me Sprewell wasn't available? Hey, Karl -- why do you always go after the little guy?
Malone's lucky he is who he is. Look what happened to Anthony Peeler. Guy elbows the league MVP in the conference semis, and he's gone. Kicked out and suspended. Since Malone is Malone and Martin is Martin, this ends with a $7,500 fine. Got to protect those stars. Can't have the ratings go down.
After all he's done in the league, Malone didn't send any message in that game. Well, one message: He's a Hall of Fame cheapshot artist.
John Kruk is an analyst for ESPN's "Baseball Tonight."