By John Kruk
Page 2
It's September; and in baseball, that means one of two things.
Either you're in the playoff hunt, or you aren't.
I played on nine of those teams that fall into the "aren't" category; and believe me, in plenty of those years, I knew we'd be in this category long before September rolled around.
Sometimes, it happens in March. You look around at your team during spring training, and you think you're on the set of "Major League."
So what do you do when you're out of the playoff hunt? Whether it's March or September, you do the same thing: You show up and play hard, like it or not.
Last time I checked, everyone still gets paid for all 162 games. Believe it or not, even the guys on the D-Backs who aren't named "Johnson" are still being paid this month.
So, yes, you go out and play when you know you're out of it. But what's the motivation?
First, and most important, there are still people paying to see you, so you don't even think about phoning it in. Second, you may not be in the "official" playoffs, but you can still have your own version of a postseason.
Look at the Expos. They just finished up a series with the Cubs, the leaders in the N.L. wild-card race. They played 'em tough, even took a game from Chicago -- and the Cubs can't afford to be losing too many games right now.
Livian Hernandez -- that guy could shut it down. He pitches about a million innings a year for that team. Andy Chavez made a great diving catch in the outfield during a tie game. That wouldn't be such a big deal, but he did it on turf and that's a good way to get injured. Most of all their Hall of Fame manager hasn't quit, and Frank Robinson never will.
OK, so that isn't as glamorous as playing for the league title. But a series like that is the playoffs for the Expos. Showing you're still relevant by shaping the playoff picture is as good as it gets in September for a team like Montreal.
Finally, you don't want to be part of a team that goes through the motions at the end of the year, because even though the next season won't start for another five months, that attitude will stick with you when it does. And if you don't like knowing you're out of it in the fall, you're definitely not going to like knowing it in the spring.
It's up to the veterans on the team to prevent that kind of attitude from taking hold. There were plenty of guys on the bad teams I played for who didn't care about the season once we were out of it. Some even didn't mind being hurt -- they could shut it down early.
Now, I don't want to always sound old-school, because this isn't an old-school belief -- but if you really feel that way, I have a tip for you.
Go get another job.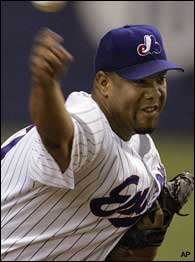 Livan isn't going to quit, no matter what the standings say.
See how much fun it is to work 12 months a year instead of seven, and for a fraction of the salary. If you've been playing ball since you were in school, man, that would be a rude awakening.
Another thing bad teams do in September is call up minor leaguers, and I don't get it. It isn't that I don't think they shouldn't get a shot -- it's that if you know your team is bad, then why wait?
Use your September call-ups in June. Give them four months to play, not one.
The other thing that gets me is the age-old practice of using those call-ups only against bad teams so they can get their innings. Everybody still thinks you should only put your best against the best, even if you are 25 games out.
OK, so if everyone does this, then you have your minor leaguers playing against another team's minor leaguers. The fans are getting screwed, and your call-ups aren't getting any experience against major league talent.
Now, I know the GMs are in a tough place in July. They have to be optimistic about the season until the trading deadline. None of those guys want to go to an owner before then and say the season is over, no matter how evident it is to the players, fans and media.
Still, a plan like this can blow up in your face.
In 1989, the Phillies called up this guy named Pat Combs, and we thought we had our next ace. The guy went 4-0 with a 2.09 ERA in September.
Well, spring training rolls around the next season and this guy couldn't even throw it straight. I don't know what happened in the offseason, but he was finished before he even got started. He stuck around the league for awhile, but he never looked like he did during that first September.
The media is the other thing to be careful about in September when you're on a bad team.
It's their favorite time to try to run guys out of town. Fire the manager. Fire the GM. Get a new outfield.
This is when a team needs to stick together more than ever. You need to help pick those guys up and prove all those columnists wrong.
Then again, if you're in last place, there are probably some guys who should be run out of town. I mean, you're not at the bottom of the standings by accident.
So to all you non-contending teams out there, there's always next season. And for you guys on the really bad teams, pray you get traded at the winter meetings.
Winners never quit and quitters never win
After the Yankees were embarrassed 22-0 on Tuesday, I said a few things on the air about Esteban Loaiza.
I said he quit on his team, and that he should probably never be allowed to take the mound at Yankee Stadium again.
Was that a little harsh? Yeah, you can say that. Especially because I used the "Q" word.
In baseball, no one ever wants to be called a quitter. Ever.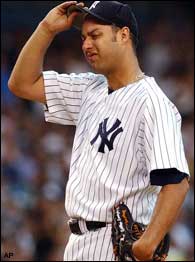 A power pitcher thowing in the low 80s?
In fact, I knew what I said was pretty harsh because I called his agent John Boggs to give him a warning about it. Now, I've known John since '86 when I played in San Diego and he was working for Steve Garvey. We've been pretty good friends ever since. I don't just call every agent of every player I criticize. Friend or no friend, even he was surprised at the read on the radar gun when Loaiza was on the hill.
Then again, I call it like I see it; and what I saw was a guy who usually can throw in the low to mid 90s never reach anything higher than the the mid-80s, at best.
That's what I saw. Now, I'll also tell you I saw it on TV. I wasn't at the game. I wasn't in the clubhouse. I don't know if he's hurt.
I don't even know if he was simply eating innings to save Tom Gordon and Paul Quantrill for another day. If that was the case, then I tip my hat to him. I'll even apologize to him, his family, his friends, whoever he wants.
But based on what I saw, I don't think that's the case.
Now, I'm not saying this because I'm the best baseball analyst in the world, but I'm definitely more than a casual observer. I did play this game.
Apparently, Loaiza knows this; but he doesn't give me any credit.
In Thursday's N.Y. Post, Loazia said, "No, I never quit. I know John's an ex-ballplayer, but if he was playing the game right now, heh, it's a different story playing in the '80s and the '90s -- when he retired. The kids are stronger and stronger. Nobody wants to give up here or anything like that. I don't give up at all. I don't know why he said that."
Hey, if he can honestly say he gave everything he had, then, like I said, I'll apologize.
Look, it's my job to be honest here. I know what I saw. I didn't watch one off-speed pitch and base everything I said on that. I watched all three innings he pitched.
If I saw Derek Jeter, Bernie Williams, Gary Sheffield or any other Yankee watch three pitches go right down the pike without lifting the bat off his shoulder, I would say the same thing about them. Or if one of them jogged to first and ran back to the dugout after getting about half-way down, they would get the same treatment.
It pains me to say it; but I guess I'm part of the media now, so this is what I do. I'm not out to rip people for the sake of doing it.
Maybe I could have called the Yankees after the game to see what happened. But when a team just lost 22-0, the guys don't tend to be very open to discussions about how they stunk.
I gave the agent my number and told him to have Loaiza call me if he wants. I'll talk to him and I'll tell him what I saw.
I know pitchers get rocked in this game all the time -- Cy Young Award winners all the way down to September call-ups. And blowouts like this happen, too. Maybe not to the Yankees so much, but they do happen.
But you never give up on your team. (That's what I should have said, by the way: "give up." It was the "Q" word that got him.) Check the stats from that game. Look at the other pitchers.
I doubt Tanyon Sturtze and C.J. Nitowski were throwing in the low 80s.
John Kruk is an analyst for ESPN's "Baseball Tonight."