By John Kruk
Page 2
Every year, a new crop of guys make their debut in the playoffs, so I figured I would help them out.
I don't have the experience of a Derek Jeter in the postseason, but you only have to be there once to know what I'm talking about.
How good is this advice? Put it this way: If someone had told me this stuff back in 1993, I definitely would have been a better player.
1. GET YOUR REST:
This is the most important. You have to stay healthy and rested. I sat out the last three games of the '93 season with back spasms. Then we had a couple of days before the playoffs started. So with five days off, I did pretty well. I say this because people are looking at the Cardinals, who clinched the NL Central a while ago, and saying they aren't playing well.
If anyone thinks that, they don't know what's going on. St. Louis is just getting ready for the playoffs. What does it matter if they win a couple of extra games? Now that the Red Sox aren't in contention to catch the Yankees anymore, do you really think Curt Schilling will pitch over the weekend? Does that mean Boston is in trouble? Hell, no.
You need to be ready when they bring out the red, white and blue bunting. Your regular season record may have put you in the playoffs, but your stats? Yeah, they only show those the first time you step to the plate. After that, it's how you're doing in the playoffs.
So be proud of those 100 RBIs, or those 20 wins. But not for too long.
2. STOP AND SMELL THE INFIELD GRASS:
Not only is it a different season in the playoffs, but it goes by faster, too.
Everything seems quicker -- the pace of the game, the speed of the players. Everything.
So every once in a while, you need to stop what you're doing, take a deep breath and remember you aren't going to win or lose the game on one play. There's no need to go out there like every pitch is the bottom of the ninth in Game 7.
All the great players seem to slow it down at the most important times in the game -- Jeter, Jordan, Gretzky, Tom Brady. That isn't by accident, and neither are all their championships.
If you get caught up in how fast everything is going, whether you play three games or 19 -- it's going to be over before you know it.
3. BEWARE THE MEDIA:
Like it or not, you're going to have to deal with these guys. You have to talk to them.
Step into the cage for some swings -- there they are. Take a few grounders -- there they are.
I don't know if you have to be rude; but if YOU think you do, then by all means: Go ahead. You're there to win, not get in the paper. So if someone is preventing you from getting loose and getting in your swings, then they need to go.
Iv'e never seen media like I did at the World Series. It didn't help that my team wasn't exactly made up of media darlings; but if you're not careful, these guys can make baseball feel like a job.
And it isn't just the questions during the pregame warmups. It's the workouts baseball made us have on off days. Workouts on off days? Are you serious? Hey, if you need workouts on an off day in mid October, then odds are you aren't in the World Series.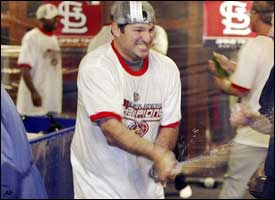 Getty Images
"Congrats Steve! Hey, any chance I can get four tickets to Game 1?"
These sessions were for one thing -- the media. Our manager knew we didn't need them. We knew we didn't need them. But there we were, working out so the media could dredge up something to write about.
Maybe they should call a truce this year and give the media the day off, too.
4. TICKETS:
What a nightmare.
If you know your team is in the playoffs, I hope you have all this taken care of already.
Where are the players' familes going to sit? Where are the wives going to sit?
Then, when you get the tickets (the ones you paid for, no less; you only get two per game), the questions from the family start flooding in.
Can I sit with them? If so-and-so doesn't want to come, can we bring this person or that person?
And my favorites: Can you get a couple more tickets? And where am I going to stay?
I didn't know I had so many close friends until we made the Series. Suddenly, everyone had followed my career and wanted to keep following it in person at the game.
They just don't get it. You're not there to be the social director. You're there to win some games that you worked your whole life to be able to play.
So here's some advice for the friends and family of all the ballplayers out there: Don't ask them to hang out with you after the game. Trust me. When they're in the playoffs, they don't want to.
Without the media, this would have been the worst part of being in the playoffs.
5. BATS:
Finally, if you make it to the playoffs, you might get some commemorative bats from Rawlings or Louisville Slugger or whoever makes your bats.
They'll look real nice. They'll have your name and the series you are playing in.
Right. Real nice.
Now, do both of us a favor when you get them: Put them in your locker and don't touch them again.
Don't use them in a game and break them all, like someone I know.
Seriously, I think I have the barrel of one bat left, and that's at my dad's house.
I should have left them all with him.
Milton Bradley's Game
Milton Bradley's stunt with a fan this week could really cost the Dodgers.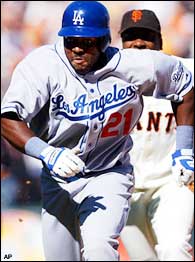 Getty Images
If you know what's good for you -- get out of Milton's way.
In case you didn't know, here's the short version: Some fan in L.A. tossed a plastic beer bottle at Milton while he was playing right field.
Milton didn't take too kindly to it, and went over to the stands and slammed the bottle into the first row of seats. Natually, the umps tossed him.
On his way to the clubhouse, Milton took off his jersey and wildly called for the fans to boo him.
Another ugly incident, and right on the heels of Frankie Francisco's chair-throwing episode.
Not only was it just stupid of Milton to go over to the stands like that (because you never go into the stands -- I mean ever), but the Dodgers aren't in the playoffs yet. They have a pretty tight race going with the Giants, and they're playing them this weekend to close out the season.
Well, most of the Dodgers are playing them. Milton won't be available, courtesy of the suspension that was handed down. So someone better go tell manager Jim Tracy that his No. 4 hitter isn't available.
When I was playing ball, there was at least one time when I wanted to go into the stands and take on a guy who threw something at me.
I played Winter Ball in Mexico from 1983 to 1987. You think a plastic beer bottle is bad? I wonder what Milton would have done if he'd had had some of the stuff tossed his way that me and my teammates did back then.
First off was the coins. That's always fun because you don't see those coming. Then there are the beer bottles. Glass beer bottles. And when someone tosses an El Presidente brandy bottle at you ... well, you wish it was just a beer bottle.
The angry fans at Dodger Stadium don't have a thing on the fans in Mexico. How many soldiers in fatigues carrying rifles do they have protecting the players in L.A.?
Still, hostile crowd or no hostile crowd, you never take it into your own hands. You call timeout and find someone else to deal with it -- security, one of your coaches ... anybody but you. That's the biggest lose-lose situation around.
Now, as far as Milton goes, this is nothing new. His reputation hasn't been that great ever since he was in the minors.
I coached Class AA ball in the Eastern League a few years ago. This was one year after Milton had been in the league. Now, I don't know if this is actually true, but people told me that the umps had been told to let Milton go off as much as he wants, but not to throw him out. Why? Because he's crazy and they didn't know what he was capable of. Can you imagine giving a guy like that free reign?
You want to know what Milton's problem is? No one kept this guy in check early on. I'm all for getting a little intense when you're trying to spark your team, but this definitely doesn't fall into that category. Especially in front of your hometown fans.
John Kruk is an analyst for ESPN's "Baseball Tonight."