Commentary
A press conference, WrestleMania style
Originally Published:
March 30, 2011
By
Laura Lane
| Special to Page 2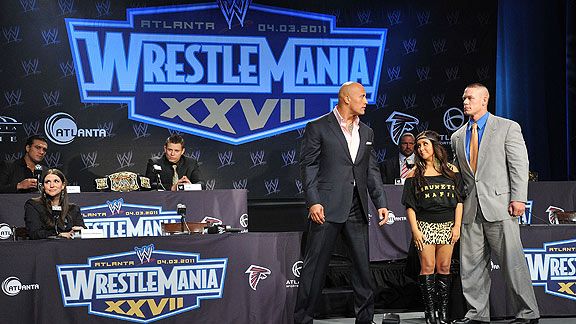 Mike Coppola/Getty ImagesThe Rock, Snooki, and John Cena at the WrestleMania XXVII press conference at the Hard Rock Cafe.
Hundreds of WWE fans, mostly male twentysomethings, waited eagerly in a line outside of the Hard Rock Cafe in Times Square for the WrestleMania XXVII press conference to begin on Wednesday afternoon. One thing was clear: while MTV's headquarters was just around the corner on Broadway, if there were "Jersey Shore" fans here to see Snooki, they certainly weren't about to admit it. This day was about the return of The Rock.
Inside, rock music blared over the speakers, while fans packed around the standing room only balcony, yelled chants of "Undertaker" while others screamed for Triple H. Then there were chants of "Cena sucks!" and "Rocky!" If I didn't double-check my media tip sheet to make sure it read "press conference," I would have been certain I was about to seem someone throw down. But alas, there was no match inside, no knockouts, no grappling and no blood.
There was, of course, drama -- and most importantly for April 3rd's WrestleMania XXVII at the Georgia Dome in Atlanta, there were plenty of storylines for every fan:
• The teenage reality star fan. What was Snooki doing here? She's wrestling now? I thought she was in Italy filming "Jersey Shore?" I bet she'll pull someone's extensions out.
• The movie buff or longtime WWE fan. The Rock is back! Does this mean we don't have to call him Dwayne Johnson anymore? Guess this means no "Tooth Fairy" sequel?
• The die-hard WWE aficionado. Triple H is making his impressive 15th WrestleMania appearance to face off against Undertaker and his 18-0 win streak! And Edge will square off against Alberto Del Rio in a fight for the World Heavyweight Championship title!
Oh, yes, there was drama for everyone.
It's a mistake to call this a press conference. Although there were reporters, cameramen and photographers, let's make it clear: this was no typical press conference. The first speaker, emcee Michael Cole, was greeted with the wrath of hundreds of boos. As he tried desperately and frustratingly get through his introduction, the microphones and speakers were no competition for the roar of the rowdy crowd. Whenever the name "John Cena" was uttered, there was a fury of boos. "Undertaker" solicited cheers, "The Rock" was met by more.
As Snooki told us, "WWE fans are more outspoken [than 'Jersey Shore' fans]. They're not afraid to tell you how they feel."
Stephanie McMahon, executive vice president of creative development and operations, was greeted with cheers of "You are hot!" despite her choice of a conservative black pantsuit -- much to the disappointment of the fans. She tried earnestly to give a meaningful speech about her memories of WrestleMania, but fans screamed over her.
The decision to have fans at the "press conference" no doubt brought the energy of a WWE match, but it was a decision that was most likely quickly regretted. These people were performers, but speech improvisers? Not so much. They had their dialogue prepared and they weren't about to change it.
Next up? Eleven-time world champion and current heavyweight champion, Edge. He looked dapper in a suit and held his championship belt proudly over his shoulder. The fans went wild. I had only witnessed this type of reaction watching 13-year-old Justin Bieber fans.
"You can feel the difference! It's WrestleMania!" he bellowed. "Yeahhhhh!" the crowd cheered. "Thank you Edge!"
His WrestleMania opponent Alberto Del Rio followed, wearing a black suit, and not garnering much love. Instead chants of "You suck!" broke out before he could get a word out.
"Sports entertainment represents everything in my country..." he started to say at the podium, discussing his pride of Mexico. But the fans weren't about to let the opponent of their beloved Edge speak and yelled over him, "U-S-A!"
By the time current champion, The Miz (who is facing off against Cena), joined the stage, the crowd had gotten restless.
"Growing up in Cleveland, Ohio..." he began. They yelled over him: "You. Are. Awesome!"
"I'm sick of hearing John Cena and The Rock, The Rock, The Rock!" he complained. "The Rock is not the WWE Champion. John Cena is not the WWE Champion!"
"I'm The Miz!" he shouted, completely in character. "Awwwwwsome!"
By the time "Jersey Shore's" star "Guidette," as she's referred to herself, took the stage, it was chaos. Nicole Polizzi, better known as Snooki, walked out in leather boots and a skin-tight cheetah skirt.
"There's a nasty broad, Vickie Guerrero, who decided to challenge me and bring me into WrestleMania," she said to the crowd, in a thick Jersey accent. She explained how she'd be teaming up with WWE's John Morrison and USA Network's "Tough Enough" trainer Trish Stratus in a six-person age team match to face WWE Divas Michelle McCool and Layla, Guerrero and WWE star Dolph Ziggler. "We're not going to lose and that's all. The brunette mafia is coming so get ready because I am so ready for WrestleMania!"
She was met with mixed fanfare. They were anxious for The Rock.
But before the fan favorite arrived, his opponent, John Cena took the stage. As he walked to the stage in a grey suit, peach tie and royal blue shirt, chants of "You can't dance" and "Rocky!" filled the room.
Frustrated, he finally stopped his speech and said, "I believe we all have a problem because people are trying to talk and I'm talking." In retaliation, chants of "Borrrrring!" began as Cena tried to get through a speech about the importance of WrestleMania.
Although the crowd was already standing, when The Rock took the stage, he received the equivalent to a standing ovation. A natural performer, he grabbed the mic from the podium. "Finally! The Rock has come back to New York City!" he roared.
"We love you Rock!" they yelled.
"I want to say very quickly what WrestleMania means to me," said The Rock. "I've had the opportunity to be a part of some [great] events from winning the national championship at the University of Miami all the way to the Oscars. There is no greater event than WrestleMania."
Afterwards, The Rock brought Snooki on stage for a photo op.
"I had actually met The Rock before at the airport with my ['Jersey Shore'] castmates and he was like, 'Oh I love the show,'" she told Page 2. "We took a picture."
Although The Rock wished Snooki good luck, what she really needs is practice.
"I didn't exactly practice yet for Mania," said Snooki, who's been on the WWE circuit, also performing at "Monday Night Raw." "I'm doing that Sunday. I think I'm going to be really good for Mania. But for Raw when we practice, it just came natural to me. They just said, do this. And I did it and they said, 'Oh my god, you're better than half of the Divas here.'"
Will any of her "Jersey Shore" fights will be useful at WrestleMania?
"['Jersey Shore'] fights aren't like these fights," she explained. "These fights are, like, serious."
Best of luck, Snooki!
Laura Lane is a contributor to Page 2 and ESPN The Magazine.