By Richard Lapchick
Special to Page 2
The media's coverage of Barry Bonds' move past Willie Mays and into third place on the all-time home run list has been remarkable. From last season to spring training to Opening Day to No. 661, it seems as if a day did not pass without a story or at least a reference to the landmark home run, which he hit Tuesday night in San Francisco in the Giants' 4-2 victory over Milwaukee.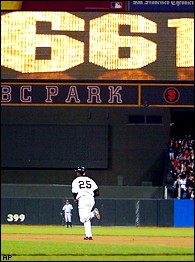 AP
Who will hit more home runs this season: Bonds or the Expos?
The extent of the buzz and the diversity of the perspectives have been striking. But most remarkable is the issue left out: the racial factor. We read about the achievement; the achievement tainted by rumors of steroid use; the aloof and arrogant persona that keeps Bonds at arm's length from the media and fans; the death last year of Bonds's father as the son approached his godfather's mark.
Race does not seem to be on the radar screen.
I was a guest lecturer in a class on the African-American athlete at a Big Ten university last week. Of the 32 students, half were white and half were African-American. We discussed the possibility that race factors in to the public's response to Bonds. When I asked how many of the students think race is a factor, all of the African-Americans and two white students raised their hands. When I asked who didn't think it is a factor, all the remaining whites raised their hands.
When I am interviewed, I am repeatedly asked why the public doesn't embrace Bonds. Why didn't they love him in 2001 when he broke Mark McGwire's single-season home run record like they loved McGwire when he broke Roger Maris' record? Why don't they love him now as he becomes the third-greatest home-run hitter in history?
Lessons from Lapchick
Richard Lapchick, who directs the Institute for Diversity and Ethics in Sport at the University of Central Florida, begins a regular series today as a commentator on ethics and diversity issues for ESPN.com. Lapchick has authored 10 books and is the chair of the DeVos Sport Business Management Graduate Program in the College of Business Administration at UCF.
I sense that writers expect me to comment on Bonds' lack of cooperation with the media, which, in turn, keeps the fans from knowing who he is. No doubt, many writers resent Bonds, and that contributes to an under-appreciation of him. To many, he seems arrogant and aloof. Lately, writers ask for comments on the BALCO case and its implications, which reinforce years of rumors that Bonds' records are built on chemicals. Steroid use would make it easier to dismiss what he has done.
Somehow, we want to avoid what may be a real factor regarding the public's unwillingness to accept Bonds. He is a powerful black man who plays by his own rules, not the rules of baseball decorum or white social norms. He does not often share his smile with fans; instead, he is as likely to scowl or glare at those who approach him. To many whites, that fits a stereotype of African-American men as menacing or threatening.
In contrast, Michael Jordan smiled constantly and interacted with the public when he was an active athlete, and he was embraced for it. Fans bought his gear and put his poster on their children's walls. He wasn't threatening, and instead seemed lovable. Other African-Americans athletes noted that and adjusted their off-the-court demeanor accordingly.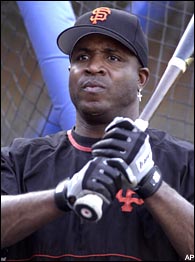 Smiling and interacting with fans constantly is not Barry Bonds.
Barry Bonds never did.
As a civil rights activist and a student of race relations for four decades, I have no doubt that there are white fans who will never embrace Bonds simply because he is strong, unconventional by white standards, and black. Studies on race consistently show that we all hold stereotypes about other racial groups. More than half of white people think African-Americans are more prone to violence, more likely to use drugs, less inclined to work hard and less intelligent than whites.
A Gallup poll released last week shows how wide the gap between African-Americans and whites really is. While only five percent of African-Americans and 12 percent of whites believe that race relations in America are very good, twice as many whites as African-Americans (76 percent to 38 percent) think African-Americans are treated fairly. Five times as many whites as African-Americans think African-Americans have equal job opportunities.
So why do I believe that race is a factor in our non-celebration of Barry Bonds? A look at Henry Aaron's run at Babe Ruth's career home-run record 30 years ago -- which was marred by death threats and a barrage of hate mail -- shows how deep the scars are. (Racial patterns do persist across history. Sixty-three percent in the aforementioned Gallup poll said race relations "will always be a problem.") The negative reaction to Aaron convinced him that America didn't want the record to be held by a black man.
Aaron was not aloof. He talked to fans and the media, and wasn't perceived in the same way as Bonds is today. He was simply a black man about to smash a great white icon's record. But in his shining moment, he lived in fear of bigotry.
Arthur Ashe was a black man who became a great champion playing tennis, a white man's game. As Aaron did, Ashe interacted with fans and the media, and he became a success on the court and in business. Infected with HIV contracted from a blood transfusion during surgery, Ashe wrote that living as a black person in America was harder than dying of AIDS. That is quite a statement about race in America.
During the dramatic 1998 baseball season, McGwire and Sammy Sosa exemplified how sport can bring people together across America's racial divide. As the two men chased Maris's single-season home run record, many fans came to adore Sosa's gestures and accepting smile. In fact, Sosa seemed to interact with fans more than McGwire did. Yet there is little doubt that the media -- and even Major League Baseball -- paid more attention to McGwire than to Sosa. I know many African-American and Latino athletes who are sure that McGwire was favored because he is white, and the record could be kept in the family.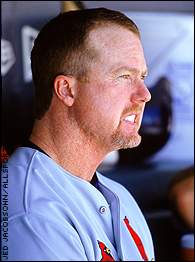 McGwire was tagged Big Mac. Bonds was known as a Killer B.
In a racial context, history has not portrayed big, powerful, surly, white men as menacing or threatening. Instead, that stereotype has been reserved for African-American men.
After McGwire admitted to using androstenedione, a precursor to steroids, there was little talk about putting an asterisk next to his single-season home run record. Although Bonds denies that he uses steroids, numerous reporters and fans talk about an asterisk next to Bonds' 73 home runs in 2001. Do they hope to elevate McGwire's record back to the top?
I am sure many fans and many in the media are turned off by the fact that they don't have a personal relationship with Bonds. They see him as distant and haughty. I am sure they are concerned that his achievements might not be totally legitimate because of the steroid rumors. But I am equally confident that an important part of the reaction of at least some white media and fans is related to the fact that Bonds is powerful, independent and black.
The Bonds story demonstrates that the issue of race is still an open wound for America. Whites and African-Americans still do not look at an event or a person and see the same thing.
Richard E. Lapchick has been a civil rights activist for more than three decades. He is the Chair of the DeVos Sport Business Management Graduate Program in the College of Business Administration at the University of Central Florida. The author of 10 books on race and social issues, Lapchick also directs UCF's Institute for Diversity and Ethics in Sport and is Director of the National Consortium for Academics and Sport.