By Richard Lapchick
Special to Page 2
I have been fortunate enough to attend the opening game of the college football season for the past two seasons. In 2003 it was San Jose State vs. Grambling State in the Literacy Classic. Last week the University of Southern California played Virginia Tech in the Black Coaches Association Classic.
Both games had a notable fact regarding the issue of race. The coaches in the Literacy Classic were Dr. Fitzgerald Hill, one of the then four African-American head coaches in Division I-A, and Doug Williams, the former Grambling State star who led the Washington Redskins to victory in Super Bowl XXII. Up to that point, there had been some 116,000 college football games played. It was only the ninth time in a game between Division I schools in which two African-American head coaches faced each other.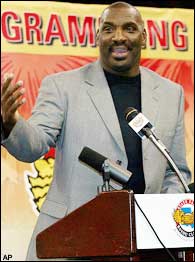 Williams has more press for being black then being a great coach.
The Black Coaches Association Classic was notable, on the other hand, because it marked the 8th game that the BCA sponsored. None of the 16 head coaches in those games was a black coach.
Many involved in college football are celebrating the hiring of Sylvester Croom as the head football coach at Mississippi State. It is indeed momentous, since he is the first African-American head coach in the SEC. Simultaneously, the SEC has its first African-American athletic director, Damon Evans, at Georgia. Those two hirings aside, the positions of head football coach and athletics director remain two of college sports' most segregated positions. Croom becomes the fifth African-American to be coaching among the 117 Division I-A schools and the 21st in the history of college football. Seven years ago in 1997 there were eight African-American head coaches in Division I-A. Evans is one of five African-American ADs in Division I-A. There are three Latino ADs.
As the season began, none of the African-American college coaches were at a school listed in the top 25 as rated by ESPN or Sports Illustrated. In both polls, Notre Dame was the first to appear, at 38th on ESPN's poll and 41st on Sports Illustrated's. UCLA was 53rd and 54th, respectively. No other school with an African-American head coach made the ESPN poll which included 67 teams that got votes. Sports Illustrated, which listed all the schools in Division I-A, had Mississippi State 82nd, New Mexico State 99th, and San Jose State 111th out of 117 schools.
Of the 21 African-American head coaches, the first breakthrough hire was when Oklahoma hired John Blake in 1996. Three years later Michigan State hired Bobby Williams. Neither lasted more than three seasons. Tyrone Willingham was hired in college football's most storied program at Notre Dame in 2002. These three men were the exceptions to the prior history of African-American head coaches being hired in losing programs in college football.
These are the schools that have hired African-American head coaches: In 1979 Wichita State hired Willie Jeffries. Northwestern and Stanford both hired African-American coaches twice (Dennis Green and Francis Peay at Northwestern; and Dennis Green and Tyrone Willingham at Stanford). The others were Ohio University, UNLV, Long Beach State, Wake Forest, Eastern Michigan, Temple, North Texas, Louisville, Oklahoma State, New Mexico State, Louisiana Lafayette, San Jose State, UCLA and now Mississippi State.
In the new millennium there have been 71 head coaching vacancies at Division I-A institutions. Four African-Americans have been selected to lead those football programs, representing five percent of the total. That is only slightly above the 4.3 percent of the total of head coaches today who are African-American.
Prior to the Black Coaches Association Classic, the third annual Summit for Equity in Football Hiring was held. Participants included Myles Brand, President of the NCAA, Floyd Keith, Executive Director of the Black Coaches Association, commissioners from major conferences, athletics directors and several scholars who study the issue of race and sport. I was lucky enough to be a participant.
We discussed a lot of ideas, data, and the problems as they have existed for so long. Perhaps the most important thing discussed was the plan to release the Hiring Report Card in October. It will mark the first time that the schools which have had the opportunity to hire coaches have been systematically scrutinized and held accountable. The fact that the NCAA supports the Hiring Report Card, which was initiated by the Black Coaches Association, is one of the most remarkable and hopeful developments on this issue in the last several years. It is imperative because in the history of the 117 Division I schools, some of which extends more than a century, there have been 11,647 seasons played. Of those, 80 seasons have been lead by an African-American head coach.
While white coaches often bounce from school to school, sometimes fired and other times "moving up," only Dennis Green, Ron Cooper, and Tyrone Willingham had coached at more than one Division IA school. The average tenure of all the African-American head coaches is less than four years.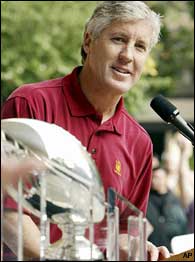 Who does Pete think will replace him?
Dr. Fitz Hill is not only the head coach at San Jose State but is also a scholar on this issue. He did his PhD thesis as well as numerous studies on the subject. Hill recently completed a study examining the differing perceptions of nearly 300 African-American and white Division I-A football coaches. This study revealed a cavernous gap in perceptions between African-American and white coaches. Some key findings were:
Three times as many African-American coaches as white coaches (75 percent vs. 23 percent) believe that negative stereotypes held by white administrators and coaches hinder opportunities for African-American coaches despite their professional competencies and accomplishments.
Six times as many African-American coaches as white coaches (78 percent vs. 12 percent) think white coaches question their intellectual understanding of football strategy and that African-American coaches do not receive the same respect as that of their white peers.
Eighty-two percent of the African-American coaches believe they are hired to recruit and monitor African-American student-athletes while only 31 percent of the white coaches agree.
Three times as many African-American coaches as white coaches (88 percent vs. 29 percent) believe that when a white football coach departs, the successor will be white.
Three times as many white coaches as African-American coaches (62 percent vs. 20 percent) believe that equal opportunities are available to all regardless of race.
More than four times as many white coaches as African-Americans (87 percent vs. 21 percent) perceive that African-American coaches have been accepted as equals in the coaching profession.
More than three times as many African-American coaches as whites (84 percent vs. 25 percent) believe college sport needs a diversity plan to increase the hiring of African-American coaches to eliminate subjective hiring practices.

The Summit has been hammering out such a plan for the last three years with goals for maximizing public awareness of the issue; creating greater political advocacy for change in hiring practices; developing additional professional development programs for coaches of color; and publishing the Hiring Report Card. The first Summit set a goal that by 2005 there would be a 20 percent success rate in hiring head coaches of color. The Summit, led by the BCA, has brought together powerful alliances and people. It will be interesting to see what happens between now and 2005. History says achieving these goals is unlikely. That is why we need to change the course of that history.

Richard E. Lapchick is the Chair of the DeVos Sport Business Management Graduate Program in the College of Business Administration at the University of Central Florida. The author of 10 books, Lapchick also directs UCF's Institute for Diversity and Ethics in Sport, is the author of the annual Racial and Gender Report Card, and is the Director of the National Consortium for Academics and Sport. He has joined ESPN.com as a regular commentator on issues of diversity in sport.