By Richard Lapchick
Special to Page 2
Sometimes, little-noticed incidents can tell us a great deal about a bigger picture. When those incidents take place in the world of sports, they often appear in the media and become magnified. Several recent events make it apparent that hate still has a place in sports. Other episodes, meanwhile, should inspire us to continue to build bridges across the racial divide.
In the ugliest of recent incidents, 18-year-old Joseph Tusan, an African-American football player, was killed in East Central Oklahoma. Tusan was with a group of African-Americans in a confrontation with some whites. Reportedly, racial slurs were exchanged. When the groups got back in their vehicles, Amman Reich, a 43 year-old white Oklahoma resident, rammed his pick-up truck into a second pick-up. Tusan, who was sitting in the back, was thrown from the truck and killed. Another player was paralyzed with a broken neck.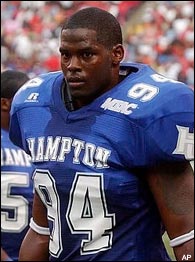 Marcus Dixon is finally playing college football, at Hampton.
Police have charged Reich with first-degree murder, but not with a hate crime. It isn't clear that Reich participated in the slurs, although Assistant District Attorney Chis Ross of Pontotoc County claims witnesses heard Reich say, "Come on, we're gonna whip these -- ." While a conviction on a murder charge is much more serious in terms of prison time than a hate-crime conviction would be, we all too often deny the presence of a race when a crime is committed in this sort of environment. This is not to say that the authorities are acting in a racist manner -- simply that they might not want to deal with a racial hotbed in their home town.
The Oklahoma NAACP is now working to pass legislation named after Tusan that would strengthen hate-crime law in that state. Sometimes when race is in play, we blame the victim. Incredibly, in some early reports in this case, people suggested that Tusan was at fault because it is illegal in the State of Oklahoma to ride in the back of a pick-up truck. Yes, it is frightening to see kids and adults in the back of a pick-up truck. I fear for their safety. But if I should accidentally smash into one of those vehicles and hurt someone riding in the back, I hope my reaction would not be, "That foolish kid broke the law." In another recent twist, Marcus Dixon, who appeared to be headed to Middle Tennessee State University to play football, enrolled instead at Hampton University. Dixon is the Georgia youngster who had a football scholarship to Vanderbilt prior to a conviction of statutory rape for an incident with a 15-year-old girl. The jury ruled the sex was consensual, but convicted Dixon because the girl was under-age. In a ruling that shocked many people (including several jurors), the judge gave Dixon a 10-year sentence. After nationwide protests, the Georgia Supreme Court overturned the decision. He served a year. Dixon's mother, Peri, told the Atlanta Journal-Constitution that Marcus "was set and already packed to go to Middle Tennessee State when the athletics director (Boots) Donnelly called and said they were worried about the media attention Marcus might get there." Made to feel unwelcome at MTSU, Dixon turned to Hampton, one of the nation's top black universities. Here's another recent episode: For the second time in four years, an incident involving the women's basketball team at the University of South Florida boiled over. In 2000 and 2001, eight federal discrimination lawsuits were filed by African-American members of the women's team against Coach Jerry Ann Winters. In that wake, Winters was fired and athletic director Paul Griffith was forced to resign after he allegedly tried to cover up the problem.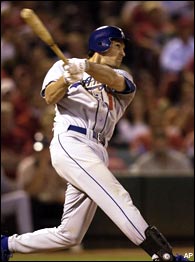 Shawn Green made a compromise, between his team and his faith.
This June, Andrea Armstrong, a senior player at USF, converted from Catholicism to Islam and began to wear traditional Muslim attire. Initially, she reportedly agreed with the school's women's basketball coach, Jose Fernandez, that the the Muslim dress was inappropriate for games and practices, but she showed up for a team photo on Aug. 30 in the traditional garb. When Fernandez re-stated his policy, Armstrong left the team and lost her scholarship.
Several days later, after a meeting with university officials, she was reinstated with the full scholarship. And the school agreed to ask the NCAA to grant an exemption to its uniform policy, which was established so that opponents wouldn't be distracted by apparel that is out of the ordinary. Armstrong's request surely
is
out of the ordinary, but it is based on her religious convictions rather than her fashion sense; and the NCAA has granted exemptions to the guidelines in other cases. For example, Tamir Goodman, an Orthodox Jew, played basketball for Towson State a few years ago and wore a yarmulke during games. And according to the NCAA, a female Muslim volleyball player was granted an exemption and allowed to wear long pants on the court in another case. In the week after her reinstatement, Armstrong reportedly was subjected to a number of backlash episodes on campus and in the community, and she left the team again. Armstrong stood by her faith, and her teammates supported her. Still, when she refused to wear the conventional USF uniform, her scholarship was taken away. Recently, she left USF. One recent diversity incident has the potential to be uplifting. The Los Angeles Dodgers' Shawn Green reminded sports fans in general and Jewish sports fans in particular of a memorable moment in the history of Major League Baseball. Sandy Koufax, one of the greatest pitchers to play the game, didn't pitch on
Yom Kippur
, the Jewish Day of Atonement on which no work is to be performed, during the 1965 World Series. Koufax is heralded by many for honoring his religion on such a high holy day. This season, as a weekend series approached against the Dodgers' rival, San Francisco, with L.A. holding a thin lead over the Giants in the National League West, Green debated as to whether he should play the two games that fell in the period from sunset on the evening that Yom Kippur started and sundown of the next day, when it ended. I've been a Dodger fan for more than 50 years. Although I am not Jewish, I am proud of Koufax for refusing to play in 1965, and I'd hoped that Green would do the same this year. I knew the Dodgers' fortunes might suffer if Green didn't play in those two games, but I hoped he would inspire his teammates in the process. He picked a compromise. He played on Friday night and sat out Saturday's game. Compromises, by definition, don't please everyone. I'm sure there are those who feel Green didn't live up to Koufax's legacy, just as I'm sure there are those who feel he let the Dodgers down. (They lost the game he sat out.) For me, it is too rare these days that athletes stand up for something that might bring controversy. So I applaud Green, even if what he decided to do is a compromise.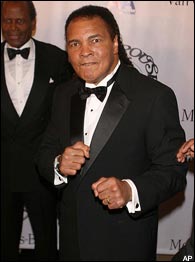 Muhammad Ali is still revered for the stand he took way back in time.
Green reminded me of the handful of other athletes who have stood up and taken action based on their convictions. Muhammad Ali's reign as the heavyweight champ temporarily ended when he became a Black Muslim and refused to fight in Vietnam. Curt Flood's career was cut short after he worked for free agency in Major League Baseball. Tommy Smith and John Carlos were unemployable for nearly a decade after their clenched-fist salute on the Olympic gold-medal stand in Mexico City in 1968.
Today, Ali is the most-revered athlete in the world, precisely because he stood on principle. Every pro athlete owes a debt to Flood for the enormous salaries that have grown out of free agency. After Mexico City, Smith and Carlos weren't even allowed back on campus at San Jose State University, where they competed in the '60s. Now there are statues of the two sports pioneers there, a permanent place of honor. These athletes made significant sacrifices in their professional careers. The lesson is that while doing the right thing may be hard in the here and now, it will in the end be remembered along with the athletic achievements. Anrdea Armstrong's decision should be remembered even if she has scored her last basket. Shawn Green's decision to miss one game, while a compromise, showed the world that he is a man of principle. In the Friday night game, the one in which he played, Green hit a two-run home run to help the Dodgers win, 3-2. I was rooting for the Dodgers to hang on and play once again in the World Series this fall. Back in Brooklyn, the mantra of Dodgers' fans was always, "Wait 'til next year," as the team repeatedly failed to win the Series. Maybe Greene's principled stand will inspire his teammates and make 2005 the "next year." But whatever happens, Green's courage should be remembered for generations to come.
Richard E. Lapchick is the Chair of the DeVos Sport Business Management Graduate Program in the College of Business Administration at the University of Central Florida. The author of 10 books, Lapchick also directs UCF's Institute for Diversity and Ethics in Sport, is the author of the annual Racial and Gender Report Card, and is the Director of the National Consortium for Academics and Sport. He has joined ESPN.com as a regular commentator on issues of diversity in sport.