By Richard Lapchick
Special to Page 2
The controversy over the small number of Division 1A African-American head football coaches heated up on Monday when Fitz Hill resigned at San Jose State University. Right now, out of 117 head coaches in the top division of college football, only four are African-American.
Hill told his players of his decision on Sunday, and announced Monday that he will become a Visiting Scholar in the DeVos Sport Business Management Graduate Program in the College of Business Administration at the University of Central Florida. He will also be a research associate for UCF's Institute for Diversity and Ethics in Sport. I serve as head of both programs; and when I heard that Hill was considering leaving coaching, I asked him if he would be interested in joining me in our work. I have admired him for many years as a scholar and a teacher as well as a coach. He will add real-world experience to our classrooms as well as our research efforts.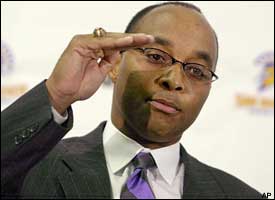 Fitz Hill brings his experience in the trenches to UCF.
It is ironic that when Hill and I first talked about this, I was preparing to release a study of the people (presidents, athletics directors and faculty athletics representatives) most directly involved in making decisions on hiring head football coaches for all of Division IA. Hill, too, has studied the attitudes of both African-American and white coaches toward hiring African-Americans. He found a huge gap in attitude, as I reported in a previous column for Page 2.
The data from the new study shows that by a vast majority, the most powerful people in college sports are white. In Division 1A, this includes 95 percent of the presidents, 93 percent of the athletics directors, 91 percent of the faculty athletics reps, and 100 percent of the commissioners. This has to have an impact on the hiring of head football coaches. The 'old boys' network has operated for generations in sport and in society.
The hiring process in Division IA football rarely follows affirmative action guidelines. Usually, it's quick, quiet and exclusive. The Black Coaches Association is trying to address that process with its Hiring Report Card. We know there are many African-American coaches in the wings ready to lead Division IA programs; but history shows that in the 'old boys' network, white men are likely to hire people who look like them.
Among the 117 Division 1A colleges and universities, whites hold 334 (93 percent) of the 360 campus leadership positions. White women hold 41 (11 percent) of those positions. There is only one African-American woman and one Latina in that group of 360. There are no Asian or Native American women.
Among university presidents, there are:
Four (3.4 percent) African-American males -- at Bowling Green, Indiana, Middle Tennessee State and Ohio.
Two (1.7 percent) Latino men -- at Akron and New Mexico.
Thirteen (11.1%) white women -- at Ohio State; Michigan; Miami; Memphis; Ball State; Cincinnati; Kent State; Nevada-Las Vegas; Syracuse; Texas-El Paso; Western Michigan; South Florida and the University of Alabama-Birmingham.
No African-American, Latino, Asian, or Native American women.
No Asian or Native American, men or women.

So 94.9 percent of the 117 Division IA presidents are white, and 84 percent are white men.

At the 117 Division IA schools, there are 120 athletics directors -- three schools (Texas; Arkansas- Fayetteville; and Tennessee) have separate athletics directors for men and women.
Six schools (5 percent) have African-American males as athletics directors: USC, Virginia, Hawaii, Arizona State, Georgia and Vanderbilt.
Three (2.5 percent) have Latino men : UCLA, Wisconsin and New Mexico.
Eight (6.7 percent) have women as athletics directors: Tulsa, Nevada, Cal- Berkeley, Western Michigan and Maryland all have a woman in charge of the entire department; while Arkansas, Tennessee and Texas all have a woman as AD of women's athletics.
No schools have African-American, Latina, Asian or Native American women athletics directors in Division IA.

Of the entire group of Division 1A athletics directors, 92.5 percent are white, and 86 percent are white men.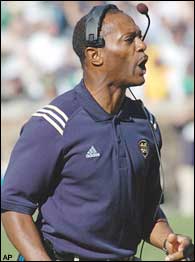 Ty Willingham remains the face of the Notre Dame football program.
People inside college sports often say the most powerful and influential positions in their industry are the conference commissioners -- especially those who lead the conferences in the Bowl Championship Series. All 11 of the Division IA conference commissioners are white men. Excluding the historically black conferences, all 31 -- 100 percent -- Division I conference commissioners are white, and 28 (90 percent) are white men.
These are astonishing numbers. Only 15 of the 117 Division 1A schools employ a person of color as either president or athletics director. With 94 percent of these positions held by whites, it is no wonder that 95 percent of the head football coaches in Division IA are white.
So as Fitz Hill moves into the academic world, only four African-American men remain as head football coaches at Division 1A institutions: UCLA's Karl Dorrell, Notre Dame's Ty Willingham, Mississippi State's Sylvester Croom and New Mexico State's Tony Samuel. And this number is half of what it was in 1998!
Unless the hiring process is opened up, I am confident that these same low numbers will persist. Throughout the more than 100-year history of Division 1A football, just 21 African-Americans have been head football coaches, and that's a scandal for American higher education.
The hiring process should -- and can -- change. Instead of a quick, quiet and exclusive search, the process needs to take time, include a representative search committee and follow the university's affirmative action guidelines. It simply does not ring true when I hear athletics directors say they can't find any African-American candidates. Whenever an opening is announced, the Black Coaches Association, as a standard practice, sends the AD -- and the institution's president -- a full list of potential candidates within a week. The BCA is available to answer follow-up questions about the credentials of the individuals on the list.
There are no excuses. The African-American candidates are out there. In the end, a search committee might very well choose a white coach. Yet with a full pool of candidates white and African-American -- the process will have been thoughtful and inclusive. And at the very least, we can dismantle the 'old boys' network and truly look for the very best candidate, irrespective of race.
Richard E. Lapchick is the Chair of the DeVos Sport Business Management Graduate Program in the College of Business Administration at the University of Central Florida. The author of 10 books, Lapchick also directs UCF's Institute for Diversity and Ethics in Sport, is the author of the annual Racial and Gender Report Card, and is the Director of the National Consortium for Academics and Sport. He has joined ESPN.com as a regular commentator on issues of diversity in sport.