Single page view
By Richard Lapchick
Special to Page 2
Major League Baseball has a unique opportunity to renew African-American interest in the sport, from the youth level through the major leagues. There have been a sharply declining number of black participants and spectators over the past 20 years.
After months of heated debate, the Washington, D.C., city council finally voted this week to provide $611 million in District funds to finance a new stadium for the Washington Nationals. Washingtonians were so excited during the inaugural season last year, and I think most baseball fans felt good that the nation's pastime had returned to our nation's capital.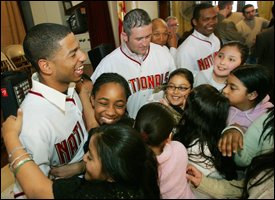 AP
The Washington Nationals have young kids excited about baseball in DC.
In their 2004 agreement with the District that paved the way for the Montreal Expos' move to DC, Major League Baseball promised to provide a strong "community benefits package" that would significantly strengthen baseball programs for inner-city youth. Councilman Vincent Gray has been the leading advocate for such programs in discussions with investment groups vying for MLB's selection as the new Nationals' owner.
Thus, far, however, MLB has only agreed that the Nationals will provide $1 million to start, plus $250,000 per year for 10 years, for a modest inner-city youth baseball program similar to the "RBI" program MLB sponsors in Harlem.
Major League Baseball's RBI (Reviving Baseball in Inner Cities) program was designed to reinvigorate interest in baseball in urban areas where facilities have been poor or nonexistent for decades. The Harlem RBI project, although a terrific program, is relatively small (reaching only 550 youngsters) compared to the 3,500 inner-city children expected to participate in MLB's Compton, Calif., youth baseball and softball academy, slated to open in March. Washington has an African-American population over five times the size of Compton's.
The new Compton academy is the "bricks and mortar" extension of RBI, taking it to the next level. It is designed to not only spark a renewed interest in baseball in the city's neediest children, but also to help battle astronomical school drop-out rates by providing academic tutoring and counseling that emphasizes the importance of staying in school, off the streets and away from drugs and crime. None of those social ills are alien to our nation's capital.
I fully endorse councilman Gray's initiative to create a baseball academy for the youth of Washington. I also heartily support the strong funding proposal advocated by D.C. attorneys Cyrus Mehri and Steven Raikin, who have argued for a more substantial $10 million commitment from the Nationals and MLB for an academy -- patterned after the Compton model -- that would become the nation's largest and most robust baseball program for inner-city youth. Mehri and Raikin said recently that, "D.C. is being asked to finance a first-class stadium, and should not agree to a third-rate program for our city's most impoverished and vulnerable children."
Mehri is the Washington civil rights attorney who several years ago helped convince the National Football League to agree to change hiring practices for head coaches and front office personnel, resulting in the now highly acclaimed Rooney Rule. The Rooney Rule mandates that teams interview minority candidates for each head coaching opening. While the rule did not have its desired impact this year, it initially led to a tripling of the African-American coaches in the NFL, from two to six. Mehri and Raikin are both avid Nationals fans.