Commentary
Who is Cleveland's new sports king?
Originally Published:
December 1, 2010
By
Geoff LaTulippe
| Special to Page 2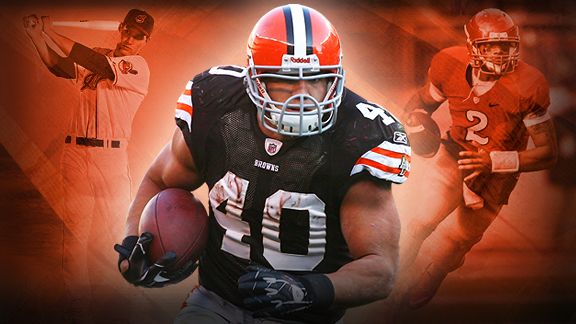 ESPN.com Illustration
On Thursday, the king returneth.
Well … the guy who used to be king, anyway. Of Cleveland sports. Now he's the king of a mediocre, just-north-of-.500-even-with-all-the-superstars team that can't win on the road (I don't watch a lot of NBA games, but I can do my 12 seconds of research), and his own logo that looks like a bad 1970s hood ornament. He plays in a city where people care more about nightclubs made of beds than professional sports. And much of the rest of the country is openly rooting against him.
So … at least he gets to wear the same jerseys as his best friends. That's fun.
While we all think about LeBron James' return to Cleveland, Page 2 has asked me to contemplate just who's going to enslave the hearts of the Cleveland sporting faithful. So that's what I'm going to attempt to do here. Why? Because it needs to be done, doesn't it? Don't answer that.
To everyone who doesn't live in Cleveland, I know what you're thinking: Who the hell cares? On one hand, I can't argue that point. On the other hand, I don't need to. I'm already here. If you want to bellyache (see you in the comments section, charlatans!), please feel free. I should tell you up front that any negativity will be absorbed with a cemented belief that the source of said negativity is Pittsburghian in nature, and I don't have time to argue with people who have such severe learning disabilities.
Even though I don't really follow the NBA, I don't see that as a problem. I looked over the Cavaliers' roster and have never heard of most of the guys on the team -- and the guys I have heard of … let's just say that a little over half my life ago, I collected their trading cards. I don't feel like these old dudes are filling Cleveland's tummies with butterflies.
I don't follow the NHL, either. Can anyone seriously name even two people who are playing for the Columbus Sport Jackets? We're going to restrict this to the only three teams anyone in Northeast Ohio cares about: Buckeyes, Indians and Browns. Yes, that's mostly because I'm lazy.
10. Mike Holmgren, Cleveland Browns president
Why he makes the list: Because he's basically taken the Browns by the scruff of the neck and is carrying them back to respectability. The team had a great draft, and the front office made some terrific offseason moves. NO ONE -- and how long has it been since we could say this something like this? -- wants to play Cleveland the rest of this season.
The crazy thing is that the Browns are headed for a 6-10 or 7-9 finish this year … which means Eric Mangini's job will be on the line. It seems to me as if opinion on his return in 2011 is split 50-50 -- some (geniuses) love the guy and realize that he's taken a team with a severe lack of NFL talent and turned it into a squad that can play with (and beat) anyone week in and week out. Others (idiots) are only going to take a look at the record and assume he's failed.
The kicker? No matter what happens, Holmgren will be No. 5 on this list next year. If he installs himself as head coach, he might rise as high as No. 2. Because the idiots will cheer, and the geniuses will register with, "Well, I can't really argue with the guy …"
Why he's not the new king: He's … not an athlete.
9. Travis Hafner, DH/1B, Cleveland Indians
Why he makes the list: On his best days, he crushes the ball so hard you can't even see it zipping out of Progressive Field. He's a fan favorite because he's a quiet, hard-working guy and because he quickly helped fans get over the abrupt and ugly departure of the much-loved Travis Hafner Sr. (Jim Thome). Plus, he's from South Dakota. Or North Dakota. How can you hate someone from one of the Dakotas?
Why he's not the new king: Fan appreciation aside, the guy has barely clunked through the past couple of seasons. He's had injuries, and it's been a bummer. But you gotta be able to count on a king. And we just can't right now.
8. Grady Sizemore, CF, Cleveland Indians
Why he makes the list: Perhaps the most female-friendly player in the history of Cleveland sports, especially when he's sending cell phone pictures of his genitals to half the population of Cuyahoga Falls (ZING!). A supremely talented physical specimen that can do absolutely everything, especially when sending cell phone pictures of his genitals to half the population of Cuyahoga Falls. Zing.
Why he's not the new king: See Hafner, Travis.
7. Terrelle Pryor, QB, Ohio State Buckeyes
Why he makes the list: He's the face of Ohio State football and easily one of the five scariest players for which opposing coaches must game-plan. After a moderately tenuous freshman campaign, he's led the Buckeyes like a man for the past couple of years. And he's coming back for his senior season in 2011, determined to win the national championship that has so far eluded him. Even if you can't stand the Buckeyes, you have to respect that.
Why he's not the new king: To be honest, I'm not totally sure that Ohioans actually love him like they pretend they do. Maybe there's someone else who can become the face of OSU football. If there is, I hope he has a long and contentious eligibility battle with the NCAA clearinghouse -- because I can't stand the Buckeyes. Go Penn State!
6. Ricky "Wild Thing" Vaughn, RP, Cleveland Indians
Why he makes the list: He's the best relief pitcher Cleveland has ever had. I'm looking directly at you, Jose Mesa. Directly at your face. You are a crusher of dreams.
Why he's not the new king: He's not, in technical terms, a nonfiction human being. If he were, he'd be retired by now. And probably not wrecking hotel rooms and scaring paid escorts in New York City. On second thought … yep, he probably would.
5. Matt Latarski, bowling wizard, Medina, Ohio
Why he makes the list: Never heard of him, you say? Yeah, he's not that great, I guess … except that he's from Medina, Ohio, and recently became only the 17th person in the history of time and space to bowl a 900 series. What does that mean? To quote Joe Mantegna, it means Matt Latarski is better at bowling than you or I will ever be at anything.
Why he's not the new king: I'm not even going to pretend that Midwesterners somehow don't love bowling, because bowling is awesome, but … it's bowling. Also, Latarski looks like someone who COULD be from Pittsburgh. Except for the fact that he has all of his teeth.
4. Josh Cribbs, WR/KR, Cleveland Browns
Why he makes the list: He's been the most popular Browns player over the past five years -- hands down. Even through a nasty contract dispute, he mostly kept his cool, shut his mouth, put his head down and outplayed everyone else on the football field. He's exceptionally explosive; one of the most exciting players in the team's history and at least the most dynamic since Eric Metcalf, whom I loved to my core --- but whom I'm convinced Cribbs could run circles around. Essentially, Cribbs carried the franchise when its fans had literally nothing else to hang on to.
Why he's not the new king: A sad bottom line, but since the new contract, he hasn't exactly set the league on fire the way he used to. It's not totally his fault; defenses key on him like foxhounds, and since the wedge formation has been outlawed on kickoffs, Cribbsy's been somewhat grounded. Injuries this year haven't helped. But trust me … he'll be back.
3. Peyton Hillis, RB, Cleveland Browns
Why he makes the list: Um, have you seen him play? He perfectly fits the mold of the ideal Cleveland underdog athlete: overshadowed in college, drafted in the seventh round, made the team that drafted him, was relegated to 35th on the depth chart, got a chance to start due to injuries, destroyed the competition, suffered a regime change, rode pine when the moron new coach didn't think he could play, got traded, became a punishing and unstoppable force for a team that's supposed to be built on smashmouth football but hadn't had a capable player since the mid-1980s. Pees onto a Tommy Vardell urinal cake.* Arms are so big, he cures cancer with his hugs.
(* - Claim not yet substantiated.)
Why he's not the new king: After Sunday's brutalizing win over Carolina, it's difficult to say that he's not. But he JUST got here. That reasoning will become invalidated once we get to No. 1, but we're not quite there, so just nod your head and move along because you don't know that yet.
2. Delonte West, G, Boston Celtics
Why he makes the list: Everyone loved LeBron like their own child. Everyone now hates LeBron like someone else's child. Delonte West … allegedly got revenge for every last Clevelander ever. Ever.
Why he's not the new king: As far as I can tell, he now plays for the Celtics. It's literally the only obstacle to his coronation. You might not like to think about it, and the feeling probably resides deep down inside dark places that you don't talk about to people at parties, but you probably agree with me on this, even if you're not a bad person like me.
1. Bernie Kosar, QB, Cleveland Browns
Just kidding. Kind of.
1. Colt McCoy, QB, Cleveland Browns
Why he's the new king: In preparation for writing this article, I reached out via the tentacles of Facebook to ask my Cleveland friends who they might choose as their sports king. (Incidentally, not one person mentioned Delonte West, convincing me even further that I'm right about how much they secretly love him.) In the course of that, one friend offered this:
" … Just a thought -- I think LeBron was almost too talented to have really been embraced by Cleveland fans. He just never felt like one of 'us.' The most loved Cleveland athletes tend to be scrappy, blue-collar guys who aren't the most naturally talented but always play with heart. Bernie, Colt, Cribbs. Guys who have been doubted and are not the prettiest or most gifted physically, but gutsy and gritty like the city itself."
Some might call that the gift of selective hindsight, and maybe there's a hint of that in there for Cleveland fans. But I can't help thinking he's right, and that's a major part of the reason Colt is No. 1. Dude wasn't even poised to MAKE THE TEAM at one point this summer, and now look at him: appearing all, like, the future of the franchise and stuff during most of his playing time this season. He's not the tallest, nor the strongest, nor the most physically gifted. He's an underdog, much like Hillis. And much like Hillis … yeah, he kind of just arrived here.
But Browns fans are tortured, and we've earned reputation of not necessarily caring about who our quarterback is, but rather caring about who our quarterback COULD be; double that when you kick off the season with Jake Delhomme as your starting intercept … I mean, QB. Hey, we've been burned. A lot. Often by guys who were never any good in the first place (coughDerekAndersoncough). At least none of them ever wore a shirt like this or did this to their hair.
The fact of the matter is, Colt IS gutsy. He's smart. He's consistent. He's unflappable, especially for a young guy. He works hard and stays quiet. He LEADS. He doesn't have a logo. He doesn't have a brand. He is, for all intents and purposes, "one of us." And it looks like he's going to have the keys to the franchise next year. Whether he becomes the guy that returns Cleveland to football glory or just the latest to let the city down remains to be seen. All I know is that, watching him out there this season, I've been getting flashbacks of old No. 19 marshalling our boys up and down the gridiron.
Football fans know that NFL championships, by and large, go through the quarterback position. With that in mind, McCoy becomes the king of Cleveland sports almost -- almost -- by default. The thing is, though … I don't know. Maybe I'm just pulling a Cleveland here, but I'm starting to believe again.
Somebody hand McCoy a scepter.
Geoff LaTulippe is a libertarian, Phil Collins lover, Libra and writer of the Drew Barrymore film "Going the Distance." Follow him on Twitter at geofflatulippe.