Commentary
Purdue pines for peanut butter burgers
Originally Published:
June 21, 2010
By
Matt Lindner
| Special to Page 2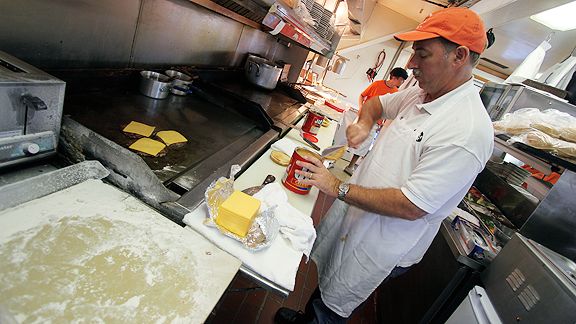 Courtesy of Gary John HigginsTriple XXX owner Greg Ehresman manned the grill at his West Lafayette, Ind., restaurant.
Purdue's Duane Purvis was a star on the football field. But he's best remembered in West Lafayette, Ind., for peanut butter.
Say what?
Yep, the Duane Purvis All-American cheeseburger isn't just any old cheeseburger. It's a quarter-pound mountain of ground sirloin served at the Triple XXX Family Restaurant just off the Purdue campus that comes with a very special ingredient -- a generous helping of peanut butter slathered on the bottom bun.
Hold on a sec. Peanut butter? On a cheeseburger? Purvis' son Mike says that's just the way his dad liked it.
"He used to just make a hamburger and just smear peanut butter on it the same way you or I would smear mayonnaise," he said. "He liked the taste of peanut butter on just about anything. He said, 'It just tastes better to me.'"
Mike Purvis said his dad frequented the Triple XXX during the later years of his life, often going there for breakfast with a couple of other Purdue football stars. One day he told a cook at his favorite haunt about his unusual taste. The rest, as they say, is history.
"They made one for him and he loved it when they did it," he said.
Purvis was the first Purdue legend to have a burger named after him at the Triple XXX, but others have been similarly honored in subsequent years. The practice began in the late 1970s and features such sandwiches as the Bernie Flowers All-Pro (quarter-pound burger with Spanish onion, lettuce, tomato and mayo on a sesame bun) and the Leroy Loin (lightly breaded tenderloin on a sesame bun), named for Leroy Keyes, the man who broke Purvis' rushing records. Super Bowl-winning quarterback Drew Brees has two meals with his name on them -- a one-third-pound cheeseburger and a chicken-fried steak breakfast special.
[+] Enlarge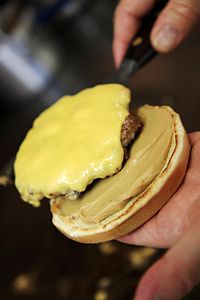 Courtesy of Gary John HigginsPeanut butter on a cheeseburger? Believe it, college football fans.
"It's all just for fun," said Triple XXX owner Greg Ehresman. "For the most part, the people we've asked have been tickled to death that we do it."
Purvis isn't the biggest name on the menu, but Ehresman says it's the most popular burger. It's been featured in national publications and in segments on the Food Network. Visitors to West Lafayette make the restaurant a destination just to try the burger.
It's that wild popularity that baffles Mike Purvis to this day.
"It's just weird to me," he said. "I just think it's awful. I like peanut butter, but I just don't like it on a hamburger."
The popularity of Duane Purvis' namesake burger has long overshadowed his athletic accomplishments.
Purvis played halfback and fullback for the Boilermakers from 1932 to 1934, earning All-America honors twice. He was also the NCAA champion in the javelin throw in 1933 and 1934.
Mike Purvis says Duane was set to sign with the Chicago Bears after his senior season before he injured his knee in the East-West Shrine Game.
"He was one of the best athletes in the world. He was ranked third in the world in the javelin coming off of his freshman year," he said. "Dad would've won the Heisman had they had it in 1933. He was like trying to tackle a freight train."
After his college days, Purvis returned to West Lafayette, earned his master's degree from Purdue and eventually taught in the school's physical education department for years. He died in 1989.
Duane Purvis' legacy lives on through the burger that Mike says captures his dad's unique personality.
Alumni say it's a sandwich that brings them back to their college days every time they take a bite.
"I enjoy the mixture of savory and sweet," said Purdue alum Bryana Bunte. "The trick is to eat it upside down so the peanut butter doesn't stick to the roof of your mouth."
Matt Lindner is a freelance writer for Sports Media Exchange, a national freelance writing network.