Commentary
How Steelers and Jets match up off field
Updated:
January 20, 2011, 2:17 PM ET
By
Matthew Lindner
| Special to Page 2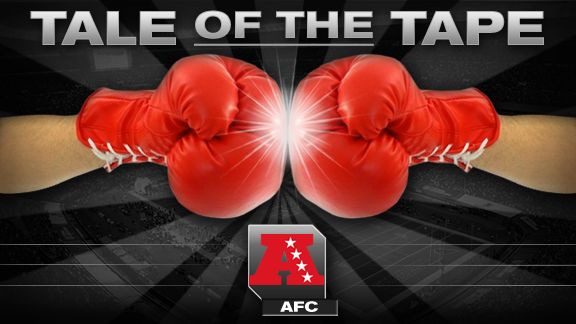 ESPN.com Illustration
Somewhere in America on Sunday, retired NFL quarterback Bubby Brister will turn on a television, see the AFC Championship Game on, smile to himself and think, "Yeah, I used to play for both those teams."
The Bubby Brister Bowl ... er ... AFC Championship Game pits two teams that could not be more different.
The Steelers count themselves among the most successful franchises in all of professional sports. Their six Super Bowl titles are the most in NFL history. Heck, Ben Roethlisberger's two Super Bowl wins are one more than the Jets have as team. But although the Steelers hold a 15-4 all-time series edge, the Jets have won the past two meetings in 2007 and 2010.
All that will be covered in breakdowns during the next few days. Let's go to the tale of the tape to find out how they stack up against each other off the field.
PITTSBURGH STEELERS VS. NEW YORK JETS
| | | |
| --- | --- | --- |
| Number of Super Bowl Wins | 6 (1975, 1976, 1979, 1980, 2006, 2009) | 1 (1969) |
| Ownership | The Rooney family, whose patriarch, Art, was able to buy the franchise entrance fee after winning a $2,500 parlay at the Saratoga Race Track in 1933. By the way, that $2,500 investment is now worth just shy of $1 billion. | Woody Johnson, from the Johnson & Johnson empire, who 10 years ago purchased the Jets for $635 million, the most ever paid for a professional sports franchise in New York and the third most ever at the time. |
| Original Name | Pittsburgh Pirates, named of course for the baseball team with whom they shared their home at the time. The team became the Steelers in 1940. | New York Titans. The team changed its name to the Jets in 1963 because its home field, Shea Stadium, sat next to LaGuardia Airport. |
| Bridge I Could Sell You | Fort Duquesne | Brooklyn |
| Signature Drink | Iron City beer | Martini |
| Skyline | Steel mills | Skyscrapers |
| Major Off-the-Field Distraction | Ben Roethlisberger's four-game suspension to start the season, handed down after commissioner Roger Goodell decided he had violated the NFL's personal conduct policy following accusations that he sexually assaulted a 20-year-old-woman in Georgia. No charges were filed in the case. | The alleged sexting incident featuring former starting quarterback Brett Favre and former in-house sideline reporter Jenn Sterger wherein Favre allegedly had sent Sterger racy cell phone messages and pictures. |
| Famous fans | Seth Meyers, Jake Gyllenhaal, Rush Limbaugh | Jay-Z, James Gandolfini, Kevin James |
| Memorable Postseason Win Over the Colts | 1995 AFC Championship Game -- Leading 20-16 with seconds to go, Colts quarterback Jim Harbaugh's Hail Mary was batted away in the end zone by Randy Fuller, sending the Steelers to a 20-16 victory and on to the Super Bowl. | "We're gonna win. I guarantee it." Joe Namath's famous prediction before Super Bowl III at the Orange Bowl in Miami. Broadway Joe backed up his bravado, leading the Jets to a 16-7 win over the heavily favored Colts. |
| Star Quarterbacks Wearing No. 12 | Terry Bradshaw | Joe Namath |
| Signature Sandwich Shop | Primanti Brothers | Carnegie Deli |
| Neil O'Donnell | Five seasons, one Super Bowl appearance, 1,069-of-1,871 passing for 68 touchdowns and 39 interceptions in 66 games (61 starts) | Two seasons, zero Super Bowl appearances, 369-of-648 passing for 21 touchdowns and 14 interceptions in 21 games (20 starts) |
Matt Lindner is a freelance writer for Sports Media Exchange, a national freelance writing network.