Commentary
How Packers, Bears match up off field
Updated:
January 20, 2011, 2:17 PM ET
By
Matt Lindner
| Special to Page 2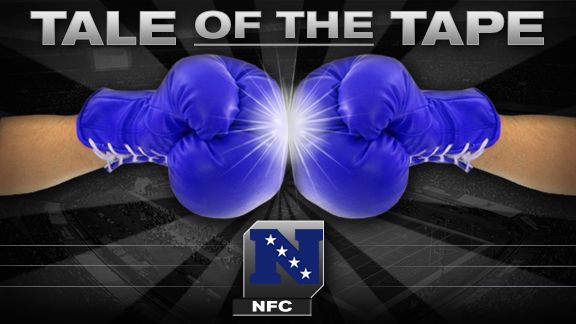 ESPN.com Illustration
Bears versus Packers. Packers versus Bears. It's hard to imagine a more marquee, bold-faced NFC championship matchup than Sunday's game in Chicago at Soldier Field.
The Bears lead the series between the two teams 92-83-6, but this game means more than the previous 181 meetings combined.
You're going to hear plenty about how these teams match up against one another on the field in the days to come. But how about off the field? Page 2 takes you to the Tale of the Tape to find out.
GREEN BAY PACKERS VS. CHICAGO BEARS
| | | |
| --- | --- | --- |
| Number of Championships | 12. NFL Championships: 9 (1929, 1930, 1931, 1936, 1939, 1944, 1961, 1962, 1965); Super Bowls: 3 (1966, 1967, 1996) | 9. NFL Championships: 8 (1921, 1932, 1933, 1940, 1941, 1943, 1946, 1963); Super Bowls: 1 (1985) |
| Ownership | The Packers are owned by their fans, or more specifically, 112,158 stockholders. The Packers remain the only not-for-profit major league franchise in all of professional sports. | The McCaskey family, descendants of "Papa Bear" George Halas, who reportedly bought the team for $100 in 1920. Not a terrible investment. According to a recent study published by Forbes, that $100 investment is now worth just north of $1 billion. |
| Original Name | Indian Packers, named after founder Curly Lambeau's then-employer the Indian Packing Company. | Decatur Staleys, named after team owner the A.E. Staley food starch company. They played the 1920 inaugural season in Decatur, Ill., before moving to Chicago in 1921 and changing their name to the Chicago Bears in 1922. |
| Metro Population | 300,000 | 9.7 million |
| Signature Tubed Meat | Bratwurst | Polish Sausage |
| Locally Brewed Beer | Leinenkugel | Goose Island |
| Famous Fans | Lil' Wayne, Tony Shalhoub, Denis Leary | President Obama, Ashton Kutcher, Vince Vaughn |
| Star Quarterback's Celebrity Paramour | Aaron Rodgers: Like Jay Cutler, Rodgers is notoriously private about his personal life. That said, his taste in celebrity women has set gossip sites ablaze over the past year. In the past, he's been linked to Lady Antebellum lead singer Hillary Scott, but lately reports have surfaced that he's been seeing "Gossip Girl" star Jessica Szohr since last month. Rodgers has, of course, refused to confirm or deny those reports. | Jay Cutler: The notoriously publicity-shy Cutler has been dating a woman who earned her living by televising her life. Cutler and reality TV star Kristin Cavallari have been together since around the beginning of this season. The two have been seen around Chicago together, and during Sunday's Bears-Seahawks game Cavallari publicly tweeted her excitement for her boyfriend. |
| Fan Headgear | Cheese | Bear head |
| Jim McMahon | Two seasons, one Super Bowl ring, 4-5 passing with no touchdowns or interceptions in six games (no starts). | Seven seasons, one Super Bowl ring, 874-1,513 passing for 67 touchdowns in 56 interceptions in 66 games (61 starts). |
NOTE: McMahon is the only player to win a Super Bowl with the Bears and Packers -- and ironically enough, both teams beat the Patriots in New Orleans on their respective ways to glory. He started for the '85 Bears, leading the squad to a 15-1 regular-season record en route to a 46-10 romp in Super Bowl XX. He found himself back on the Superdome sidelines 11 years later, wearing his familiar No. 9 -- only this time as Brett Favre's back-up for the once-hated Packers.
Ironically, McMahon would wind up drawing the ire of Packers fans during the team's trip to the White House when he wore his Bears jersey instead of his Packers jersey. McMahon told reporters he did it to honor his '85 Bears teammates, who had their trip canceled because of the Challenger space shuttle explosion.
Matt Lindner is a freelance writer for Sports Media Exchange, a national freelance writing network.