By Jeff Merron
Page 2
Browsing through my personal sports book library and chatting with friends, writers and editors, I was surprised to discover how few sports books have truly inspired controversy. Sure, lots of athlete/authors can get lips flapping for a few days (see: Johnson, Keyshawn; Wells, David; Rodman, Dennis; Chamberlain, Wilt), but few of those books make a long-term dent in SportsWorld. Will Jose Canseco's "Juiced" be among the all-controversial keepers?
10. "Little Girls in Pretty Boxes" by Joan Ryan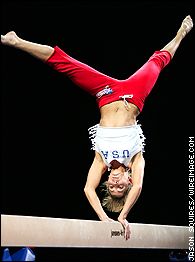 The fascinating world of women's gymnastics was exposed by Joan Ryan.
This 1995 exposé of women's gymnastics and figure skating includes the words "abuse" and "abusive" no fewer than 31 times. Ryan, a sportswriter for the San Francisco Examiner and Chronicle when the book was published, tells the behind-the-scenes stories of girls seeking the gold -- and is harshly critical of gymnastics coaches Bela Karolyi and Steve Nunno (Shannon Miller's coach).
Nunno called the book "garbage." Karolyi said, "She has taken the statements from a few frustrated people who have had negative experiences in our sport and turned it into a generalization. I think it's a crime. She has no business analyzing the work of someone who has put his whole life, heart and integrity into the sport."
But "Little Girls" still inspires Crossfire-style exchanges, even among the Amazon kid reviewers:
One: ALL LIES!!!!!!!!!!!!!!!
Another: IT IS TOTALLY TRUE!!!
That pretty much sums it up.
9. "Friday Night Lights: A Town, a Team, and a Dream" by H.G. Bissinger
Bissinger's devastating account of big-time high school football in Odessa, Texas, was sanitized for the big screen. But the book, which laid bare many of the problems facing Odessa, touched many raw nerves among coaches, parents and fans, to such an extent that Bissinger had to avoid the city because of physical threats.
8. "Dishonored Games: Corruption, Money & Greed at the Olympics" by Vyv Simson and Andrew Jennings
This 1992 indictment of International Olympic Committee president Juan Antonio Samaranch and the Olympic movement under his realm came out just before the Barcelona Games and inspired Samaranch to file suit against the authors for libel. Samaranch and IAAF chief Primo Nebiolo, the authors wrote, "have led the way in the auction of sport and the once-pure five rings to the highest commercial bidders."
The book, initially published in Britain under the title "The Lords of the Ring," also probes Samaranch's fascist past and allegiance to Spanish dictator General Francisco Franco. The charges came under fire in some circles as being irrelevant (if you wanted to succeed in Spain during Franco's rule, there was no alternative), but others argued that being a successful fascist was damning enough.
Samaranch survived the attack and continued as IOC chief until 2001. Nebiolo, who called the book a "salad of silly stupidity," also continued to thrive; the president of the IAAF raised his organization's budget from $50,000 to $40 million during his 18-year reign, which ended when he died in 1999.
7. "Moneyball: The Art of Winning an Unfair Game" by Michael Lewis
The most misunderstood sports books ever, perhaps, beginning with the many writers and baseball insiders who believe A's general manager Billy Beane wrote the book himself as a work of shameless self-promotion.
The heart of the "controversy" is that you can't build a team just by looking at stats. Of course, nowhere in the book does Beane argue that you can. Old-school scouts and baseball people especially felt (and still feel) threatened by the increasing use of statistical analysis of past performance to predict a player's future performance and value. In essence, it's a very old controversy, between fans who like (and believe there's much truth in) stats, and fans who'd rather focus on other aspects of a player's makeup (heart, dedication, desire, clubhouse presence).
6. "Out of Their League" by Dave Meggysey
On the heels of "Ball Four" came a slew of titles that didn't just rip coaches, players, and practices, but the very existence and importance of the games themselves. Put Meggysey's book in this category. "Out of Their League," wrote Robert Lipsyte in late 1970, was "the first important, serious, radical insider's attack on the morality of football."
Meggysey, who played linebacker for the Cardinals for seven years, offered his opinion that the NFL was rife with drugs, racism, sadism and a dehumanizing "militaristic aura." In a Look magazine article excerpted from the book, he wrote that "a lot of NFL trainers do more dealing in drugs than the average junkie," citing, among other things, a wide use of steroids. The establishment dismissed Meggysey as a disillusioned marginal pro turned hippie, but his book was a bestseller. For the past 24 years, Meggysey, who expressed a desire that the NFL be done away with entirely, has been Western Regional Director of the National Football League Players Association.
5. "Meat on the Hoof" by Gary Shaw
This huge 1972 bestseller has been largely forgotten, but in its time it was a bombshell, a condemnation of the University of Texas football program and head coach Darrell Royal, who led the Longhorns to three national titles in the 1960s.
Shaw, a reserve left tackle who started playing for Royal in 1963, wrote about brutal practices, indifferent medical attention for the subs, hazing, racism, grade tampering and cheating on NCAA scholarship rules. Royal comes off especially bad, like a sadistic drill sergeant who has the luxury of dispatching minions (assistant coaches) to carry out his wishes.
"There were a lot of people back then who said Shaw merely made up a lot of what he alleged," wrote Kevin B. Blackistone in the Dallas Morning News shortly after Shaw died in 1999. "He had teammates go on national TV and say the book was far off base. Royal was said to be so taken aback by the expose that he considered quitting. He denied the rumor, but coached just five more seasons after the book hit the shelves."
4. "Into Thin Air" by Jon Krakauer
The climber and writer's account of the deadly 1996 Everest climbing season spawned much criticism from other climbers and paid guides, who were especially targeted in Krakauer's account. The fact that the author was there as both witness and participant added to the firestorm, despite his own admission that he, too, was partly to blame for the many things that went wrong on the mountain during summit day.
Ace climbers Anatoli Boukreev and Lopsang Jangbu Sherpa both quickly disputed many of Krakauer's facts and opinions. Lopsang died on Everest months later, Boukreev on Annapurna about a year later. But before he perished, Boukreev found time to write "The Climb: Tragic Ambitions on Everest", a detailed rebuttal of "Into Thin Air" that's an interesting read itself.
3. "North Dallas Forty" by Peter Gent
To call Gent's "North Dallas Bulls" a thinly disguised version of the Dallas Cowboys would be a gross understatement. Even Cowboys president Tex Schramm didn't bother pointing out that the book appeared in the fiction section of the local bookstore. "It's a total lie," he told The Washington Post in 1973. "What has happened is one person, who in my opinion has a sick approach to life, has indicted the whole NFL and the Dallas Cowboy organization ... I consider the book offensive and malicious."
Still, Sports Illustrated, in listing it as one of its top 100 sports books, said the book "left fans guessing. (Is Seth Maxwell really Dandy Don Meredith?)" Hard to imagine real fans not seeing the transparent connection.
Others, of course, saw the book as revealing serious (and damning) truths about the brutal, impersonal, drug-infested world of the NFL right at the time the league had become the unquestioned No. 1 American sport.
2. "My Prison Without Bars" by Pete Rose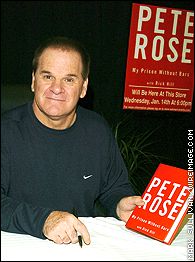 Pete Rose made a huge splash when he released his book.
Thirteen months ago, Rose's million-dollar admission that he bet on baseball inspired extraordinary coverage. Outrage from believers and nonbelievers. Astonishment at the timing (the book came out just before the announcement that Dennis Eckersley and Paul Molitor had been elected to the Hall of Fame). The desertion of supporters like Fergie Jenkins, who asked, in an open letter to Rose, "Where was your conscience?"
1. "Ball Four" by Jim Bouton
In Bouton's follow-up to his groundbreaking tell-all ("I'm Glad You Didn't Take It Personally"), the first words are a direct quote from Dick Young's review of "Ball Four," in the May 28, 1970, edition of the New York Daily News:
"I feel sorry for Jim Bouton. He is a social leper. He didn't catch it, he developed it. His collaborator on the book, Leonard Schecter, is a social leper. People like this, embittered people, sit down in their time of deepest rejection and write. They write, oh hell, everybody stinks, everybody but me, and it makes them feel much better."
Baseball commissioner Bowie Kuhn took almost two hours out of his busy in-season schedule to whack Bouton with the proverbial ruler. "I advised Mr. Bouton of my displeasure with these writings," Kuhn said. According to The New York Times, Bouton had supporters right outside the commissioner's office. "Two long-haired, college-age men paraded with banners that said, 'Bouton's a Real Hero', 'No Punishment for Bouton,' 'Jim Bouton Must Not Be Repressed,'" and so on.
While the reading public gobbled up the book, most teammates passed on the cover-to-cover experience, which detailed rampant skirt-chasing, rampant beer-drinking and rampant amphetamine use by the players. The Yankees didn't invite Bouton back to Yankee Stadium until 1998.

Also receiving votes:
"A Season on the Brink" by John Feinstein
"You're OK, It's Just A Bruise: A Doctor's Sideline Secrets About Pro Football's Most Outrageous Team" by Rob Huizenga
"Joe DiMaggio: The Hero's Life" by Richard Ben Cramer