Single page view
By Jeff Merron
Page 2
Don't miss it: we've got our own golden age happening on the college hardwood -- on the sidelines, that is. Saturday features a matchup between Big East rivals Connecitcut and Syracuse, coached by two of our golden elite: Huskies honcho Jim Calhoun and Orange overlord Jim Boeheim. Between them, they've pocketed three of the last six NCAA men's titles and they each rang up their 700th career wins last week.
This weekend all-time greats Pat Summitt, Bob Knight, Mike Krzyzewski, and Roy Williams will also be pacing and pointing.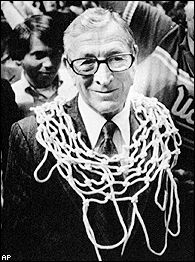 Cutting down the nets was an annual tradition for Wooden.
In honor of these still-coaching legends, we give you the top college basketball coaches of all time.
1. John Wooden
Wooden coached UCLA in a dynasty-friendly era, but that doesn't detract from the Wizard of Westwood's incredible accomplishments: 10 national championships, including seven straight between 1967 and 1973, and 664 career wins in 29 seasons. Wooden's lasting influence over future NBA Hall of Famers like Lew Alcindor and Bill Walton adds even more to the legend.
2. Dean Smith
Smith led 11 North Carolina squads to the Final Four, ranking him second in that category, behind only Wooden. He won NCAA titles in 1982 and 1993. He's the all-time winningest coach in college basketball, running up 879 wins in 36 seasons. Consider that Smith did this in the consistently tough ACC, and that he did it with incredible class and allegiance to the university and the town of Chapel Hill, and you've got a man of truly monumental stature.
3. Mike Krzyzewski
Coach K, now in his 30th year as a head coach, is at 716 wins and counting -- he could get number 717 in the final regular-season game Sunday against UNC. Krzyzewski's led 10 teams to the Final Four and his Blue Devils won titles in 1991, 1992, and 2001. Added luster, in our book: turning down the lucrative offer to coach the Lakers last summer.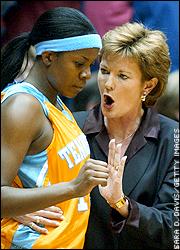 With 875 wins, Summitt is about to pass Adolph Rupp (876) and Dean Smith (879) on the all-time list.
4. Pat Summitt
In 1975, Summitt, 22, notched her first victory as head coach of the Tennessee Lady Vols. Thirty-one seasons later, she's got more wins than any other active college coach. Along the way, she's led Tennessee to six national titles, and was named the Naismith Coach of the Century in 2000. Her most impressive accomplishment, however, is that she's been the point woman in putting women's college basketball on the big-time sports map.
5. John McLendon
Like the legendary Phog Allen, McLendon learned basketball from James Naismith, the game's inventor, at Kansas. Unlike Allen, he wasn't allowed to play, because he was black.
As a head coach, he led North Carolina College to eight CIAA titles between 1941 and 1952; he then took Tennessee State to three straight NAIA titles between 1957 and 1959. McLendon's fastbreak offense was revolutionary, and he is credited by many for having invented the "four corners" offense perfected by Dean Smith.
He racked up a 523-165 record on the college level, went on to pioneer as a coach in the ABL and the ABA, was the first African-American to coach at a predominantly white college, and is widely credited as being one of the greatest ambassadors of basketball.