Single page view
By Jeff Merron
Page 2
Baseball's not a fair game. We had a news hook for this lineup of the all-time, all-fat major-league team, and the Royals went and messed it up. The hook would be the celebration of Calvin Pickering's return to the Royals after the birth of his first child. Unfortunately, while we were rounding up this list of big guys, the Royals sent the 6-foot-5, 295-pound first baseman down to Triple-A Omaha.
Pickering was hitting only .148 in 27 at-bats, but still, that's a quick demotion for a guy who hit 42 home runs between Triple-A and the majors last season. He should have had a better chance, and, you know, he's going to take a real hit on the meal money.
Note: All listed weights are to be taken with an enormous serving of ... ice cream, potato chips, butter, cupcakes – whatever floats your belly.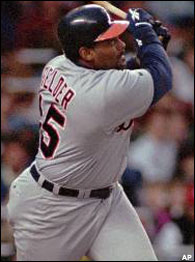 Cecil Fielder didn't need any steroids to his his home runs.
DH: Cecil Fielder (Blue Jays, Tigers, Yankees, Angels, Indians, 1985-1998)
Fielder, a three-time All-Star with the Tigers, was a tremendous slugger from 1990 through 1996. Good thing he could hit 'em over the fence, because he didn't steal his first base until his 1,096th major-league game. When he made the steal in Minnesota, Twins fans went wild and the Twins gave him the base as a memento. "The pressure is off now," Fielder said. "He [manager Buddy Bell] might start moving me a little more now that he has seen me run. Hopefully he won't."
Listed at 6-3, 240, Fielder undoubtedly topped 300 pounds at the end of his career.
Dessert: On David Letterman's "Least Popular Attractions at the Baseball Hall of Fame," this came in at No. 4: "Titanium dugout bench built for Cecil Fielder."
1B: Boog Powell (Orioles, Indians, Dodgers, 1961-1977)
The four-time All-Star and 1970 AL MVP spent much of his career big and muscular. Toward the end, he was big and fat. But keeping the pounds off just didn't suit Boog. After a lousy 1967 season, the O's decided his heft was the problem, and ordered him to report the following spring at 240. "For me, 240 was skinny," he told the Washington Times in 1992. "I'd look like a rail. Well, I came in at 239, barely walking. I was just drained, not eating or drinking. Three days later, I weighed 260."
2B: Ron "Belly" Belliard (Brewers, Rockies, Indians, 1998-present)
When Belliard showed up at spring training in 2000, he weighed 206 pounds on his 5-8 frame. "He looks like a catcher," said scout Larry Haney. Though he vowed to drop 18 pounds by the end of spring training, he didn't. In August, the Milwaukee Journal-Sentinel's Drew Olsen interviewed another scout. "He's definitely bigger than when I saw him in April. He almost looks more like a catcher than a second baseman."
Unfortunately for the Brewers, he also played second base more like a catcher.
SS: Rafael Ramirez (Braves, Astros, 1980-1992)
Shortstop is the toughest position to find a fat guy, but Ramirez takes the honor for this reason: He signed a two-year, $2.2 million contract with the Astros in 1989 that stipulated he be weighed every day; if his monthly average ducked under 187 pounds, he'd get a $12,500 bonus.
3B: Terry Pendleton (Cards, Braves, Marlins, Reds, Royals, 1984-1998)
Pendleton, the 1991 NL MVP and three-time Gold Glover, could move despite his heft (listed at 5-9, 180). But it did draw attention. "Sometimes," wrote Atlanta Journal-Constitution columnist Terence Moore in 1993, "after Pendleton hits the ball, you expect a ball boy to rush to home plate to roll him toward first base."
OF: Robert "Fats" Fothergill (Tigers, White Sox, Red Sox, 1922-1933)
Fothergill, listed at 5-10, 230, had a lifetime .325 batting average but no power, hitting only 36 career homers despite his heft. He also had the dubious distinction of being caught stealing 12 times in 16 attempts during the 1926 season. "He was about as round as he was tall," said Charlie Gehringer.
But Fothergill could hit, and, as he put it in 1930, "I can't hit if I ain't got the power and I ain't got the power if I don't eat. And, when I eat what I like I get fat. When I diet, I don't hit."
But the evidence said otherwise. In 1927, Fothergill, on a strict diet, tore up the AL in the early going, hitting around .450. Then the rest of the AL got wind of his regimen, and taunted him when he came to the plate, describing every type of delicious fatty food they knew he sorely missed. Slowly, they got to him; his weight rose to 247 pounds, and his batting average dropped about 100 points.