One more Fothergill story, as related by Thomas Boswell in the Washington Post: "In 1928, Fat Fothergill, in the agonizing grip of a crash diet – complete with rubber suits and Turkish baths – became infuriated by a third-strike call by Bill Dinneen. The 5-foot-10, 230-pound Fothergill bit the ump in the arm.
"Upon being ejected, Fothergill quipped: 'Okay by me. That's the first bite of meat I've had in a month.'"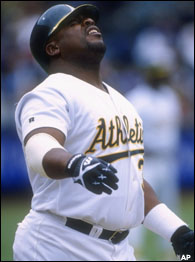 Kevin Mitchell hit .228 in his final year with the A's ... just below his playing weight.
OF: Kevin Mitchell (8 teams, 1984-1998)
Listed height and weight: 5-11, 210 pounds
Kevin Mitchell had ballooned to 255 pounds in 1997, and got even heavier before he finally rolled out of the majors in 1999. How big was the former MVP? Well, he's probably second only to Babe Ruth in food-related injuries. For example, in 1990, he was four days late to spring training because he got injured eating a microwaved donut, requiring root canal work. He also once hit the DL after straining his rib muscles while vomiting. To top it off, Mitchell, according to Tom Verducci in Sports Illustrated, made Cleveland Indians history when he became the first player in franchise history who was unable to complete an 850-yard training run.
We're not sure, but the legendary cupcake injury appears, upon further research, to have actually been the donut injury; we found many references to the cupcake that offer no details, yet we know that the donut icing melted into Mitchell's fillings, which caused that affliction.
Just so you know.
OF: Babe Ruth (Red Sox, Yankees, Braves, 1914-1935)
The Bambino's weight ranged from 198 as a rookie to about 260 when he collapsed in the midst of "the bellyache heard 'round the world," in 1926, and surely higher as he reached the end of his playing days in the mid-1930s. All the stories about Ruth's being a prodigious eater and drinker are true.
Ruth could inspire kindness even from Ty Cobb, who admitted that the Babe "ran OK for a fat man."
C: Frank "Shanty" Hogan (Braves, Giants, Senators, 1925-1937)
Hogan (6-1, 240 pounds) played for John McGraw, who never failed to get on him about his weight. Hogan couldn't lose the pounds, so he got creative: once, ordering pie a la mode at a restaurant, he asked that the bill read "asparagus" instead. One winter, Hogan ballooned to 278 pounds, and Senators owner Clark Griffith told him that he had to lose 50 before spring training. "Oh, the hard winter that mighty Hogan man put in!" said former New York Times sportswriter John Kieran. "Where he used to destroy loaves of bread and pans of hot biscuits and sides of beef and racks of lamb, he crunched a bit of dry toast, nibbled a leaf of lettuce, had half a cup of weak tea and called it – with tears in his eyes – a meal."
Hogan's nickname was inspired by his hut-like figure.
PH: Gates Brown (Tigers, 1963-1975)
Officially, Brown was an outfielder, listed at 5-11, 220. Unofficially, he was a crack pinch-hitter. He holds the record for career pinch-hit at-bats, with 414, and the AL record for career pinch-hits, with 107, and the AL record for most career pinch homers, with 16. This is all relevant to the weight issue.
Gates spent a lot of time on the bench, and was used to being ready for the call at any time. But in an August 1968 game against Cleveland, he was caught ... eating. He'd gone into the clubhouse to grab a couple of hot dogs, and was all ready to eat them when Detroit manager Mayo Smith called him in to pinch hit. He stuffed the dogs down his jersey. Then he doubled, slid in head first, and stood up with a uniform covered with mustard, ketchup, and hot dog and bun chunks all over himself.
This killed the Tiger bench, but Smith fined Gates $100.
P: Mickey Lolich (Tigers, Mets, Padres, 1963-1979)
Lolich, a three-time All-Star who won 217 games and won the 1968 World Series MVP award by pitching three complete game victories, was fat. And he had been his whole career. By 1972, after winning 47 games in a two-year span, he was ready to speak out about the issue. "I guess you could say I'm the redemption of the fat man. A guy will be watching me on TV and see that I don't look in any better shape than he is. 'Hey Maude,' he'll holler. 'Get a load of this guy and he's a 20-game winner.'"