Single page view
By Jeff Merron
Page 2
Even though Cardinals shortstop David Eckstein came up a little, um, short in the Cards' 12-inning 2-1 win over the Pirates Tuesday (he went 0-for-6), he's still an inspiration to plenty of vertically challenged folks (such as this scribe). Wearing his spikes, he's all of 5-foot-7 – officially. And unfortunately, he's not good enough to make baseball's all-short team.
Here's how we figured it: We went post-World War II – too many great Wee Willie's in baseball's early days, back when nutritional supplements were in short supply. We started with what we like to call the "Eckstein line," looking for good players listed at 5-foot-7 or less, and, in cases where they couldn't be found, going up an inch at a time until we found a good player. Fittingly, the tallest man on the team is our first baseman.
1B: Steve Garvey (5-foot-10)
One day a great biography will be written about Steve Garvey. During 19 big-league seasons with the Dodgers and Padres on the Left Coast, he won an NL MVP award (in 1974), played in 10 All-Star games and won four Gold Gloves. He also came through when everyone was watching (two All-Star MVPs), when it counted (two NLCS MVPs), when it was good (the 1981 Roberto Clemente Man of the Year Award) and when it was saintly (the 1984 Lou Gehrig Award).
Career stats: 272 HR, 1308 RBI, .294 average, .775 OPS.
Garvey's backup: ESPN's own John Kruk, former Phillies first baseman, also 5-foot-10.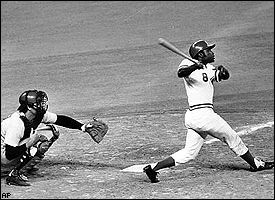 Joe Morgan was the National League MVP in 1975 and '76.
2B: Joe Morgan (5-foot-7)
A two-time NL MVP and 10-time All Star, Morgan led the NL in on-base percentage four times (in a five-year span between 1972 and 1976). The Hall of Famer played more than 2,500 games during his 22-year career – all but 24 at the second sack.
Career stats: 268 HR, 1133 RBI, .427 slugging percentage, .819 OPS, 689 stolen bases.
Morgan's backup: The 5-8 Giant, Ray Durham, a two-time All-Star.
SS: Phil Rizzuto (5-foot-6)
The Scooter's one of the least-deserving Hall of Famers, but he could play. In a 13-year Yankee career interrupted after his soph season by a three-year military stint, he won the 1950 MVP award, was a five-time All-Star, and could bunt and swipe bases with the best of 'em. A great fielder who was one of the best at turning the double play, he also played in nine World Series for the Bombers, and came away with the Big Ring seven times. Career stats: .273 batting average, .351 OBP, 31 homers, 563 RBI, 149 stolen bases.
Rizzuto's backup: Freddie Patek. Only 5-foot-5, Patek, a sentimental favorite of Bill James, managed to hit for no power (41 dingers in a 14-year career) and struck out more often than he walked. But still, he played on three division winners with the Royals and became the first shortsop ever to hit three homers in a game when he slugged three out of Fenway on June 20, 1980.
3B: George Kell (5-foot-9)
Kell, who played for five teams during his 15-year career (1943-1957), was a 10-time All-Star who was inducted into the Hall of Fame in 1983. Kell hit .300-plus eight straight seasons and led the AL in batting in 1949 with a .343 average. Ironically, he also holds the AL record for single-game batting futility, set when he went 0-for-10 in a 24-inning game against the Tigers in 1945. Kell was also a great fielder, often leading the AL in fielding percentage, assists and double plays.