Single page view
By Jeff Merron
Page 2
Arizona State 63, Temple 16.
USC 63, Hawaii 17.
Texas 60, Louisiana-Lafayette 3.
That's just a sampling of some lopsided scores from this past week's slate of college football games. You're not surprised, though -- are you? It's par for September, when the big boys often go up against patsies. But sometimes the blowouts are a little more surprising (or obscure). To celebrate ESPN.com's 10-year anniversary, Page 2 rolls out its totally unscientific and sometimes horrifying look at the most spectacular early-season romps of the past 10 years.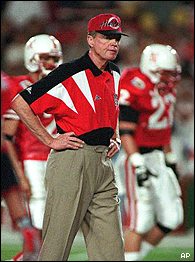 AP
Tom Osborne's Nebraska teams often dominated lesser opponents.
10. Nebraska 77, Arizona State 28 (Sept. 16, 1995)
On the same afternoon that No. 1 Florida State beat N.C. State 77-17, the Huskers rolled to a school-record 63 points in the first half in their romp. And they did it without star running back Lawrence Phillips, who'd been arrested six days earlier, and his backup, Damon Benning, who'd gotten arrested seven days before the game. With 38 seconds to go in the game, Nebraska's Matt Turman threw to Lance Brown for a 39-yard TD, which irked Sun Devils coach Bruce Snyder. Nebraska coach Tom Osborne apologized. "The last touchdown was bad. It was my mistake. I apologized to Bruce, and it was something that never should have happened. I feel bad and I should have just run a draw play. My apologies to Arizona State."
9. Florida State 77, North Carolina State 17 (Sept. 16, 1995)
The top-ranked Seminoles set a school record for points scored, ran their record to 3-0 and brought their per-game scoring average up to 64. But this wasn't a patsy game -- N.C. State was an ACC opponent, and a good one at that. But slippery hands did a lot of damage: Wolfpack backs turned the ball over six times on fumbles.
8. Kansas State 68, Louisiana-Monroe 0 (Sept. 7, 2002)
The Wildcats led 48-0 at the half against the Indians, and then glided to the win. "I just want to go home," said Louisiana-Monroe head coach Bobby Keasler after the game. "This is behind us. We never were here. When we get on the bus and get on the plane, this never happened."
7. Oklahoma 68, UTEP 0 (Sept. 14, 2002)
One newspaper dubbed it the "Nightmare in Norman." The Sooners, ranked No. 2 in the nation, drubbed the Miners in a game marked by a 51-minute first quarter delay due to a severe thunderstorm. Oklahoma QB Nate Hybl passed for 253 yards in the first half of the balanced blowout -- the Sooners scored 35 points in the first half and 33 in the second. The Miners had also suffered a rout the previous week, losing 77-17 to Kentucky.
6. Florida 82, Central Michigan 6 (Sept. 6, 1997)
The Gators, ranked No. 2 in the country, set an SEC record with nine TD passes -- including seven by Doug Johnson in the first half, which tied an NCAA Division I mark -- and scored the first six times they touched the ball. Head coach Steve Spurrier's assessment of the Week 2 blowout: "We've improved from last week."
5. South Florida 80, Kentucky Wesleyan 3 (Sept. 6, 1997)
The first football game in the history of the University of South Florida couldn't have been more … special for the home fans. The Division I-AA Bulls led 35-3 at the half and then really pulled away from Division II Panthers. "The difference between them and us is that with teams down on our level, we've got a couple of guys that can run," said Kentucky Wesleyan linebacker Brian Seide. "They've got everybody from their center to their wideout to their equipment manager that can run."
4. Arkansas-Monticello 80, Oklahoma Panhandle State 0 (Sept. 17, 2000)
The Division II Boll Weevils, who had suffered through a 22-game losing streak in the late 1990s, were ready for revenge in the new millennium, and they took it out on the Aggies. Monticello led 43-0 at the half and kept going, but with a little bit of style. A fourth-team running back scored a TD, and second-string placekicker Sean MacMillan set a school record when he punched home a field goal from 59 yards out midway through the third quarter. The Aggies finished with a total of minus-60 yards rushing.