By Jeff Merron
Page 2 staff
Who would have believed it? On Aug. 1, the Chicago White Sox held a 15-game lead in the American League Central -- everyone had already penciled them into the AL playoffs.
Good thing pencils come with erasers. Because after going 22-23 since then -- coupled with the Cleveland Indians' sparkling 32-11 record in that time span -- the Chisox suddenly hold just a 3½-game lead over the Tribe heading into their critical three-game series in Chicago beginning Monday night.
If Chicago can't hold on, this will surely go down as one of the greatest collapses in sports history.
Meaning the White Sox would join this list of … well, losers.
1. 1964 Phillies
With only 12 games left in the 1964 season, the Phillies led the NL by 6½ games. When they got off their flight from L.A. on Sept. 21, fresh off a 3-2 win over the Dodgers, Philadelphia's mayor and thousands of fans greeted the hometown heroes. Later that day, they lost to the Reds, 1-0,  at Shibe Park, with Cincy's only run scoring on a steal of home.
The Phils should have never gotten off the airplane. They lost eight in a row at Shibe, dropping into second place for the first time since July 15, and then departed for St. Louis, where they lost two in a row to the eventual NL champs. That's where the Phils finished the season, tied for second with the Reds, one game behind the Cardinals.
Lots of folks blamed manager Gene Mauch, who overused ace pitchers Jim Bunning and Chris Short in the season's final weeks.
But prior to a 25th anniversary reunion in Philadelphia, Mauch wouldn't hear of it. "People don't realize what a great year it was," Mauch told USA Today in 1989. "They say to me, 'Oh, what a tough year.' For 150 games, it was the most beautiful year in the world. They were a great bunch of kids. When somebody brings it up about how tough it was for me, I don't even think about that ... If I thought I had to go back there and listen to a bunch of trash about it [the season], I wouldn't even go. When I think back, I think about how wonderful the season was and I refuse to think about anything else."
That, friends, is a shining example of what Freud would have called world-class suppression.
2. Jean Van de Velde at the 1999 British Open
Some images stick with you forever -- the ski jumper who symbolized "the agony of defeat," Ralph Branca with his big No. 13 turned toward home plate as he watched Bobby Thomson's home run fly over the left-field wall, Michael Dukakis with his helmeted head peaking out of a tank during the 1988 campaign -- and Jean Van de Velde, pants rolled up, wading in the water at the 18th hole of the 1999 British Open.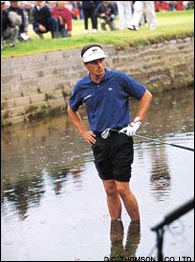 Who'll ever forget Jean Van de Velde in the water at the British?
Van de Velde, in a bid to become the first Frenchman to win the tourney since 1907, strolled up to the 18th tee at Carnoustie needing only a double-bogey 6 for victory. Disaster followed. Van de Velde triple-bogeyed, then lost in a four-hole playoff to Paul Lawrie, who won despite starting the day a remarkable 10 strokes behind.
Van de Velde, following in the footsteps of Pascal, Montesquieu, Voltaire, Bergson, Simone Weil, Pierre Teilhard de Chardin, and other great French thinkers, proved remarkably philosophical.
"There are worse things in life," he said. "Some terrible things are happening to other people. This is only a golf tournament. Yes, I blew it on 18. All it proves is I was capable of being three ahead of the best players in the world on 18."
Or, as Pascal wrote, "Man's nature is not always to advance; it has its advances and retreats."
3. Oilers vs. Bills in 1992 AFC wild-card game
On a cold, wet early January day at Rich Stadium in early 1993, the Oilers set the mark for the worst single-game collapse in NFL history. That includes all games, regular season and playoffs. A tremendous accomplishment.
Houston, in its sixth consecutive playoff appearance, actually looked, prior to the playoffs, like it had a decent chance to make it to the Super Bowl.
The Oilers blew away the Bills in the first half, 28-3, with Warren Moon tossing four TD passes.
The Oilers extended their lead to 35-3 early in the third quarter, but they soon unraveled. In just under seven minutes, beginning with nine minutes left in the period, the Bills, without Jim Kelly and Thurman Thomas, scored four TDs.
Backup QB Frank Reich had the game of his life, tossing three straight TD passes during that span and adding another with three minutes left in regulation to give the Bills a 38-35 lead. The Oilers managed to force OT, but Steve Christie kicked a 32-yarder three minutes into the extra period to give Buffalo a 41-38 win.
Oilers defensive end William Fuller was in disbelief. "I didn't believe it when it was happening, and I still don't believe it now," he told the Houston Chronicle. "I'm in a fog. But I know I'm embarrassed."
4. 1978 Red Sox
It will be remembered as the Boston Massacre of 1978. On July 19, the Red Sox held an ultra-comfy 14-game lead over the Yankees in the AL East; a late-July crumble reduced the lead to 6½ games on Aug. 1; by mid-September, Boston trailed New York by 3½ games, a remarkable 17½ game reversal.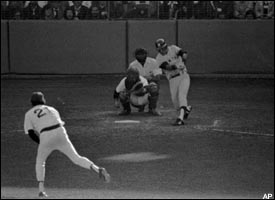 This swing by Bucky Dent sealed Boston's doom in 1978.
"It isn't the biggest El Foldo of them all," wrote Thomas Boswell in the Washington Post. "But it's close."
The Red Sox, as you probably know, managed to come back in late September and force a one-game playoff, but were done in by the (gulp) heroics of Bucky Dent.
Reggie Jackson, never one to shy away from taking credit, told the Post, "We played great, but we didn't win it. They lost it. If they'd played .500 the last half of the season, we'd never have caught them."
5. 1978 Redskins
The Skins began the season with six straight wins, and ended it with five straight losses, going down in eight of their final 10 games to finish with an 8-8 record.
The high point of the Skins' season had come at RFK on a Monday night, when they defeated the Cowboys, 9-5. "I thought the stadium was going to take off that night, like some kind of spaceship, just rise off the earth," one fan, no doubt fresh with memories of "Close Encounters of the Third Kind," told the Washington Post during the season finale. "You should have heard the crowd before the game."
But, referring to all the empty seats at RFK in mid-December, she added, "People just don't give a damn now."
Redskins GM Bobby Beathard didn't hesitate to put the blame squarely on his predecessor, former head coach and GM George Allen.
"He has done everything he can to screw up the Redskins," Beathard told the Washington Post. "I think he's taken advantage of his position not being in coaching this year. Nobody's asked for his advice, but he certainly didn't hesitate to give it, and I don't think what he's done is very fair. It's unbelievable a guy would be so small as to say some of the things he said. He's always second-guessing: 'I would have done this, I wouldn't have gotten rid of this guy.' "
6. 1942 Red Wings
Detroit bears the burden of being the first team in major sports history to blow a 3-0 lead in a best-of-seven series, in 1942. (The Penguins would be the second, collapsing against the Islanders in the 1975 NHL quarterfinals; no team has done it since.)
Though Detroit reached the Stanley Cup finals in 1941, 1942 and 1943, in 1942 the Wings were mediocre, finishing fifth in the regular-season standings with a 19-25-4 record, 15 points behind the second-place Maple Leafs, who'd win it all.
Detroit led the series 3-0, and led in the fourth game 3-2 with 15 minutes left. But the Leafs, with goals by Syl Apps and Nick Metz in the waning minutes, pulled out the win, and eventually came back to tie the series at 3 games apiece.
Detroit then managed to turn victory into defeat in Game 7 at Maple Leafs Garden. They led 1-0 going into the third period, but surrendered three goals in a 10-minute span to lose the game, the series and the Stanley Cup, and win a permanent place in the record books.
7. 1995 California Angels
On July 2, the Angels moved into first place in the AL West, where they'd stay for the next 82 days. By Aug. 3, they'd extended their lead to 11 games over the second-place Rangers and 12 over the Mariners. On Aug. 15, the Angels were 64-38 and looked almost unbeatable, with a 25-8 record since the All-Star break.
Then the skid began. Anaheim lost nine in a row, and was caught by the Mariners on Sept. 20. In just five weeks, Anaheim had blown a 10½-game lead, the fastest fall of that magnitude in modern major-league history.
The Angels managed to hold on for a first-place tie, but lost the one-game playoff in Seattle. They'd gone 14-29 in their final 43 games.
"Every phase of our game was shaken, and your concentration tends to slip when you're not feeling confident," shortstop Gary DiSarcina told the L.A. Times. "We lost that intimidation, that edge, the feeling that we were going to go out and hammer teams ... we lost the feeling of what it's like to win."
8. Jana Novotna in the 1993 Wimbledon finals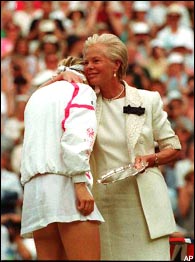 The Duchess had to console Jana Novotna after her monumental collapse.
Charles Bricker of the Ft. Lauderdale Sun-Sentinal called it "a 90-mph free-fall elevator ride from the 40th-floor penthouse to the basement dumpster." Jana Novotna, the eighth seed at Wimbledon in 1993, had an incredible tournament run come to an end in the final set of the finals. She'd lost the first set to Steffi Graf in a tiebreaker, then won the second set 6-1. Novotna was just one point away from leading 5-1 in the third set when her game went AWOL. She lost that sixth game on a double fault, a way-too-long easy overhead, and a misplayed return.
"Her forehand deserted her, then her backhand went, and then she was just a walking bundle of jitters, a total disaster," wrote Filip Bondy in the New York Daily News. "Novotna did not win another game. All those daring, artful moments in the first two sets were squandered."
During the trophy presentation, Novotna broke down in tears, soaking the Duchess of Kent's royal shoulder in what Adrian Mole might call a salty fluid of despair.
9. Greg Norman at the 1996 Masters
Bogey. Bogey. Bogey. Double bogey. Greg Norman's plunge on holes 9 through 12 at Augusta in the final round of the 1996 Masters proved the turning point, the disastrous play that put The Shark in golf's record books for the greatest collapse in a major tournament (at least for a few years, until Van de Velde).
Norman had a six-stroke lead going into the final round, and would have been OK if he had just shot an even-par 72 -- but instead, his play ranged from poor to miserable, as he missed fairways and hit water while shooting a six-over 78, losing to Nick Faldo.
Norman's play was so consistently abysmal that there was little satisfaction in watching the meltdown. Wrote Gary D'Amato in the Milwaukee Journal Sentinel, "It was like watching a funeral procession on grass."
10. Blazers in Game 7 of the 2000 Western Conference finals
It would prove to be the beginning of a new dynasty for the Lakers, but for the Blazers it was the start of a long and twisted downfall. Portland led Los Angeles by 15 points in the fourth quarter, but during a 6½-minute span missed 13 straight shots -- including quite a few open looks -- while L.A. hit a flurry of 3-pointers. Portland's go-to guy, Rasheed Wallace, just couldn't hit.
"If you can't make 10-foot shots, you don't deserve to win the championship," wrote ESPN.com's Mitch Lawrence. "Portland handed [the Lakers] the series."
Also receiving votes

1951: Dodgers blow huge lead, lose pennant in playoff to Giants

1987: Chargers win eight straight to go 8-1, then lose their final six games and miss the playoffs

1994: LSU blows 31-point second-half lead, including missing 11 of 12 free throws, loses to Kentucky

1986: Bill Buckner blows Game 6 of World Series (don't forget, folks, he had plenty of help), then Red Sox lose Game 7 and Series to Mets

1992: Former Yale first baseman George H.W. Bush blows 90+ percent approval rating in less than a year, loses 1992 presidential election to Bill Clinton

1978: Hartford Civic Center blows integral support rods after heavy snow, roof collapses


Thanks to ESPN studio production and ESPN Radio for their nominations.