By Jeff Merron
Page 2
Baseball's got a long history of, umm, emotional fan-player "interaction." What follows are some of the most notorious. We're leaving off the Karim Garcia/Jeff Nelson/Red Sox bullpen attendant incident on a technicality -- because the attendant was a worker bee, not a paying fan. Otherwise, that imbroglio certainly deserves a place in the annals.
Ty Cobb bloodies "Otto Blotz" (May 15, 1912)
A couple of days worth of heckling by Yankees fans finally got to Cobb at the old Yankee home, Hilltop Park. Cobb vaulted into the stands behind the Tigers bench and went right after a man identified, pseudonymously, as "Otto Blotz." The Peach pummeled Mr. Blotz, who couldn't fight back with his fists -- he only had one hand, and that hand had only two digits.
"Cobb's execution was rapid and effective," the New York Times reported the next day. "Ty used a change of pace and had nice control. Jabs bounded off the spectator's face like a golf ball from a rock."
SportsNation: Baseball violence
How long should Frank Francisco be suspended for? Do you blame the Rangers or the Oakland fans for Monday's incident? Which sport has the most unruly fans? Vote at SportsNation.
Cobb was suspended, and probably for the first time in his career was backed by his teammates. They went on strike, vowing not to return until he was reinstated. After a team of replacement Tigers lost 24-2, Cobb told his teammates thanks, but no thanks. The "real" Tigers returned to the field, and Cobb was back a week later. No word on the ultimate fate of Blotz.
Babe the "big bum" challenges all (May 25, 1922)
The Bambino was battling a slump in late May and tried to stretch a single into a double, was thrown out, and expressed his displeasure at the call by throwing dirt in the umpire's eye. The ump responded by tossing the Babe. Episode over? Not even close.
The fans booed and hissed as the Babe exited the field, pausing only to take a theatrical bow. Then, as Robert Creamer recounts in "Babe," a heckler behind the dugout shouted, "You goddamned big bum, why don't you play ball?" Ruth immediately jumped onto the dugout roof and into the stands, chased the cowardly heckler until he was too far out of reach, then, returned to the dugout roof.
And from there he shouted, "Come on down and fight! Anyone who wants to fight, come down on the field! Ah, you're all alike, you're all yellow!"
Ruth got a brief suspension and a $200 fine for the episode.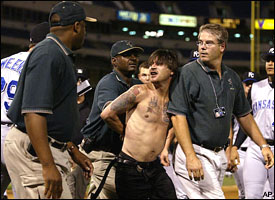 The Ligues were not the father-son combo you like to see on a baseball field.
Cowardly cretins at Comiskey (Sept. 19, 2002)
Here's a manly act: pre-plan an attack on the opposing team's first-base coach, who's 20 years older than you, facing the other direction, and outnumbered two-to-one. That was William Ligue Jr.'s plan when he and his 15-year-old son charged Royals coach Tom Gamboa in the ninth inning after taunting the coach throughout the game.
Ligue had called his sister in advance and bragged to her that he'd be on TV. He and Ligue the III (watch out, they breed!) knocked Gamboa down and pummeled him.
Neifi Perez led the Royals in subduing the Ligues until the cops hauled them off.
The Ligues were charged with aggravated battery and mob action. The teen got five years probation. His father pleaded guilty and got 30 months probation. Gamboa suffered a permanent hearing loss.
Belle's hell: a perfect throw earns a suspension (May 11, 1991)
Albert Belle, who disliked being called "Joey," was in the Cleveland Stadium outfield when Jeff Pillar yelled from the left-field stands, "Hey, Joey, keg party at my place after the game, c'mon over." In retrospect, it sounds like a friendly invitation. But at the time, it was a particularly nasty heckle, as Belle had spent much of the previous summer in an alcohol rehab program.
Belle retaliated by picking up a foul ball and throwing a perfect strike at Pillar's chest from about 15 feet away, leaving Pillar with a weltering souvenir.
This was one case where Belle had the clear support of the fans, who gave him a hearty round of applause for nailing Pillar. But Belle got a one-week suspension and a fine from the AL.
Reggie Smith, in the stands at Candlestick (Sept. 25, 1981)
Smith, a Dodgers outfielder, had been jeered for half the game from behind the Dodgers dugout at Candlestick Park. His stoic stance vis-à-vis the abuse snapped in the sixth, and he went charging into the stands to take on Michael Dooley, a 6-foot-4, 218-pound Giant fan later described by his wife as a "rather mellow guy." Smith got in one good shot, but then the SF crowd pounded him. Other Dodgers came to the rescue, and pounded the fans back.
Smith was ultimately ejected. Eight fans were charged with misdemeanors. Dooley went to the hospital after his brief visit to jail. And almost right away, Mrs. Dooley talked about suing.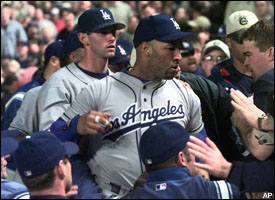 After a fan stole a player's hat, the Dodgers jumped into the stands.
The rumble at Wrigley (May 16, 2000)
Rowdy Cubs fans were showering the Dodgers bullpen with beer and tried to steal catcher Chad Kreuter's cap in the ninth inning of a tight ballgame. Dodger coaches John Shelby and Rick Dempsey joined Kreuter and a slew of other Dodgers, going into the stands down the right-field line to retaliate. The Dodgers got a close win, but nine days later 16 players and three coaches were handed suspensions for their involvement in the melee.
Torre's take: 'Dick Williams is an idiot' (Aug. 12, 1984)
Braves pitcher Pascual Perez hit Padres leadoff hitter Alan Wiggins on the first pitch to set off a beanball war that escalated into perhaps baseball's ugliest game ever: brawls between Atlanta and San Diego erupted in the second, fifth, eighth, and ninth innings after Padres manager Dick Williams told Padres' hurlers they could use Perez for target practice.
Late in the game, Atlanta fans got into the act. One slammed a mug of beer on Kurt Bevacqua's head, and Bevacqua climbed onto the top of the dugout in pursuit before police got in his way. Another fan was taken down by Atlanta's Chris Chambliss and Jerry Royster near the third-base line. Five fans in all were led away from the action in handcuffs.
"Dick Williams is an idiot," said Braves manager Joe Torre, who was ejected along with Williams and 12 others. "It was obvious he was the cause of the whole thing. Precipitating a thing like that was inexcusable. It was stupid of them, period, to take four shots at Perez. It was gutless. It stinks. It was Hitler-like action. I think he (Williams) should be suspended for the rest of the year."
He wasn't; Williams was suspended for 10 days and fined $10,000 -- and the Padres went on to reach the World Series.
Piersall's punch, kick, and catch contest (Sept. 10, 1961)
In the first game of a doubleheader at Yankee Stadium, Cleveland's Jimmy Piersall was minding his own business in center field when two fans came out of the stands in the seventh inning and tried to attack him. Piersall immediately scored a knockdown punch on one. The other, mustering all his courage, ran away as quickly as possible. But Piersall took off after him, getting not-quite-close enough to land a rough kick on the kid. No problem. By then Piersall's teammmates, Johnny Temple and Walt Bond, had arrived to land a few solid blows.
Barely missing a beat, Piersall made a spectacular catch at the fence to rob Johnny Blanchard of a two-run homer. Dig this: Yankee fans gave Piersall a huge cheer as he left the field.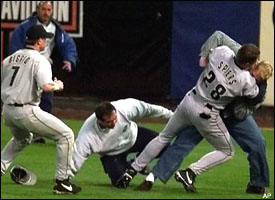 Milwaukee fan attacked ex-Brewer Bill Spiers.
Home ain't what it used to be (Sept. 24, 1999)
In the sixth inning of an Astros-Brewers game in Milwaukee, a 23-year-old fan ran onto the field and jumped Houston right fielder Bill Spiers, a former Brewer. As he tried to shake him off, his teammates came to the rescue, led by Mike Hampton, who got in some nasty kicks. Spiers suffered whiplash and was bloodied and bruised. The fan was arrested and held on a $250,000 in bail on charges of battery and disorderly conduct.
"In all my years of baseball, I've never heard or seen anything like that," said Brewers interim manager Jim Lefebvre. "To be honest, it's almost horrifying. It was just a terrible, isolated incident."
Myers marshals his martials (Sept. 28, 1995)
In the eighth inning of a wild contest between the Cubs and Astros at Wrigley, Chicago reliever Randy Myers surrendered a two-run, pinch-hit home run to James Mouton that gave Houston a 9-7 lead. As Mouton circled the bases, 27-year-old John Murray ran out of the stands and toward the mound.
"I felt the look in his eyes, that he wanted to hurt me," Myers said. "He reached for his pocket and I thought it could be for a knife or a gun, so I dropped him with a forearm."
Myers, it seems, was well-trained in the martial arts and pinned Murray to the ground until he was taken away. "I tried to defend myself and my teammates," said Myers. "When he was down on the ground, I kept holding his hands so he couldn't reach for his waistband or pocket. I kept thinking he might have a gun or a knife. Fortunately, nobody was hurt."
The reliever got big cheers from the Wrigley crowd when he exited after facing one more batter.