Single page view
By Jeff Merron
Page 2 staff
EDITOR'S NOTE: This list originally ran on Jan. 5, 2004.
Who would have believed it? On Aug. 1, the Chicago White Sox held a 15-game lead in the American League Central -- everyone had already penciled them into the AL playoffs.
Good thing pencils come with erasers. Because after going 22-23 since then -- coupled with the Cleveland Indians' sparkling 32-11 record in that time span -- the Chisox suddenly hold just a 3½-game lead over the Tribe heading into their critical three-game series in Chicago beginning Monday night.
If Chicago can't hold on, this will surely go down as one of the greatest collapses in sports history.
Meaning the White Sox would join this list of … well, losers.
1. 1964 Phillies
With only 12 games left in the 1964 season, the Phillies led the NL by 6½ games. When they got off their flight from L.A. on Sept. 21, fresh off a 3-2 win over the Dodgers, Philadelphia's mayor and thousands of fans greeted the hometown heroes. Later that day, they lost to the Reds, 1-0,  at Shibe Park, with Cincy's only run scoring on a steal of home.
The Phils should have never gotten off the airplane. They lost eight in a row at Shibe, dropping into second place for the first time since July 15, and then departed for St. Louis, where they lost two in a row to the eventual NL champs. That's where the Phils finished the season, tied for second with the Reds, one game behind the Cardinals.
Lots of folks blamed manager Gene Mauch, who overused ace pitchers Jim Bunning and Chris Short in the season's final weeks.
But prior to a 25th anniversary reunion in Philadelphia, Mauch wouldn't hear of it. "People don't realize what a great year it was," Mauch told USA Today in 1989. "They say to me, 'Oh, what a tough year.' For 150 games, it was the most beautiful year in the world. They were a great bunch of kids. When somebody brings it up about how tough it was for me, I don't even think about that ... If I thought I had to go back there and listen to a bunch of trash about it [the season], I wouldn't even go. When I think back, I think about how wonderful the season was and I refuse to think about anything else."
That, friends, is a shining example of what Freud would have called world-class suppression.
2. Jean Van de Velde at the 1999 British Open
Some images stick with you forever -- the ski jumper who symbolized "the agony of defeat," Ralph Branca with his big No. 13 turned toward home plate as he watched Bobby Thomson's home run fly over the left-field wall, Michael Dukakis with his helmeted head peaking out of a tank during the 1988 campaign -- and Jean Van de Velde, pants rolled up, wading in the water at the 18th hole of the 1999 British Open.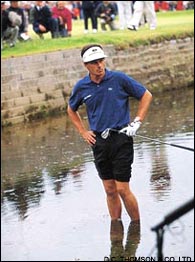 Who'll ever forget Jean Van de Velde in the water at the British?
Van de Velde, in a bid to become the first Frenchman to win the tourney since 1907, strolled up to the 18th tee at Carnoustie needing only a double-bogey 6 for victory. Disaster followed. Van de Velde triple-bogeyed, then lost in a four-hole playoff to Paul Lawrie, who won despite starting the day a remarkable 10 strokes behind.
Van de Velde, following in the footsteps of Pascal, Montesquieu, Voltaire, Bergson, Simone Weil, Pierre Teilhard de Chardin, and other great French thinkers, proved remarkably philosophical.
"There are worse things in life," he said. "Some terrible things are happening to other people. This is only a golf tournament. Yes, I blew it on 18. All it proves is I was capable of being three ahead of the best players in the world on 18."
Or, as Pascal wrote, "Man's nature is not always to advance; it has its advances and retreats."
3. Oilers vs. Bills in 1992 AFC wild-card game
On a cold, wet early January day at Rich Stadium in early 1993, the Oilers set the mark for the worst single-game collapse in NFL history. That includes all games, regular season and playoffs. A tremendous accomplishment.
Houston, in its sixth consecutive playoff appearance, actually looked, prior to the playoffs, like it had a decent chance to make it to the Super Bowl.
The Oilers blew away the Bills in the first half, 28-3, with Warren Moon tossing four TD passes.
The Oilers extended their lead to 35-3 early in the third quarter, but they soon unraveled. In just under seven minutes, beginning with nine minutes left in the period, the Bills, without Jim Kelly and Thurman Thomas, scored four TDs.
Backup QB Frank Reich had the game of his life, tossing three straight TD passes during that span and adding another with three minutes left in regulation to give the Bills a 38-35 lead. The Oilers managed to force OT, but Steve Christie kicked a 32-yarder three minutes into the extra period to give Buffalo a 41-38 win.
Oilers defensive end William Fuller was in disbelief. "I didn't believe it when it was happening, and I still don't believe it now," he told the Houston Chronicle. "I'm in a fog. But I know I'm embarrassed."
4. 1978 Red Sox
It will be remembered as the Boston Massacre of 1978. On July 19, the Red Sox held an ultra-comfy 14-game lead over the Yankees in the AL East; a late-July crumble reduced the lead to 6½ games on Aug. 1; by mid-September, Boston trailed New York by 3½ games, a remarkable 17½ game reversal.