By Jeff Merron
Page 2 staff
Aside from the Super Bowl, the Final Four might be the biggest individual stage in team sports.
So, which players have had the brightest "shining moments" in the Final Four spotlight? Here's our list of the 10 best performances over the last 25 years. And remember: We said
the last 25 years
before you fire off that email about Bill Walton in '72.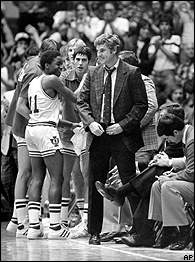 Thomas guided Indiana to the 1981 NCAA title as a sophomore.
10. Isiah Thomas, Indiana, 1981
Thomas, a sophomore point guard, scored 19 of his game-high 23 points and had four steals in the second half of the final against North Carolina to lead Indiana to a 63-50 victory and the second of Bob Knight's three national titles. Two of those steals came in the first 90 seconds after halftime and resulted in easy layups. "I thought the key for us were the two quick steals Isiah got at the start of the second half," Knight said. "That got us going."
9. Ed O'Bannon, UCLA, 1995
O'Bannon limited Bryant Reeves, Oklahoma State's 7-foot center, to just seven second-half points in the Bruins' semifinal victory. In the meantime, he grabbed eight rebounds and scored 15 points. Against Arkansas in the final, O'Bannon scored 30 points against an often-bewildered Scotty Thurman and pulled down 17 rebounds to top off a remarkable recovery from an ACL injury. It was the Bruins' first title in two decades. 8. Steve Alford, Indiana, 1987
Ken Denlinger of the Washington Post called Indiana's offense in its semifinal victory over UNLV "Steve Alford and The Picks." The 6-2 senior scored 33 points in the Hoosiers' 97-93 win. In the final, with Syracuse keyed on him, Alford still managed to lead Indiana in scoring with 23 points -- including 7-for-10 shooting from 3-point range, as the Hoosiers edged the Orangemen 74-73. 7. Carmelo Anthony, Syracuse, 2003
We only got one season of 'Melo at the college level ... but, oh, what a Final Four the frosh had for the Orange. In Syracuse's semifinal victory over Texas, Anthony scored 33 points on 12-for-19 shooting and pulled down 14 rebounds. In leading the Orangemen to their first national title, Anthony had 20 points, 10 rebounds and seven assists, helping Syracuse hold off favored Kansas.
College Hoops: List Mania
Page 2 is all caught up in March Madness! We love our brackets, but we also love our lists. Over the next few weeks, don't miss out on these other Top-10 college hoops lists:
6. Glen Rice, Michigan, 1989
Rice led the Wolverines with 28 points in a tremendous semifinal game, an 83-81 victory over Illinois that included 33 lead changes. In Michigan's 80-79 overtime victory over Seton Hall in the title game, he scored 31 points, led all rebounders with 11, and pressured John Morton into two crucial misses in the final minutes. In the process, he broke Bill Bradley's tournament scoring record. Bradley had scored 177 points in five games in 1965; Rice totaled 184 in Michigan's six-game run to the title. 5. Donald Williams, UNC, 1993
Williams, a sophomore guard, set a Final Four record by going 10-for-14 from 3-point range over two games. In UNC's semifinal triumph over Kansas, he went 5-for-7 from behind the arc and scored 25 points. He notched an identical scoring performance in the Tar Heels' win over Michigan in the final. Williams was the go-to guy for UNC in the tight finish against the Fab Five, scoring 12 of his 25 points in the final 7:37. "We like to go to the hot man," Carolina coach Dean Smith said. "He was in a different zone." 4. Christian Laettner, Duke, 1991
Laettner sank a pair of game-winning free throws with 12.7 seconds left in Duke's semifinal matchup against UNLV, leading the Blue Devils to a stunning 79-77 victory that broke the Rebels 45-game winning streak. In the game, Laettner went 9-for-14 from the field and 9-for-11 from the stripe, scoring 20 of his 27 points in the first half. In the final against Kansas, he led Duke with 18 points and 10 rebounds, including a record-breaking 12-for-12 from the free-throw line. 3. Magic Johnson, Michigan State, 1979
Against Penn in the semis, Magic recorded only the second triple-double in Final Four history, leading Michigan State with 29 points, 10 rebounds, and 10 assists. (Oscar Robertson posted the first Final Four triple-double in 1959, and no one has achieved the feat since.) In the final against Larry Bird's Indiana State, Johnson played with three fouls throughout the entire second half but still controlled the game with 24 points, seven assists, and five rebounds.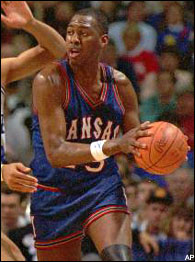 Danny Manning led unheralded Kansas to a '88 NCAA title.
2. Pervis Ellison, Louisville, 1986
"Never Nervous" Pervis, an 18-year-old freshman, led Louisville to the title with 25 points and 11 rebounds in the final against Duke. The 6-9 center dropped in a Jeff Hall airball with about 40 seconds left to put the Cardinals ahead by one, then sank two free throws with 28 seconds remaining to ensure the 72-69 victory. In the semis, he had 11 points and 13 rebounds and played a great second half as the Cardinals beat LSU to advance. Ellison became the first freshman since 1944 to be named the Final Four's Most Outstanding Player.
1. Danny Manning, Kansas, 1988
The Jayhawks were called "Danny and the Miracles" for good reason. Manning made a mediocre team great, and led sixth-seeded Kansas all the way to the title. In the semis against Duke, Manning tallied 25 points, 10 rebounds, four steals, and six blocked shots. In the final victory over Oklahoma, he scored 31 points, with 18 rebounds, five steals, and two blocked shots. In other words, he did it on both ends of the floor, scoring 56 points and setting a Final four record with his eight blocked shots. His nine steals in the two games still rank No. 2 on the all-time Final Four list. "He's the guy that got us here," Kansas assistant Alvin Gentry said. "He's the guy we try to get the ball to. He was either going to win it or lose it. We knew he wasn't going to let us lose."
Also receiving votes:
Larry Bird, Indiana State, 1979

Steve Alford, Indiana, 1987

Akeem Olajuwon, Houston, 1983

Darrell Griffith, Louisville, 1980

Mateen Cleaves, Michigan State, 2000

Shane Battier, Duke, 2001

Anderson Hunt, UNLV, 1990

James Worthy, UNC, 1982