By Jeff Merron
Page 2
They're the dream rounds (or, in one case, a nightmare round), the best of the best working the final 18 at Augusta. Did Sunday's final-round thriller make the Top 10 all-time Masters Sundays? Indeed. It might even have made the top three ...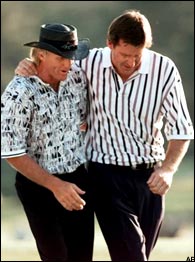 Nick Faldo consoled Greg Norman after beating him in the '96 Masters.
10. Burke's awfully big comeback (1956)
Jack Burke Jr., a 33-year-old pro who hadn't won a tournament since 1953, went into the final round trailing 24-year-old amateur Ken Venturi by eight shots. In the biggest Masters comeback ever, Burke shot a 71 to beat Venturi, who shot an 80, by one stroke. Venturi had led through the first three rounds and was expected to be the first amateur to ever win the Masters. But it wasn't to be.
The Associated Press reported that Venturi's wife, Conni, catching the final round on TV from their home in San Francisco, cried as she watched Burke surge ahead of her husband. But the 22-year-old kept her chin up. "He's still awfully young," she told the wire service. "There's lots of time ahead of him."
9. Sarazen ties with "shot heard 'round the world," wins in 36-hole playoff (1935)
In only the second Masters tournament, Gene Sarazen, who began the final round three strokes behind Craig Wood, holed a 235-yard double-eagle on 15 to tie. He then moved into the lead when Wood bogeyed 16, held the lead through 17, but then watched as Wood birdied 18 to regain a tie and set things up for a Monday shootout.
On Monday, Sarazen gave what the New York Times called "an almost flawless exhibition," shooting 24 straight pars and beating Wood by five strokes in the only 36-hole playoff in Masters history.
8. The "Tiger Slam," complete (2001)
It was one of the tightest final rounds in Masters history -- Tiger Woods, David Duval and Phil Mickelson battled for the lead throughout the day. But, of course, Tiger came out ahead, finishing with a 20-foot birdie putt on 18 to beat Duval by two strokes and Mickelson by three. And in the process, he became the only player in history to capture all four major pro tournaments in a one-year period.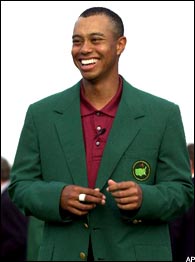 Tiger Woods was all smiles after completing the "Tiger Slam" in 2001.
Tiger cried into his cap as Mickelson finished. "It was such a weird feeling," he said. "When I made the putt [at 18] it was like, 'Yeah, it was a great putt,' and it went in. I was in such a zone today, but when I walked over to the side I started thinking, 'I don't have any shots to play, I'm done and I just won the Masters.' It was just a weird feeling."
7. Big Jack's deuce (1966)
Nicklaus, only 26, became the first player to win two Masters titles in a row, and he did it in dramatic fashion. Nicklaus began the final round tied with Tommy Jacobs for the lead; Gay Brewer was two strokes back. Brewer led by a stroke but bogeyed 18 to finish with a 288. Next up, Jacobs, who on 18 missed a 20-foot putt for birdie; he parred and finished at 288. Nicklaus had blown his chance to win in regulation when he missed a 3 1/2-foot birdie putt on 17, and he also finished at 288.
In a three-way 18-hole playoff, Nicklaus and Jacobs were tied after the first nine with Brewer far back. Nicklaus pulled ahead by two strokes by shooting par over the next three holes, the "terrible triangle."
6. The Tiger King (1997)
The tournament wasn't close but we were seeing the future of golf, and his name was Tiger Woods. The final round was a spine-tingling coronation, as Woods became the youngest Masters champ ever, and in the process shot the lowest score in the tourney's history. His 270 (70-66-65-69) toppled the previous mark of 271 set by Nicklaus in 1965.
5. Arnie wins thriller with a "provisional" and eagle (1958)
With the largest crowd in Masters history looking on, Palmer and his playing partner Ken Venturi battled it out through the first 11 holes of the final round. On 12, Palmer first double-bogeyed, but sunk a provisional ball for par, saving two strokes when the officials later ruled the provisional would count. He then scored a dramatic eagle on an 18-foot putt on the par-5 13th to virtually ensure his victory.
4. Nicklaus holds off late surges by Miller and Weiskopf (1975)
Nicklaus led by five strokes after the first two rounds, but Tom Weiskopf came roaring back on Saturday with a 66, which gave him a one-stroke lead going into the final round. Johnny Miller played even better in the third round, setting a record with six consecutive birdies and ending the day with a 65.
Nicklaus, Miller and Weiskopf battled throughout the last 18. Weiskopf began the final circuit with a one-stroke lead. On 15, Weiskopf, one stroke back, leapfrogged into the lead with a birdie while Nicklaus bogeyed the hole. On 16, Nicklaus took it right back, hitting a 40-foot putt for birdie on the par 3, while Weiskopf bogeyed. The Golden Bear's one-stroke lead held, as he watched Weiskopf and Miller both miss birdie putts for ties on 18.
Jack Nicklaus watches his birdie putt drop on 17, which gave him the lead in the '86 Masters.
"I don't think there's ever been a more exciting day," Nicklaus said. "Any one of the three of us could have won. All that action on 18, my putt and theirs. That's the fun of the game."
3. Phil finally wins a major (2004)
Only two golfers had ever won more tournaments than Phil Mickelson without winning a major. Mickelson's plight had been made all the more painful with three consecutive third-place finishes at the Masters. Entering the final day tied for the lead, Mickelson fell three shots behind Ernie Els by the 12th hole, but roared back with a blistering finish. His amazing 31 on the back nine was capped by a birdie on the 18th to beat Els by a stroke -- only the fourth man to win the Masters with a birdie on the final hole.
2. Larry Mize's "Holy Roller" beats the big boys (1987)
Mize, an Augusta native who as a teen operated the Masters scoreboard, drilled a six-foot birdie on 18 to qualify for a playoff against Seve Ballesteros and Greg Norman. Ballesteros was out after missing a putt for par on the first playoff hole. On the second playoff hole, at the par-4 11th, Mize sunk an extraordinary 140-foot pitch to beat Norman. The chip shot bounced two or three times, then rolled 50 feet into the cup.
Mize, 28, had finished 17th on the money list the two previous years, but this was only his second tour victory.
1. The Graying Bear scorches the back 9 for his sixth jacket (1986)
The Golden Bear, who hadn't had a tour victory since 1984, shot a record 30 on the back nine of the final round to pass Greg Norman, Tom Kite, Nick Price, Tom Watson, and Seve Ballesteros and, at age 46, win his sixth green jacket by one stroke over Norman and Kite. Nicklaus's magical run included five birdies and an eagle.