By Jeff Merron
Page 2
When talk turns to NBA playoff history, we tend to relive the great moments, the buzzer-beaters, the unforgettable games, and the best battles in the Finals. But there have been some incredibly great (and tough) conference finals series. Our top 10: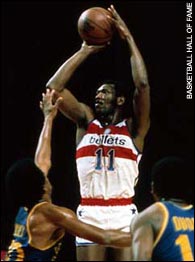 Elving Hayes with perfect form and the perfect throwback uni.
10. Underdog Spurs push Bullets to the limit
Eastern Conference, 1979
The Bullets became the third team in NBA history to recover from a 3-1 series deficit when Bob Dandridge hit a 15-foot jumper with eight seconds left in Game 7 for a 107-105 win. The Bullets had trailed by 10 points earlier in the fourth quarter against San Antonio, led by George Gervin. In the final possession, Elvin Hayes blocked James Silas' short jumper that, if it had fallen, would have sent the game into OT. The Bullets' three straight wins came by a combined victory margin of just 14 points.
9. Shaq leads Magic over Miller's Pacers
Eastern Conference, 1995
Indiana and Orlando's Game 4 was one of the greatest playoff duels ever, with Rik Smits' buzzer-beater capping an awesome last 13.3 seconds (a Shaw-Miller-Hardaway 3-3-3 exchange preceded the final bucket), to knot the series at 2-2. The Magic also won a pair of tight games to pull out to a 2-0 series lead, lost a Game 3, hung on to win Game 5 108-106 despite a ferocious fourth-quarter Pacers comeback, and finally reached the Finals with a 105-81 blowout at the home O-Rena, with Shaq scoring 25 and Reggie Miller, the hero of Game 6, managing only 12 points.
8. Knicks upset Celtics
Eastern Conference, 1973
Two of the greatest teams in NBA history squared off in a seven-game battle that saw the Celtics, playing with a hobbled John Havlicek, battling back from a 3-1 deficit to force a seventh game in Boston Garden. Among the series highlights: the Knicks dealing the Celtics their worst playoff defeat ever in Game 2, a 129-96 drubbing in New York; the Knicks wiping out a 16-point fourth quarter lead in Game 4 to win in double overtime; Dave Cowens playing like the MVP he was to lead the Celtics in Game 5 (98-97) and Game 6 (a 110-100 win that included 15 ties before Boston pulled away late); and finally, the Knicks sending the Celtics to the first Game 7 defeat in franchise history, and doing it at Boston Garden.
Just to remind you, the lineups for these two teams:
Celtics: Dave Cowens, John Havlicek, JoJo White, Paul Silas, and John Chaney.
Knicks: Clyde and Earl, Dave Debusschere, Bill Bradley, Willis Reed, Jerry Lukas, Phil Jackson and Dean Meminger.
7. Ewing's Knicks grind past Pacers
Eastern Conference, 1994
This wasn't a pretty series, and not a single game ended in OT or with a razor's-edge margin, but it was a classic battle. The Knicks beat the Pacers soundly in the first two games at Madison Square Garden, but lost the next three -- two in Indiana and Game 5 back in New York (Reggie Miller scored 25 in the fourth quarter to blitz the Knicks) -- and fall into a 3-2 hole. But they managed to force Game 7, and there was no denying Patrick Ewing on his home court. He finished the final game with 24 points, 22 rebounds, seven assists, and five blocked shots to lead the Knicks to a 94-90 win.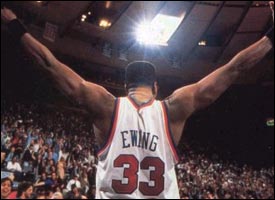 Then John Starks threw away the championship.
The Pacers took a 90-89 lead on a Dale Davis layup with 34 seconds left, but Ewing responded by slamming in an offensive rebound on a John Starks miss to put the Knicks up by one with 27 seconds left. The Pacers played the clock but Miller hit nothing but air with 4 seconds left. On the Knicks possession, Miller fouled Starks, but was called for a flagrant that shouldn't have been, and that sealed the win for the Knicks.
Miller protested, but Pacers coach Larry Brown was gracious in defeat. "I don't think it was a flagrant foul," Brown said. "But to me, what this game was about was Patrick Ewing. He played like the wonderful player he is. He deserved it. Give him all the credit."
6. Earl the Pearl leads Bullets over Knicks
Eastern Conference, 1971
The defending champion Knicks finished the regular season with the best record in the East and the second-best record in the NBA, and were favored to face Lew Alcindor's Bucks in the Finals.
But it wasn't to be. The Bullets lost the first two at Madison Square Garden, then stormed back to crush the Knicks in Baltimore twice to even the series. New York took Game 5 at home, then were pummeled by the Bullets again in Baltimore. Game 7 was a nailbiter, but the Bullets, led by Earl Monroe (26 points, 6 assists, 5 rebounds) and Wes Unseld (20 rebounds), held on for a 93-91 win as Unseld deflected Bill Bradley's last-second jumper.
5. Slugout in the sauna: Bird leads Celtics over Pistons
Eastern Conference, 1987
The seventh game of this series was a classic in the ultra-hot Boston Garden, a tight 117-114 win that wasn't over until it was & well, over. And even then, the Celtics had to recover from what had been one of the most physical playoff series of all time. It included a Bird-Bill Laimbeer brawl in Game 3, a Robert Parish three-punch rebuttal in Game 5 (no call, but a fine and one-game suspension from the league), a brilliant Bird steal/pass (Boston Herald: "STEAL OF THE CENTURY") to Dennis Johnson underneath with one second left to give Boston a one-point win to go ahead 3-2 in the series, a tough win by Detroit to send the series to Game 7; and an incredible 1:05, six-shot Celtics sequence capped by a Danny Ainge 3-pointer with 3:06 left in the fourth quarter that put Boston ahead, uncomfortably, but for good. Game temperature inside Boston Garden for the finale: 88 degrees.
4. Miller and Bird push the Bulls to the brink
Eastern Conference, 1998
During their 1990s dynasty, few teams challenged the Bulls enough to take them to a seventh game. But the Pacers, led by Reggie Miller and coached by Larry Bird, almost -- but not quite -- ended Chicago's chance at a second three-peat.
The Bulls won the first two games at the United Center, but then the series shifted to Market Square, and it was Miller time. Reggie was spectacular in the final minutes of Game 3, scoring 13 points (including three 3-pointers) in the final four minutes to lead Indiana to a 107-105 win. In Game 4, Miller did it again, hitting a game-winning 3 with 0.7 left to even the series at 2-2. The Bulls blew out the Pacers in Game 5, but Indiana even the series at 3 when Jordan fell and lost the ball before he was able to get off a last-second shot that could have tied the game.
MJ guaranteed a win in Game 7, but things didn't look good for Chicago as Indiana raced off to a 20-7 lead and was still ahead 79-77 with less than six minutes left. But the Bulls finally took the lead for good when Jordan sunk two free throws and Scottie Pippen followed with an 18-foot jumper. Final score: 88-83.
3. "It was not their time" -- The Shaq pack wins the West in Sacramento
Western Conference, 2002
What a series. The Lakers were trying to three-peat, but it looked like Vlade Divac, Chris Webber, and Mike Bibby just might lead the Kings past their rivals with the advantage of playing Game 7 at home.
The series had lots of turning points, but the most dramatic, before the last game, was Robert Horry's game-winning 3-pointer from the top of the key with six-tenths of a second left in Game 4. In Game 7, Bibby was brilliant, scoring 29 points, including a pair of free throws with 8 seconds left in regulation to tie the game.
But the Lakers had been down by as many as nine points in the second half and not only forced the only seventh-game OT in conference finals history, but utterly dominated the extra period, scoring the last eight points for a 112-106 win. "They felt it was their time," O'Neal said when it was all over. "It was not their time."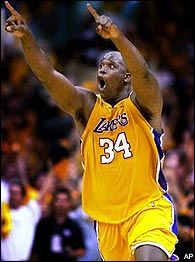 In L.A., there will always be love for the Big Diesel.
2. Lakers blaze Blazers in ultimate comeback
Western Conference, 2000
There weren't a lot of close games in this series -- the tightest finish came in the Lakers' 93-91 Game 3 victory -- but what a ride, what a battle, what a slugfest, what a wrestling match. The Blazers, facing elimination in Games 5 and 6, won both, and went into the rubber game in L.A. with two straight Staples Center wins under their belts, an amazing accomplishment considering Shaq, Kobe, Phil & Co. were virtually unbeatable on their home turf.
But still, the Lakers were happy to be at home for Game 7. Maybe they shouldn't have been. The Blazers shut down the Lakers for the first 38 minutes, and held a 75-60 lead with 10:28 remaining. But that was it for Portland. Their next 10 FG attempts were thwarted, and the Lakers went on a 15-0 run and outscored the Blazers 25-4 to stage the greatest fourth-quarter Game 7 comeback in playoff history.
The capper came when Bryant drove and threw one up high, in just the perfect spot for an awesome Shaq slam that put the Lakers ahead 85-79. The final score was 89-84.
Phil Jackson's game summary was also classic. "Game 7s are interesting games, aren't they?" he said. "I've never seen one quite like that before."
1. Bird and Boston edge Philadelphia
Eastern Conference, 1981
The Celtics became only the fourth team in NBA history to come back from a 3-1 deficit to win a seven-game series, and they did it in the most dramatic fashion. The 76ers had a chance to wrap up the series in Game 5, but they blew a four-point lead with less than a minute to play as the Celtics pulled it out, 111-109. More swarming Celtics D shut down Dr. J and erased 76ers leads of 17 points in Game 6 and 11 points in Game 7.
In the series finale, Bird's bank shot with 1:03 remaining gave the Celtics a 91-89 lead. Maurice Cheeks had a chance to tie the game at 91 with 29 seconds left, but missed the first of two free throws to give the Celtics the game and series victory.
Final scores: Philly 105, Boston 104; Boston 118, Philly 99; Philly 110, Boston 100; Philly 107, Boston 105; Boston 111, Philly 109; Boston 100, Philly 98; Boston 91, Philly 90.
"The last few minutes of the last three games are worth getting films of, running clinics on, putting in the Hall of Fame," said Chris Ford. "You can't play better team defense."
Thanks to Sanford Appell for research assistance.