By Jeff Merron
Page 2
This season, rookie receivers will be front-and-center: Larry Fitzgerald (Cardinals), Roy Williams (Lions), Reggie Williams (Jaguars), Lee Evans (Bills), Michael Clayton (Bucs) and Kellen Winslow Jr. (Browns), top 15 draft picks all, are most likely to be the offensive rookie stars of 2004. Will any have the kind of season that the greatest rookies of all time enjoyed? Maybe. But it won't be easy.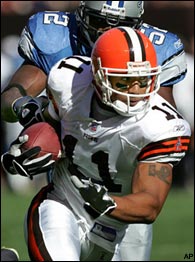 Cleveland fans are hoping for big things from Kellen Winslow Jr. this season.
10. Louis Lipps (1984 Steelers)
Despite an ankle injury that sidelined him for two games, Lipps caught 45 passes for 860 yards -- an average of 19.1 yards per reception -- and scored nine TDs on a Steelers team that made the playoffs.
Lipps didn't have huge numbers, but there was no doubt that he made a huge difference, teaming up with John Stallworth to create a threat on both sides of the field. Frank Pollard, who led Pittsburgh in rushing that year, credited Lipps for creating ground opportunities, and gushed about his new teammate: "He's going to break every record there is to be broken before he's finished. I've never seen a rookie like him."
Lipps made the Pro Bowl in 1984 and again in 1985, but those would be the two best years of his career.
9. Cris Collinsworth (1981 Bengals)
Others have topped Collinsworth's rookie numbers, but few have been the primary receiver on a team that went from last place in their division (6-10) to the Super Bowl the following season. Collinsworth had 67 receptions for 1,009 yards and eight TDs, averaging 15.1 yards per catch. In the Bengals' 26-21 Super Bowl loss to the 49ers, he caught five passes for 107 yards.
8. Sammy White (1976 Vikings)
White, a wide receiver from Grambling, immediately became one of Fran Tarkenton's favorite targets, catching 51 passes for 906 yards and 10 TDs during the regular season. In the Super Bowl, which the Vikings lost to the Raiders 32-14, he caught five passes for 77 yards and a TD.
In early November, White flubbed a TD by celebrating too early and fumbling in the end zone in a 31-23 win over the Lions. Despite this, White's performance -- seven catches for 210 yards (a Vikings record) and two TDs -- remains one for the ages. One of his TD receptions came near the end of the game, when, wrote Jim Llobuchhar of the Minneapolis Star, "Like a delinquent waif seizing the bon-bon of forgiveness, Sammy glommed the ball and loped into the end zone to complete a 37-yard touchdown pass."
7. Keith Jackson (1988 Eagles)
Buddy Ryan's Eagles improved from 7-8 to 10-6 (and won the NFL East) in 1988, and tight end Jackson was a catalyst. He was Randall Cunningham's prime target, catching a team-record 81 passes for 869 yards and six TDs. In the Eagles' 20-12 first-round playoff loss to the Bears, Jackson added another seven catches for 142 yards. He was named rookie of the year by the Sporting News and was voted a Pro Bowl starter.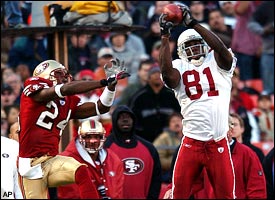 Anquan Boldin was one of the NFL's most pleasant surprises last year.
6. Anquan Boldin (2003 Cardinals)
What a way to begin a career: in his first game, Boldin, a second-round pick, caught 10 passes for 217 yards, a rookie record. He also grabbed two TD passes. And unlike most rookie wideouts, who tail off at the end of the long season, he finished strong (season totals: 101 receptions, 1,377 yards, eight TDs), breaking Terry Glenn's rookie reception record. Boldin made the Pro Bowl and was a unanimous choice for Offensive Rookie of the Year.
5. John Jefferson (1978 Chargers)
The great Arizona State receiver didn't miss a beat when he came to the NFL. He became a founding member of the Air Coryell show, with 56 receptions for 1,001 yards and a league-leading 13 receiving TDs, which tied Billy Howton's rookie receiver record. His most dramatic moment came on Nov. 12, when he caught a 14-yard TD pass from Dan Fouts as time expired to beat Kansas City in OT. Jefferson, the Chargers' MVP, was also named an All-Pro and made the All-NFL second team.
4. Billy Howton (1952 Packers)
The receiver from Rice had a monster season for the Packers from the get-go. In his first three games, Howton compiled 356 yards. By the end of Green Bay's 6-6 season, Howton had 53 catches, 13 TDs, and led the NFL with 1,253 receiving yards, an average of 23.2 yards per catch.
Howton wrapped up his remarkable season with a spectacular Pro Bowl performance, thrilling the crowd and a national TV audience by reeling in a 52-yard Norm Van Brocklin bomb and dashing another 22 yards for a TD.
3. Mike Ditka (1961 Bears)
Ditka, selected No. 5 overall in the draft, started every game as a rookie tight end and caught 56 passes for 1,076 yards (averaging 19.2 yards per catch) and 12 TDs. He was named All-NFL, All-Pro, and Rookie of the Year.
2. Bob Hayes (1965 Cowboys)
Bullet Bob caught 46 passes for 1,003 yards, leading the league with an average of 21.8 yards per catch and tying for the lead with 12 receiving TDs. Hayes was an immediate difference-maker, connecting frequently with Don Meredith for long gains. The Cowboys, who'd been dreadful their first five years, went 7-7 and finished second in the NFL East, earning a spot in the meaningless and long-forgotten "Playoff Bowl." More important, Hayes was fast and could catch, forcing NFL defenses to make fundamental changes.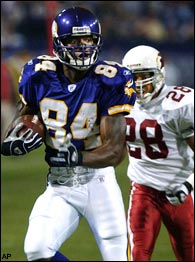 Randy Moss had a monster rookie season for the Minnesota Vikings.
1. Randy Moss (1998 Vikings)
Dr. Z, who's forgotten more about football than I'll ever know, summed up Moss' 1998 season by calling him "the most electrifying newcomer since Don Hutson." That's shorthand for 69 catches, 1,313 yards, and a league-leading 17 receiving TDs. Moss was the crucial element in the record-setting Vikings' offense that season.
Also receiving votes:
Terry Glenn (1996 Patriots)
Bill Brooks (1986 Colts)
Bill Groman (1960 Oilers)
Jeremy Shockey (2002 Giants)
Blogging the list:
Ross Smith's receiver ratings, based on stats from Pro Football Reference, is an excellent first attempt to do for receivers what has been done for QBs: provide one number that factors in a host of factors, including games played, number of receptions, yards gained, TDs, etc. It was indispensable in compiling this list. Unfortunately, it seems that Smith's project stalled in 2002.
Which is why it's good to know that Football Outsiders, through which I found Smith's site, continues on with smart, sophisticated analysis -- they have their own system for ranking receivers, which didn't help much looking far back into NFL history, but is a great resource nonetheless.
Bob Carter takes an ESPN Classic look back at Randy Moss's first five NFL seasons. The "signature game" of Moss's rookie season was the Thanksgiving Day contest in which he caught three passes, all for long TDs.
Cigar Aficionado notes, in loving detail, how 1961 was the beginning of Mike Ditka's cigar-smoking career, including a roundup of the beginner's brands.
Also check out Jim Klobuchar's instant mini-tribute to Sammy White, available to all thanks to the heroic but largely unsung efforts of the Internet Archive.