By Jeff Merron
Page 2
We've got to put the steroids scandal aside for the purposes of a sane list -- that's not only a very tangled web, but so many spots would be taken by BALCO-related moves that there'd be almost no room for other miscues. (We think "looking the other way" and "wishing the problem away" are moves.) Also, to avoid redundancy, we've decided to free some (but not all) 2004 Turkeys -- they've had their moment.
Caveats firmly in place, we give you the worst moves of 2004.
10. Dave Wannstedt flip-flops on QB
The Fins have fallen for a lot of reasons, but one thing that was in head coach Dave Wannstedt's control before he resigned a few weeks ago was who to start at QB. Neither Jay Fiedler nor A.J. Feeley is a prize (check out their almost identical, lousy stats), but by not declaring a team leader from the season's start, and sticking with that decision, Wannstedt made a bad situation a lot worse.
9. Aaron Boone plays hoops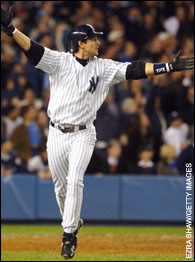 Aaron Boone's blunder cost him some dough, and a chance at more Yankee glory.
The hero of the 2003 ALCS blew out his ACL -- and blew his $5.75 million contract with the Yankees during a pickup basketball game last January. Boone, in clear violation of his contract, was unceremoniously released by the Yankees, who, because Boone broke the contract, only had to pay him $900K.
Boone said he hadn't been aware of the clause in the contract. In the summer he signed with the Indians -- a two-year deal that guaranteed him just $3.6 million. Enough to feed his family, but still.
8. Nebraska goes West, then South
After a 10-win season in 2004, the Huskers decided to turn to Bill Callahan and the (gulp) West Coast offense. In Nebraska? The result: a 5-6 record (the Huskers' first sub-.500 season in 33 years), which included a humiliating 70-10 loss to Texas Tech and three straight losses to end of the season. Their 3-5 conference record tied for eighth overall. And no bowl game for the first time since Ike was in the Oval Office.
7. Ricky Williams retires in the worst way
I was one of the few who thought that Ricky Williams not only had the right to walk away from it all, as he did in July, but he also should have had the privilege to be left alone about it. My reasoning then: Let him follow his bliss. He doesn't owe anything to the NFL or the Dolphins organization -- they're cold-hearted businesses. The fans will get over their disappointment. And his teammates? Better off without him if he doesn't want to be there.
But Williams' actions since then have led me to change my mind. His "I'll play again," then "No, I won't play again" shenanigans, after a deal had been worked out, add enough to his initial last-minute departure to combine into one big, bad, classless move.
6. The Wardrobe Malfunctions
There's plenty of blame to go around for this one ... Begin with the performers, Justin Timberlake and Janet Jackson, add MTV (which denied prior knowledge, but had trouble explaining away a choreographer's statement promising "shocking moments"), and CBS, which oversaw the entire Super Bowl broadcast. The FCC also made a couple of bad moves, adding fuel to the fire with a hysterical reaction (predictable, in hindsight), and a record $550K fine for CBS.
5. Sosa leaves early on last day of season
Sammy had filled a deep well with sweet, pure goodwill after an electrifying 1998 season and the few years following, but ever since the corked bat, the well's been running drier, and drier and ... it looks like Sosa took the last sip when he didn't dress for the season finale, then ducked out after the first inning, further alienating Dusty Baker, his teammates, and, apparently, much of Cubs Nation.
4. Notre Dame fires Tyrone Willingham
Three years and out -- and then they wonder why Urban Meyer took another job? One question the Notre Dame honchos didn't ask: WWTJD?
3. Expos move to D.C.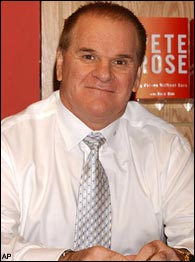 Pete didn't help his popularity out all that much with the book.
Sometimes it's not the move, but the way it's done. It's been more than two years since MLB took over the Expos, and this is what it's come up with: No owner and no ballpark. A publicly-funded fleecing in the works for new stadium construction. A monumentally-bland team name. Lousy players. And a dull logo.
2. NHL owners lock players out
While losing a big-time war with other sports for the attention and $$$ of fans, the NHL owners' decision is akin to fiddling while Rome is burning. While costly American arenas lay empty, the players continue to play ... elsewhere. And what's that sound? What is it? That's the sound of most sports fans not caring.
1. Pete Rose releases "Prison," prematurely
Liars when they speak the truth are not believed.
-- Aristotle
The book and the publicity and the "I'm not built that way" lack of remorse wouldn't have flown any higher than a lead balloon even if Rose's book, "My Prison Without Bars," was released after the Hall of Fame announcement. But Rose just couldn't resist the publicity grab, at the expense of Paul Molitor and Dennis Eckersley. Rose's for-profit mea culpa cost him big time, as his image plummeted in the eyes of SportsNation.
Also receiving votes:
Yankees sign Kevin Brown and deal for Javier Vazquez
Mariners give Bob Melvin a contract extension, then fire him three months later
Mike Williams decides to go pro
Longhorns don't show for post-game ceremony after CWS loss
Yankees demand Devil Rays forfeit