By Jay Lovinger
Page 2
You are going to think I've lost what little is left of my mind, but, of all the people I've met in my life, the person Greg Raymer most reminds me of is Bob Woodward, the Washington Post reporter who helped send Richard Nixon into permanent retirement from the President business.
It's not so much that both are "unofficial" champions -- Raymer of poker, thanks to his $5 million score as the winner of this year's World Series of Poker; Woodward of investigative journalism, thanks to his brilliant work on the Nixon-dooming Watergate scandal, as well as scoop-making insider books (all bestsellers ) on subjects as wide-ranging as the CIA, the Supreme Court, John Belushi and the Bush White House.
But rather that, for all they have accomplished in their chosen fields, neither man feels the need to blow his own horn. (How rare is this? As a writer friend, columnist Michael Daly of the New York Daily News, once so wisely said about modern celebrities, "If you've heard of them, they're a--holes.")
Like a couple of modern Buddhas, both men seem blissfully comfortable in their own skins, despite raging rivers of doubt flowing from "colleagues" and the viewing public about whether they are great or just lucky. And they share a wonderfully sly sense of humor. (Remember when Raymer loaned Mattias Andersson his weird glasses for a hand?) However, under all that calmness and ease, a fierce pride rages in both.
I was very lucky to work with Woodward. In 1985, I went to the nation's capitol to start a new Sunday magazine for the Washington Post. Woodward was generous with his wisdom about journalism, power and the weird workings of Washington D.C. (As a lifetime New Yorker, before his kind intervention, I was suffering a near terminal case of Stranger in a Strange Land.) He even accepted me as a regular in his legendary poker game. (Other participants included federal judges, world-class journalists and elected officials, like congressman Buddy Roemer, soon to become governor of Louisiana; Reagan biographer Lou Cannon; and conservative fund-raiser and NICPAC inventor Richard Viguerie.) This was a gift from the gods for a newcomer to the power capital of the world -- not even counting the fact that, as by far the lowest-paid player in the game, I now had a chance to significantly increase my meager income, since most of the other guys were in it just to get away, once every couple of weeks, from the heart-attack-inducing pressures of their high-tension lives.
When people would criticize him -- as frequently happened -- for being a pedestrian writer, he'd smile quietly and laud the creative skills of Carl Bernstein, his partner on "All the President's Men." When, as frequently happened, somebody would accuse him of being lucky -- in the right place at the right time on the Watergate thing -- he'd smile quietly and thank Washington Post executive editor Ben Bradlee for giving an unproven cub reporter a chance.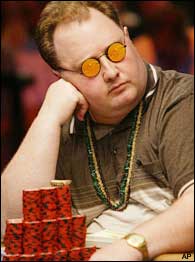 Forget the glasses, Raymer is more steak than sizzle.
But if you hung with him long enough, the fierce pride that drove him would break through to the surface, if only for a moment, and you'd understand what made the man tick. Once, for example, at a talk he was giving for new reporters at the Post, someone lauded Oliver North, the Army officer who was making his congressional questioners look foolish during the Irangate hearings. The mild-mannered reporter suddenly vanished, as Woodward uncharacteristically growled, "Just give me 10 minutes alone with him to ask him a few questions, and we'll see how clever he is." Looking up at his stunned audience, Woodward seemed to realize he had revealed himself, and quickly but calmly transformed himself back into Mr. Modest. It was unsettling, at least to me, someone who thought he knew Woodward so well. It was a little like watching the family cat suddenly gobble up the family dog when he thought no one was looking.
During a three-hour visit with Raymer at his home in Stonington, Connecticut, last week, I witnessed a similar phenomenon. In interviews since he won the WSOP in May, Raymer has repeatedly proclaimed the "fact" that there were hundreds of better players in the WSOP, implying, of course, that he was just lucky, the latest in a line of recent WSOP winners -- Robert Varkoni, Chris Moneymaker -- who were, in fact, freakily fortunate to win.
However, when I tried to get him to tell me how he did in the WSOP Tournament of Champions -- a $2 million winner-take-all tournament that will be broadcast on ESPN for three hours tomorrow night, starting at 8:10 p.m. -- he told me a story, which revealed, a la Woodward, how he really sees himself:
Super Powers
As a poker player, which super power would you rather have -- knowing your opponents' cards, or knowing what community cards will show up? A bunch of Jackpot Jay's readers chimed in.
Recently, Raymer was out in Las Vegas for one of the many tournaments that now crowd his calendar (yes, he quickly became an ex-patent attorney -- $5 million will do that) when he ran into Alan Cunningham, one of the accomplished young guns now putting their personal stamp on the poker scene. Cunningham begged Raymer to tell him who had won the Tournament of Champions, which was filmed a while back, because he had bet a substantial amount on Raymer to win the event.
"What kind of odds did you get?" Raymer asked.
"They were offering 15-1," Cunningham said.
"Wow, 15-1," Raymer said. "I would have bet on me, too, at those odds. Who was the favorite?"
"Daniel Negreanu, at 4-1," said Cunningham.
Since the field for the Tournament of Champions included nine of the best players in the world -- Doyle Brunson, T.J. Cloutier, Johnny Chan, Howard Lederer, Chip Reese, Daniel Negreanu, Phil Ivey, Phil Hellmuth and Annie Duke -- I suggested, after he finished telling me about his conversation with Cunningham, that 15-1 wasn't such a demeaning price.
"Nobody in that field should have been more than 12-1," he told me, flaring with indignation. "And nobody should have been less than 8-1. 4-1 on Daniel is ridiculous. To justify that price, he'd have to win once every five times against that field, which nobody could do."
Then, just like that, his face softened; almost magically, he was back to being good ol' Greg Raymer, mild-mannered champion of poker.
Both Raymer and Woodward are also uncomfortable with celebrity psychobabble, that modern phenomenon that so many of us indulge in when we analyze the rich and famous whom we've only seen from a great distance, on TV or in the tabloids.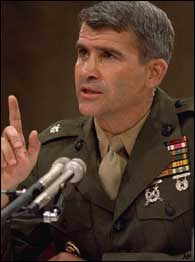 Ollie wouldn't last on the table with Raymer or with Woodward taking notes.
After "Wired" -- Woodward's posthumous biography of John Belushi -- was published, Woodward was criticized for copiously detailing Belushi's self-destructive behavior (most notably, his massive drug use) while not even trying to explain what might have motivated the famous "Saturday Night Live" alumnus to treat himself so badly. Woodward shrugged it off. He believed reporters should stick to the facts, especially about someone he had never met while he was still alive.
For those who missed the ESPN broadcasts of the WSOP, one of the highlights was Mike Matusow throwing some serious trash talk Raymer's way. After betting him off a pot, Matusow offered the following prediction: He, Matusow, was going all the way because he had big ones, while Raymer was going nowhere but home because he only had little ones. Then, in a patently insincere gesture, Matusow thrust his paw in Raymer's direction, and Raymer famously refused to shake it. When I suggested to Raymer that Matusow might be more than just another self-promoting jerk, that he might, in fact, be in need of some therapeutic intervention, Raymer refused the bait. "All I know, and all I care, about Matusow is what he does and what it means in poker terms. I have no idea why he does what he does, and I don't really want to know."
(On the other hand, later, when we were discussing the influx of flamboyant all-about-me loudmouths into what was formerly the Gary Cooper-like macho world of poker, Raymer did say that there were a lot of players who combined "huge egos with huge insecurity." I don't know, he just might have had Matusow in mind when he said that.)
HOW GOOD IS GREG RAYMER?
He's no Moneymaker, that's for sure.
The average poker player probably had never heard of him before his breakthrough win this year. But most insiders know Raymer as a bold and original thinker, and a disciplined and aggressive player.
POKER CENTRAL
Have you become obsessed with poker too? Well, no worries -- Page 2 has launched its very own poker section. Check it out.
Once, at a poker convention, he was giving a talk on what he calls the "stop-and-go" limit hold 'em move. You are in the big blind on a short stack -- say, $6,000 -- in a limit tournament, and the limits are $3,000 and $6,000. Somebody with a big stack bets into you, and you've got the kind of hand that you know you are willing to go all-in on - say, A-Q suited. You could raise all-in right there, but you know the guy with the big stack is going to call you, which means you'll have to show down the best hand to win. Or you could try the stop-and-go move -- just call the $3,000 bet, then go all-in after the flop, no matter what it is. That way, if the flop totally misses Mr. Big Stack, he might fold. At worst, he'll call, and you'll have to show down the best hand to win, just as you would have if you had raised all-in before the flop. So the stop-and-go gives you two chances to win, instead of one, under the right conditions.
After Raymer explained the stop-and-go, he acknowledged that he hadn't invented the move, just named it. "I learned it by watching other top players," he said. "For example, I'm sure Chris" -- that would be Chris "Jesus" Ferguson, a WSOP winner himself, who was sitting in the audience -- "has been using the stop-and-go for years."
"Never heard of it," said Ferguson, smiling. "But now I'm going to have to seriously think about."
HOW MUCH DID HE REALLY WIN?
Well, that's complicated, though the correct answer is: Not exactly $5 million.
About two years ago, Raymer began to sell "shares" in himself to raise enough money to play in the biggest side games at Foxwoods ... without exceeding the bankroll limit he and his wife had agreed to. As a result, at the time he won the WSOP, about 40 percent of Raymer was in the hands of various relatives and poker-playing friends. After he won, each $500 share he had sold was worth about $36,000, which makes Raymer the poker equivalent of Warren Buffett.
When I recapped the mini-furor I started by revealing in this column, a few months before ESPN broadcast this year's WSOP finale, that he had won, Raymer laughed.
"I know just what you mean," he said. "One of my backers told his grandmother that he had won $136,000 when I won the World Series ... and she was pissed at him for spoiling it for her."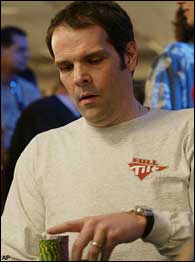 In the Tournament of Champions, Raymer faced guys like Howard Lederer. This isn't some tourney they let Ben Affleck into.
However, winning the WSOP also had some hidden financial benefits for Raymer, who got his $10,000 seat via a tournament on PokerStars.com, an online poker site. After he won, PokerStars, in effect, hired him -- for a regular salary, plus they pay his entry fees and expenses for a number of tournaments (though not all, as has been rumored), plus he gets a bonus every time PokerStars is mentioned in a story on Raymer.
So, PokerStars, I'm mentioning. To quote Teddy KGB in "Rounders," "Pay da man heeees money."
SAYINGS OF CHAIRMAN GREG
1) It's all in the numbers, stupid.
Raymer believes in the numbers. Before he learned to read people, etc., he understood that the numbers were his friend, at least in the long run.
Take, for example, these over-the-phone directions to his house in Stonington, Connecticut, which is conveniently located about 15 minutes from Foxwoods:
" ... after you take a right at the blinking yellow light, go precisely one-third of a mile, and my house is right there, on the left." In other words, follow the numbers exactly and you will arrive safely at your destination, whether your destination is his home, or first place at the 2004 World Series of Poker.
Psychological analysis? That's for your undisciplined intuitive types, like yours truly, who forgot to ask Raymer how to precisely calculate one-third of a mile on a trip meter that measures distance in tenths of a mile and, as a consequence, had to knock on a neighbor's door for directions in the middle of a dark and stormy night on a country road in eastern Connecticut. (After a brief moment of unmistakable fear -- imagine how you would feel if a bearded and bedraggled Jackpot Jay showed up uninvited on your pitch-dark doorstep in the middle of a downpour -- the neighbor did manage to pull himself together long enough to point me toward Raymer's house, which was right next door.)
Most experts emphasize the importance of survival in tournaments, especially during the early stages. Generally, they recommend that you not risk all or even large proportions of your stack when you have only a small statistical edge. Nonsense, says Raymer.
"Don't worry about it, just do it, except maybe when you are close to the money, or in the money and there's a major difference in how much you can win by moving up just one or two spots. Unless, of course, you are a great player and can expect to get bigger edges later -- though I've got to say that those situations are hard to quantify."
2) Never give anything away.
"I never show my hand after a successful bluff," he told me. "Sometimes, I'll show my hand if it's strong -- or maybe one card, like an ace. I want to encourage the idea that I'm betting strong hands, so I can steal the blinds."
TV loves huge tossup showdown hands -- high drama, big money swings -- almost to exclusion, which is the reason so many people think Raymer was just lucky. Almost all we ever saw was Raymer winning horse races, often after going into the flop with inferior holdings. ESPN did not show much, if anything, suggesting that Raymer even had an overarching strategy, let alone a good one. However, Raymer did, in fact, employ a schizoid plan that worked to perfection -- on the one hand, aggressive blind-stealing, using his large stack like a blunt instrument to beat his smaller-stacked opponents into submission; on the other, quietly avoiding major showdowns with his strongest foes, most notably Josh Arieh and Marcel Luske, especially in the later stages of the tournament. (He didn't mention Dan Harrington in this context, probably because he had a lot of success stealing from the player so conservative that he is ironically known as "Action Dan.")
"Josh was the toughest guy at the final table," Raymer admitted about Arieh, who managed to infuriate most observers, especially ESPN color analyst Norman Chad, with his arrogance and gracelessness. "He was the most unpredictable, the most imaginative and the most aggressive."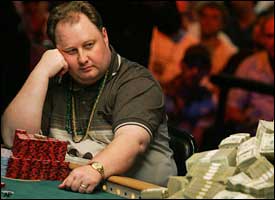 Greg "felt" his way to a few million bucks.
3) Pay attention to patterns you might be falling into.
"A friend of mine sat with me while I played online, and he watched me steal the blinds a couple of times in a row with hands like A-x," Raymer told me. "Then I folded an A-J, and he said, 'How come you bet those lousy hands, and then you folded a good hand like A-J?' And I told him that, after stealing a couple of times, the guy might get tired of it and decide to make a stand."
Raymer explained, however, that live play is different. Though you have to be cognizant of falling into predictable patterns, you have a lot more information to use before deciding whether to go for the steal or not. "Sometimes, you can see the frustration on a guy's face, which is a pretty strong warning to be careful."
4) Be confident, especially if you know yourself and your weaknesses, no matter how big the event.
"Even at the World Series ... in fact, especially at the World Series ... there is lots of dead money," Raymer said, half-delighted, half-amazed at the memory. "There are guys there who will let you see a flop for $300, and then, after you've made a set, will call you for their entire $13,000 stack."
HOW HE RAISED HIS GAME ... AND MINE
"I've never been a great reader, but I seem to be getting a better feel for what people want me to do, and what they don't want me to do," Raymer said.
There was one hand against 21-year-old John Murphy -- yeah, the same John Murphy who slept away a couple of hundred thou in blinds and antes -- when Murphy came over the top on Raymer, going all-in after Raymer had made a big post-river raise with something like a medium-suited connector that had totally failed to connect. Raymer just knew Murphy was bluffing. He "felt" with a certainty he never had before that Murphy didn't want him to call. There was a small problem, though -- Murphy could have been on a total bluff with something like a J-9 suited, and still would have won the hand. So Raymer had to fold, which is why TV viewers had a mistaken impression that Murphy, holding only a sleazy 5-3 (or something like that) had put one over on the man who would soon be champ.
But that was okay with Raymer, because he knew he had raised his game to a higher level.
And the funny thing is ... I knew that, just from listening to him talk, I had become a better player than I was when I had walked through his rainswept front door just a few hours earlier.
Sure enough, the next morning, in a no-limit hold 'em tournament at Foxwoods, there were about 30 players left, when a relative newbie with a short stack went all-in with his last $800 or so. I was in the small blind with an A-x, with only about $1,000 in chips myself. Normally, I would not have called, would not have even considered it for more than a moment. But as I looked at the guy, I suddenly "felt" as if he desperately didn't want me to call his bet. I'm not sure why -- it may have been something about the way he was holding his head, slightly cocked to one side as if he were a chicken waiting for the ax to fall. Anyway, I called, and before my chips hit the table, the guy was already apologizing -- "I thought I had to make a move before it was too late" -- and turning over ... 8-6 unsuited.
Later, the guy asked me why I had called, whether he had exhibited some kind of amateur's tell or something. "Nah," I said. "I guess I was pretty desperate myself."
But, in my head, I was thanking Greg Raymer, just as, 15 years earlier, I had had many occasions to thank Bob Woodward.
I guess it's true that wisdom flows downhill.
HEY, IRS: HOW JAY IS DOING IN HIS NEW CAREER
Last week: lost $530 (I finished 12th in an Act III, missing by one spot - they paid 11 places - of cashing for the fifth time in an Act III and winning $10,200, an unfortunate result which left me feeling like a Red Sox fan after Bucky "Bleepin'" Dent's homer)
CTD (career-to-date): plus $35,849
Jay Lovinger, a former managing editor of Life and a founding editor of Page 2, is writing on his poker adventures for ESPN.com and also writing a book for HarperCollins. You can watch the 2004 World Series of Poker Tuesday nights at 9 p.m. ET on ESPN.