By Erica Lucero
Page 2
When USC does something, it tends to do it big.
For example:
• Last week, a private collection was opened in one of our libraries … by Steven Spielberg.
• A few years back, the administration decided the old Sports Arena in Exposition Park was getting a bit decrepit for our basketball team. So the school is building a new state-of-the-art arena for volleyball and basketball that will seat 10,000. And while doing that, it figured it would just redo the entire street, as well.
• The Marshall School of Business was ranked 23rd nationally among business schools in 2004. This year, it stepped up and ratings recruiters really noticed -- we moved all the way into the top 10.
Even the pranks around here are big. On Halloween, LenDale White raised quite a ruckus at practice, getting into a screaming match with Pete Carroll and assistant coach Lane Kiffin. Kiffin ordered him off the field, not knowing that Carroll and LenDale were in cahoots. He made a dramatic exit, yelling to the team and the media, "I quit!" Jethro Franklin put his arm around him and tried to calm LenDale down and convince him he was making a bad decision. His teammates were so distressed Carroll had to console them in the locker room.
Toward the end of the team's final meeting of the day, LenDale grabbed everybody's attention by hiding on top of a nearby building and screaming that he hated football. Everybody finally realized it was a joke when a dummy, dressed in LenDale's jersey, was thrown off the building in a mock suicide.
The philosophy here seems to be to go big or just go home.
And then there's our powerhouse football team with not just one but two legitimate superstars: Reggie Bush and Matt Leinart.
Saying these guys are great football players is like saying football at USC is kind of a big deal. I'll say this: The World Series was duly noted. Basketball season has started. But more important to real sports fan across the country … who's more deserving of the Heisman?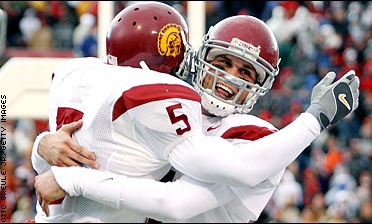 It's all hugs for Bush and Leinart, even if they are battling for the Heisman.
Lately, a lot of people are calling Reggie the MVP of his team. He is that rare phenomenally talented player who can change an entire game with just a single spectacular play. Fans cheer louder, victory is sweeter, and, even when we're losing, we know we'll soon be winning.
There is not a guy in the college game right now to whom more attention must be paid, whether by opposing defenses or spectators. We all watch expectantly as the huddle breaks, looking for the hole Reggie inevitably will find and swoop through to make one of his amazing runs. How many highlights have we seen on TV of Reggie with a pack of players chasing after him or of him somersaulting neatly into the end zone.
Former Stanford coach Buddy Teevens gave Cardinal football players a pep talk about how the Trojans are all human, in an attempt to convince his players that their opponents put their pants on one leg at a time just like everybody else.
Well, almost everybody. Teevens had to admit that Reggie was the exception.
There is never one man on Bush; opponents have to tag-team it. I have had several male friends act out attempts to contain Reggie: "It's like this: guy grabs his side, and this one and this one … and he just keeps going!" I had to ask one overly demonstrative friend to step outside the bookstore. People were staring.
Another large body of opinion around campus, especially among the ladies, is that it's time to spread the glory. USC always stresses the importance of the team concept -- each superstar is said to be "just another player," and there are no names on the backs of players' jerseys. Shouldn't the great honors be shared, too?
But then there's the Big Man on Campus, Matt Leinart. We would be remiss to forget that Leinart, the reigning Heisman champ, is the undisputed leader of this team. USC's offense this season will go down in the history books as one of the greatest ever, and it's Leinart's job to distribute the ball to all that talent. And you'd have to say he's not doing too shabby a job of it, considering the Trojans are going for their 31st win in a row this weekend against Stanford.
For those who have picked apart his performances this year as less than perfect, well, as I often tell my parents just before I slam the door to my room, we're all just in college. We're young over here, inexperienced, very prone to mistakes. Some of us get our stomachs pumped and fail midterms. Others are shooting for the Heisman and enjoy the privilege of having every single misstep analyzed. Let's face it, one of the reasons it's so hard to win the Heisman a second time is because everyone expects perfection. In some observers' minds, a player has to exceed his already magnificent performance of the previous season.
How soon people forget.
Sure, Leinart was great in the Orange Bowl last year. Don't get me wrong, I spent my fair share of time jumping up and spilling chips and salsa all over my friend's nice carpet. But he wasn't perfect the whole season. There were times when he messed up and made some bad mistakes.
So it all comes down to a complicated -- and therefore very college-worthy -- dilemma. To figure out who is more deserving of the trophy, you have to separate the two. And that's rather problematic.
Where would Matt Leinart be without Reggie Bush on the team?
Where would Reggie Bush be without Matt Leinart?
As for the Trojan opinion on who deserves the Heisman? Definitely not Vince Young or Brady Quinn. Beyond that, though, it's a lot like asking parents which kid they love more.
There are USC students who get downright defensive about Leinart. "How could you question his greatness?" one of my friends said. "I hate how everyone seems to be taking him for granted." Then he rushed off in a huff, leaving a very surprised me standing in front of the bench press at our gym in the Lyon's Center.
"Reggie Bush is on fire," one freshman dramatically informed me. "He's God." Concerned that this was just a bit of an overstatement, I asked my friend who works in the bookstore whose jersey was selling better, Reggie's or Matt's. "Bush is winning the clothing race -- by far," she informed me.
I believe that, for one of the first times in a long time, we're a family divided.
EDITOR'S NOTE: Erica Lucero, a sophomore at Southern California, is writing updates from campus this season as the Trojans attempt to win their third consecutive national championship.