By Paul Lukas
Special to Page 2
OK, it's official. The second-best baseball team on the planet -- at least according to the results of the World Baseball Classic -- wears red pants.
Judging by the e-mails Uni Watch has been receiving, lots of fans have a major problem with that. Uni Watch agrees that Cuba's full-on atomic fireball look was bad news (much like those mid-1970s Indians disasters) but thinks the red pants actually looked pretty cool when paired with the white jerseys, especially when the cuffs were hiked up to reveal the blue socks. And you might be surprised to learn that there's an old-school precedent for the red britches: the 1936 Reds.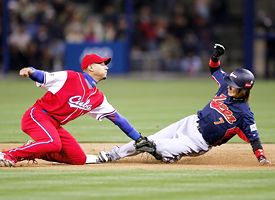 Jed Jacobsohn/Getty Images
Never mind the battle for the championship title, which country had the best uniform?
That's already more attention than Uni Watch expected to be paying to the WBC. Like many fans, Uni Watch initially pooh-poohed the tourney but then ended up getting hooked on it. Having made a few quick observations last time around (Japan's raised helmet logo, Korea's bizarrely truncated pants piping, the Rawlings-branded batting helmets, etc.), Uni Watch now offers a more comprehensive WBC roundup:
• Remember those under-the-shoe elastic straps that Barry Bonds used to wear and were subsequently banned (although that didn't stop Willie Harris from wearing them in last year's World Series)? They're apparently all the rage in Asia, as Uni Watch saw them being worn by members of Japan, Chinese Taipei and Korea.
• It's interesting to see that the captain's designation had no more rhyme or reason in the WBC than it does in MLB. Vinny Castilla wore his "C" on this side, but Omar Vizquel -- the only other "C"-clad player Uni Watch saw during the tournament -- wore it on the other side.
• Eagle-eyed David Burkett notes that Ken Griffey Jr. had "Griffey Jr." on his back for the USA's first game, but this was changed to "Griffey " for the balance of the tournament. Toss in Griffey's father (who was coaching) and his kid (who was a batboy) and there were three different people on the American team with the same name on their back.
• The Dominican team's official shoe color was red. But some players wore black or gray, leading to some major on-field inconsistencies.
• The "Crew Askew" phenomenon was alive and well in the WBC, thanks to Dominican pitcher Fernando Rodney (who's apparently looking to form a new two-cap chapter of Crew Askew).
• Mike Timlin, who often wears a camouflage undershirt with the Red Sox, also wore one in the WBC.
• Did anyone consider the sponsorship opportunities between the Mexican team and Gatorade? Check out their matching color schemes.
• Jorge Cantu was one of several players who appeared to have no elastic in their pant cuffs.
• Anyone else notice the weird diamond pattern on Japan's pant legs?
• Speaking of Japan: Those braided necklaces worn by several of the Japanese players practically looked like Hawaiian leis. Uni Watch Lifetime Achievement Scholar Mark Mihalik reports that these are the latest generation of those titanium necklaces that lots of gullible MLB players started wearing last year. The Japanese version of the manufacturer's Web site even includes a little tutorial on how to braid the titanium.
• OK, so Uni Watch has a tendency to go on (and on and on) about the merits of hiked-up pants. But seriously, which looks better: this or this? Here's hoping Ichiro sticks with the high-cuffs look with the Mariners this season. (Also note that he wore dark shoes in the WBC, even though Japan's official footwear color was white.)
One final thought: There was a fair amount of griping about the poor quality of the WBC umpiring. But maybe that was just the umps' way of protesting the cheapo adjusta-strap caps they were forced to wear. Next time around, get 'em some fitted headwear.
Green Day
Whoever supplies the green dye for Reebok, Majestic and New Era must love St. Paddy's Day. Lots of MLB teams kissed the Blarney Stone for their spring training games Friday, including the Mariners, Giants, Cubs, Cards, Pirates, Red Sox, Braves, Phillies, Dodgers, Blue Jays and Mets. Even the A's, who already wear green, found a way to get into the act. But the Reds, who pioneered the green jersey concept back in 1978, didn't participate this time around.
Things were more restrained over in the NBA, with only the Celtics, Knicks and Bulls donning special designs. But the most interesting development was in the NHL, which to Uni Watch's knowledge had never previously employed St. Paddy's uniforms. This year, however, the Thrashers wore green warmup jerseys as part of a charity promotion.
Uni Watch has no problem with the green garb for exhibition games or pregame warm-ups. And the gold-accented Celtics design is a keeper. But let's face it, it's hard to look at those Bulls and Knicks outfits without laughing. Uni Watch's advice to the NBA: Skip the green jerseys and just stock the locker-room showers with plenty of this.
Purple People Hater
Uni Watch's in-box nearly overflowed on March 15. The reason? This report out of Minnesota, which says the Vikings are planning new unis, with an increased purple presence, for next season.
Based on what Uni Watch has heard, it's a good bet that the Vikes will be reviving their long-lost purple pants (which most fans have only seen in the highlight video of Jim Marshall's famous 1964 wrong-way run). That would be bad enough, but there's also talk that the team may go purple-on-purple.
Fortunately, Uni Watch has been preparing for this catastrophic possibility for years, and the impregnable concrete bunker -- fully able to withstand the effects of WMDs (that's wardrobes of monumental disgustingness) -- should be completed and fully stocked with water, canned goods and striped socks by the time the NFL season opens.
But mark Uni Watch's words: If the Ravens also add purple knickers, and if they then play the Vikings in a purple-pants smackdown, it'll take a lot more than a subterranean bunker to save us.
It's All Greek -- uh, Japanese -- to Me
As you may recall from last time around, Uni Watch recently ordered a copy of this book, which chronicles the history of Japanese baseball uniforms. The tome has now arrived, and it's a doozy. Check out the historical illustrations, the gorgeous uni designs, the amazingly detailed templates, the spectacular jersey insignia and the attention to the smallest details of sleeve patches, stirrups and caps -- great stuff.
The only problem, of course, is that the text is in Japanese. If anyone out there would like to become the official Uni Watch Translator, please get in touch.
But even without the translation, the illustrations alone make the book worthwhile. If you want to order a copy, it's available from Amazon's Japanese operation -- which, unfortunately, is also in Japanese. But don't panic. Go here, click on "Display in English," and then click on "Help in English" for a quick navigation primer. If you're used to dealing with the American version of Amazon, everything will look pretty familiar. As for prices, the book costs ¥7,350 and international economy shipping is another ¥1,500, which as of this writing works out to about $75 (you can get the latest currency-conversion rates here). A little pricey, yes, but worth it -- trust Uni Watch on this one.
Uni Watch News Ticker
Latest member of the NBA's Men in Tights brigade: Rashad McCants. ... Meanwhile, Kobe Bryant's on-again/off-again tights are now off again, at least for the past few games. ... And just when we were getting used to men in tights and kids in tights, Charlotte Sting forward Sheri Sam now gives us chicks in tights (nice catch by Todd Krevanchi). ... Tights have also spread to the world of college lacrosse, as seen here on Maryland's Joe Walters (with thanks to reader Keith Campbell). ... Michigan State's Matt Trannon, who recently suffered a broken jaw, is now wearing a mask, which makes him the latest addition to the long line of masked basketball players (with thanks to Christopher Drouin). ... Uni Watch's preference for vertically arched lettering is well established. But it's worth making an exception for Vanderbilt's alternate unis, where the extreme radial arching looks really cool. ... Jordan Stuart reports that during Villanova's loss to Pitt on March 10, "Randy Foye popped a shoelace mid-game and took a pair of sneakers off the feet of Ross Condon, a walk-on junior who's 5-11." The footwear switcheroo must not have bothered Foye too much -- he finished with 26 points. ... Excellent retrospective of Georgetown basketball uniforms available here (with thanks to Dan Szy). ... Logo Creep Alert, courtesy of reader Andrew Sisson, who writes: "Here's a strange place for the Nike logo to turn up: on a public sculpture, commissioned after Johns Hopkins won the NCAA lacrosse title last year. It's now on permanent display in the Hopkins rec center." ... Meanwhile, here's an inside look at the workings of logo creep, from Brian Rice: "Some of us who sit at the scorer's table for women's basketball games at the University of Tennessee were given adidas lapel pins to wear during games. After a bit of bargaining, I got some shoes for agreeing to wear it. I never saw the tapes, but I was told that I, and my little bit of logo creep, were visable on TV for a few seconds at a couple of games." ... Back in the day, NFLers like Jim Otto and Ken Burrough wore uni No. 00. Under current rules, however, double-zero is off-limits for all players. But as Vinnie Dinolfo writes, "When the Browns recently signed center LeCharles Bentley, a Cleveland native, he took off his suit jacket at the press conference to reveal a double-zero jersey. He was so excited to be signed with his hometown team that he decided to celebrate at a nice Cleveland restaurant with his family and wore the jersey out to dinner. He plans on petitioning the NFL so he can wear that number this season." And sure enough, for now Bentley is listed as double-zero on the Browns' roster. ... The Canadiens retired Bernie Geoffrion's number on March 11. ... Is Al Harrington wearing a special brain-patterned skullcap, or did he just get an endorsement deal with the walnut industry? ... In one of MLB's best rituals, Don Zimmer is sticking with his protocol of having his uniform number match the number of years he's been involved with baseball. He wore No. 56 in 2004 and No. 57 last year, and is wearing No. 58 this year. ... Interesting report from Chris Barbarino, who writes: "I may be a little behind on this, but as I watched the Thrashers/Rangers shootout on March 12, I noticed a majority of the Thrashers were wearing their helmets backwards as the refs measured the players' sticks. It made for quite a comical look on the bench. Apparently they've been doing this all season as a variation of the rally cap -- a 'rally helmet.'" ... Good article here on the best and worst college hockey uniforms (with thanks to Ken Juba). ... Scott Turner notes that MLB's uniforms have become the subject of an anti-sweatshop campaign. ... All members of the Glasgow Celtic Football Club wore No. 7 on their shorts on March 19, as a tribute to former team member Jimmy Johnstone, who died a few days earlier (thanks to Paul Borthwick, Matt Bryce, and A.J. Zydzik for research assistance). ... The Nets will have a new red alternate uni next season (here's the rear view). ... Alex Chiu notes that Maurice Evans, who wears uni No. 5, has been wearing a No. 3 armband lately. A shout-out to teammate Ben Wallace, perhaps? ... When the Giants moved from New York to San Francisco after the 1957 season, it wasn't immediately clear what their new cap logo would be. And that, as Jim Cooper points out, led to some very interesting 1958 baseball cards. ... Cooper also points to another trading-card anomaly: For the Topps 1969 NBA set, how come the Knicks players were all depicted with their names on the front of their jerseys, as if the jerseys were being worn backwards? Uni Watch realizes Topps probably didn't have a formal licensing arrangement with the NBA in those days and therefore couldn't show the proper front-jersey wordmark -- that's why most players in the '69 set are shown wearing blank jerseys, or with the front logo strategically covered. But only the Knicks players have their names on the front. Anyone know the story behind this?
Follow-up Roundup
Two weeks ago, a very inattentive Uni Watch blithely rubber-stamped a reader's assertion that Nomar Garciaparra had never worn his name on a home uniform (because of his previous tenures with the Red Sox and Cubs and his current stint with the Dodgers). But as dozens of "Gotcha!"-minded readers have gleefully pointed out, Nomar joined the Cubbies in August 2004, when the team still had player names on its home jerseys -- they didn't go nameless until 2005. And Kenneth Gilbert cleverly notes that Nomar's surname has appeared on another home jersey: the one worn by his wife, Mia Hamm, during her final game with the U.S. national team in late 2004. A red-faced Uni Watch thanks everyone who helped set the record straight.
Thanks also to everyone who responded to Uni Watch's recent query about Pedro Martinez apparently wearing a sweatband on his glove. It turns out the sweatband is a standard feature of certain Rawlings gloves and has been worn by several pitchers over the years, including Scott Erickson and Randy Johnson. Why? Because pitchers aren't allowed to wear wristbands (it could distract the batter), so having a sweatband on the glove is handy for mopping the brow.
Party Update
The long-awaited Uni Watch Athletics Aesthetics Party was held March 12 and was a big success. Lots of readers turned out to have a drink, compare niche obsessions (kudos to the guy who proudly showed Uni Watch his incredible collection of sleeve patches), and complain about stuff like how the blue on the Cowboys' helmets doesn't match the blue on their jerseys (news flash: It turns out that Jerry Jones is color-blind -- really!). We even got some nice coverage from the New York Times, although Uni Watch thinks the article's estimate of the turnout -- "about 40" -- was low by about half.
Anyway: Heartfelt thanks to everyone who turned out -- we'll do another one next year, maybe sooner. Meanwhile, party T-shirts are still available, featuring this excellent design by the incomparable Scott Turner. Wanna get your hands on one of these fine garments? Give a shout in this direction.
Paul Lukas awaits the inevitable co-branding deal between the World Baseball Classic and the World Boxing Council. His answers to Frequently Asked Questions are here, and archives of his "Uni Watch" columns are available here, here and here. Got feedback for him, or want to be added to his mailing list so you'll always know when a new column has been posted? Contact him here.