Let's start with the good news: The University of Oregon does not have new football uniforms this season.
You know things have gotten out of hand when the lead item of Uni Watch's annual college football preview column is something that didn't happen. But that doesn't mean the minions at Nike haven't been active -- they've been busy overhauling the look of Oregon's other Division I-A school, Oregon State, where they've managed to take a team that already looked ridiculous and make it look, well, really ridiculous. Yo, dudes, is that a sports bra you're wearing or what? The rear view is none too flattering, either. There's an FAQ page here, but the most pressing question -- namely, how anyone could have green-lighted this design in the first place -- goes sadly unaddressed.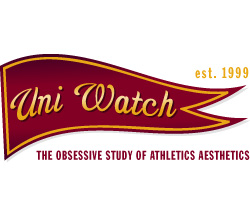 (As an aside, Nike's obsession with the state of Oregon becomes even more evident if we expand our view to include Division I-AA. Check out what they've done to
Portland State
, where Jerry Glanville is now coaching, which of course means that the team's
green
-based
color scheme
has been changed to
black
. The most interesting detail: the
center spear logo
on the helmet. The net effect: a cross between a comic book and a video game, which pretty much sums up where uniform design is heading these days.)
Lots of other teams have made changes, too -- so many that Uni Watch's customary team-by-team Division I-A rundown is nearly 40 schools long, an all-time record. OK, then, deep breath … here goes.
ACC
• Completely unnecessary downgrade at Boston College, where this and this (both perfectly good designs, right?) have been supplanted by this. Good luck reading that gold number on the red jersey. And why replace the soaring eagle sleeve patch with a simple eagle's head, especially when the latter looks so much like the patch used by those other Eagles? Pfeh.
• Duke, which looked like this last year, has added shoulder stripes to the team's jersey.
• Last year's Miami design, which was a fairly standard Nike template, has been scrapped in favor of a new design featuring very strange piping on the chest, which looks even weirder from behind (those are scrimmage photos, which is why the helmets are blank; the lack of player names on the jerseys, however, isn't just a scrimmage thing). Uni Watch isn't crazy about this design but loves the totally nifty pants piping . The strangest element: college football's first-ever rear belt-loop logo, which kind of makes it look like everyone's letting loose with a giant fart.
• Strange tweak at North Carolina, where the old-school pants striping has been replaced by a truncated squirt that makes the pants seem shorter than they actually are.
BIG EAST
• Good news out of Pitt, where the Panthers' miserable side panels are history. Much simpler chest word mark too (although the drop shadow makes it a bit tougher to read from a distance).
• Very small tweak at Rutgers, where the school name on the chest is now more compressed.
• Syracuse has traded in the helmet uni numbers for a giant S, which has already become somewhat controversial around town. And in case you didn't know which state Syracuse is in, there's now an "NY" decal on the back. Lots of photos of the helmet in action are available here.
• Very odd change at West Virginia, as this and this have given way to this and this. The new versions look like cheap knockoffs of the old, no? The big question is why the home uni numbers are still so monstrously huge, while the road uni numbers are more conventionally sized.
BIG TEN
• Illinois has added an orange jersey and orange pants to the mix (additional views of the jersey are available here).
• Indiana is memorializing former coach Terry Hoeppner, who died in June, with a chest patch. There also will be a "Don't Quit 13" helmet decal, to signify the team's drive to achieve Hoeppner's goal of playing 13 games (i.e., making it to a bowl game) this season.
• Several small changes for Michigan State. The good: a new helmet stripe. The so-so: the chest word mark changing from this to this. The bad: a new Spartans logo above the nameplate, and no more green pants.
• Some outlining has been added to Minnesota's helmet logo, beefing it up from this to this (and no, that's not a walk-on freshman -- it's just the best photo Uni Watch could find of the new helmet).
• Earthshaking change at Ohio State, which has switched from white socks to black socks. (That sound you just heard was the entire state of Ohio having a seizure.)
BIG 12
• New jersey piping and sleeker uni numbers for Colorado, which is evolving from this and this to this.
• Iowa State now has a set of yellow pants -- a big improvement over its red-on-red monochromes. (Fans are being allowed to vote on next year's helmet design -- details here.)
• Kansas has decreed that the school's Trajan font will be used on all of the university's uniforms, which means the football jerseys have changed from this and this to this, this and this. (Lots of additional pics are available here.)
• Kansas State's sleeve stripes have vanished to make room for the TV numbers, which have moved down from the shoulders. Meanwhile, a "K-State" word mark has been added below the collar.
• Over at Oklahoma, Bob Stoops is putting names back on the jerseys.
• Texas will be wearing a bluebonnet helmet decal, in memory of Lady Bird Johnson. Details here.
• Very slight changes for Texas A&M, which has added gray outlining around the uniform numbers, although it's so faint that you can't even make it out in these photos. Also new: a set of gray pants, which join the rotation with the standard red and white knickers.
CONFERENCE USA
• Rice has changed its helmet emblem from the USFL-ish flying owl to the school's gorgeous old English R.
• Big upgrade for Tulane, too. No more pointless piping -- just a classic gridiron look.
• The same can't be said, alas, for Tulsa, which has gone from the normal world to NikeWorld.
• Central Florida has a new logo, as seen on its helmet (old, new) and chest logo (old, new).
MID-AMERICAN
• Ball State, whose previous design had no major defects, has taken a one-way trip straight to NikeWorld.
• Bowling Green's helmet design is changing from this to this.
• Ohio, which looked like this last year, has added some stripes to the jersey and removed them from the pants.
• Lots of changes at Temple (which previously looked like this and this): The helmet now features a really boring word mark, and the stripes and school name have been removed from the jerseys. The diamonds on the collar are meant to represent Temple founder Russell H. Conwell's famous "Acres of Diamonds" lecture, and the pants are meant to echo those worn during the 1970-82 Wayne Hardin era.
MOUNTAIN WEST
• Uni Watch never thought a team could actually look better by entering NikeWorld, but there's no denying that Air Force's new look is better than last year's.
• Wyoming, still vainly seeking a way to make brown and gold look palatable, is switching from this and this to this and this. (More images available here, but who really wants to see more of this design?)
PAC-10
• After taking the players' names off the Washington jerseys last season, Ty Willingham is putting them back this year.
• UCLA is changing to white cleats.
• No photo yet, but USC will be wearing a helmet decal in memory of place-kicker Mario Danelo, who died in January.
SEC
• All SEC teams are wearing a 75th-anniversary patch. (Here's a better look at the design.)
• LSU's purple jerseys, which seldom make it onto the field because the Tigers wear white at home as well as on the road, will make a rare appearance for Thursday night's season-opening game at Mississippi State, because the host Bulldogs plan to wear white.
• Small changes at Ole Miss, where the shoulder stripes are now truncated and the navy outline on the uniform numbers has been eliminated.
• South Carolina looked great last year -- old-school jersey, snazzy pants piping. This year? Fuhgeddaboudit. (Lots of additional photos, most of them embarrassing for all concerned, here.)
SUN BELT
• You might think there's no way to redesign a solid-black uniform, but don't tell that to Arkansas State, whose look is changing from this to this (additional views of the new ebony attire here and here).
• North Texas is changing from this, this and this to this and this, which looks fine -- until you get a better view of the pants. (Look very closely and you just might be able to figure out who's responsible for the new design.)
WAC

• Boise State has removed the players' names from the team's jerseys (details in the third paragraph on this page).
• Uni Watch has had just about enough of these teams that can't be bothered to tailor their shoulder stripes in a full circle. The latest culprit: Louisiana Tech, which has taken a classic jersey design and turned it into a joke. Meanwhile, take a look at what might arguably be the season's oddest uni detail: a rounded nameplate.
• Big-time college football has steered clear of the whole "wear pink to support breast cancer research" phenomenon, but that will change on Sept. 29, when New Mexico State will wear pink socks and pink helmet decals. Pink attire for the coaches and marching band, too. "We want the whole stadium in pink," according to the promotion's chairperson. No word yet on whether Paula Creamer will be singing the national anthem, or if they'll just settle for Pink.
While the preceding list is extensive, it's probably not exhaustive, because a few uniform changes inevitably fly beneath Uni Watch's radar. Do you know of one? Send any omissions (Division I-A only, please) to the Uni Watch hotline.
(A marching band salute to Uni Watch intern Vince Grzegorek for his excellent research assistance.)
Prototypically Obscure
Uni Watch's recent column devoted to uniform prototypes that never made it onto the field drew lots of great responses, including several tantalizing mentions of other prototypes lurking out there. Here's a sampling:
• More than a dozen readers mentioned that the Kansas City Chiefs commissioned a "war bonnet" helmet logo sometime in the 1980s, and that a play-by-play announcer actually held up the new helmet design for all to see during a game broadcast. Unfortunately, Uni Watch has been unable to turn up a photo. Little help?
• From Jim Noel: "I used to work for NFL Properties. In the late '70s, the Steelers almost changed their helmet design to the three diamonds, all yellow, with squiggly 'speed lines,' applied directly onto a black helmet (no white disc background). Reportedly, Dan Rooney favored it but Chuck Noll nixed it out of superstition. I saw it in a file in NFL Properties offices in the early '80s but don't know what became of it."
• From R. Scott Rogers: "This photo was taken at RFK Stadium in late 2005, the Nationals' inaugural season. The person wearing the cap seemed to be a team employee; he was taking pictures on the field before a game. I've never been able to confirm the origin of this beautiful cap, but the fact that it seems to match the Nats' gold-beveled jersey insignia and also has New Era-style foam-supported 3-D embroidery is strongly suggestive of this being a prototype."
• And from Jon Waldman: "When the Winnipeg Jets switched their uniform design [from this to this] in 1990, there were apparently a few other designs done, including this one, which I found at a trade show in Toronto."
Return to the Green Zone
Uni Watch has written several times about the green dot now appearing on the back of NFL quarterbacks' helmets, but queries continue to pour in from readers who somehow missed the memo. One more time, then: The dot is applied to helmets equipped with radio receivers, only one of which is allowed on the field at any given moment. Further details here, and lots more NFL news to come next week in Uni Watch's annual pro football season-preview column.
Paul Lukas wants to make it clear that he has nothing against the great state of Oregon. His Uni Watch blog, which is updated daily, is here, his answers to Frequently Asked Questions are here, and his Page 2 archive is here. Got feedback for him, want to learn about his Uni Watch membership program, or want to be added to his mailing list so you'll always know when a new column has been posted? Contact him here.