The dog days of August have finally given way to September, and that means it's time for the NFL, which kicks off its season Thursday night. And the season's biggest uniform change will be apparent before the game even starts, when the captains meet at the center of the field for the coin toss.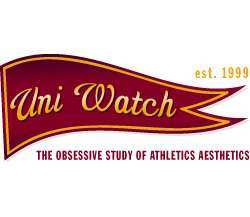 That's because team captains this year will be wearing a special
captain's patch
on the upper-right chest area (as you can sort of see
here
). The patches will be color-coordinated to match each jersey, and the gold star underneath the "C" marks the number of years that the player has been a captain under the league's new captaincy initiative.
How big a change is this? This big: To Uni Watch's knowledge, only three NFL teams in the past 50 years have worn captains' designations -- the 1994 Patriots, the 1992 Chargers, and the 1983 Cowboys. And Uni Watch wishes it had stayed that way. For starters, real estate on NFL jerseys is already in short supply, what with the disappearing sleeves, the massive NFL Equipment logo, the increasing use of chest wordmarks, and so on. Adding another element to the mix is gonna make for some seriously crowded jerseys -- especially for teams that already wear other jersey patches.
Moreover, imposing a standardized patch design on every team is so boring. Letting teams come up with their own designation styles can allow for more creative solutions, as we've seen in other sports. But don't lose too much sleep over it, because Uni Watch has a strong hunch that this experiment is going to be abandoned after one season. In fact, at least one team -- the Raiders -- has already opted out of the patch program, which should give you an early idea of what a big hit this is going to be.
Another innovation of sorts: The green dot on the back of quarterbacks' helmets, which is still befuddling fans despite Uni Watch's repeated explanations. One more time, then: The dot is being applied to helmets equipped with radio receivers, only one of which for each team is allowed on the field at any given moment. For further details, look here.
Speaking of radio communication, Motorola has equipped the coaches with new headsets. They're supposedly more ergonomic, but the most visible difference is that a certain word is much more visible on the mouthpiece and the head strap than it was last year. If you press your nose against your computer screen and squint really hard, you just might be able to make out what that word is.
And speaking of coaches, Mike Nolan and Jack Del Rio have once again gotten permission to wear suits for home games (which, somewhat predictably, has given the league a new branding partnership). But like any new program, this one has some kinks to work out: On Nolan's radio show this week, he said the dress shirts he'd received were too large and that he might have gotten Del Rio's shirts by mistake. It's not yet clear whether Nolan will take the highly provocative step of wearing a unofficial dress shirt or if he'll just go out looking like this.
OK, enough of those peripheral issues. Here's the team-by-team breakdown of changes you can expect to see on the field:
• The only team with a full makeover this year is the Chargers. Uni Watch loves the white helmets and thinks the new number font looks contemporary without being too flashy (even on the powder blue alternate jersey) -- nice. Might've been even nicer if the lightning bolts on the pants had a few more jags (looks a little spare, no?), and if the surrounding column of piping wasn't so thick, but that's just picking nits. Uni Watch's only real complaint is the use of blue socks with blue pants, creating the dreaded leotard effect. Aside from that, this is a perfectly reasonable update.
• Several teams are celebrating their 75th seasons. Let's start with the Eagles, who are wearing a commemorative patch (which looks a lot blurrier from a distance). Most intriguingly, for their Sept. 23 game against the Lions, the Iggles have reached all the way back to their 1934 uniforms to create a throwback design that bears absolutely zero resemblance to the team's current look. Lots of additional photos and info on this ensemble, including why the team's colors were originally yellow and blue, are available here.
• The Steelers are going a similar route, with a 75th-season jersey patch and a throwback uni that will be worn on Sept. 16 against Buffalo and Nov. 5 versus Baltimore (additional views here and here).
• Also celebrating their 75th season: The Redskins, who are wearing a really nice anniversary patch and will be wearing Sonny Jurgensen-era throwbacks (including yellow helmets!) at least once. Also, in a very subtle development, Skins players with non-Riddell helmets are now wearing the team's script "R" logo -- the one usually seen on Joe Gibbs' cap -- on their nose bumpers.
• The Jets aren't celebrating an anniversary of note, but on Oct. 14 they'll be dressing up as the old New York Titans (the franchise's original name), complete with very plain helmets. If the league had any imagination, they'd have the Jets wear the throwbacks against Tennessee, creating a Titans-Titans matchup -- truly titanic! -- but instead they'll be wearing them against the Eagles.
• Subtle change for the better in Miami, where the drop shadow on the Dolphins' uniform numbers is now thinner, reportedly because TV announcers were having trouble differentiating certain numerals in recent seasons. Compare last year (here, here, and here) to this year (here, here, here, and here). A major improvement.
• The 49ers are memorializing Bill Walsh in a variety of ways, including a "BW" helmet decal, a "BW" sleeve patch for the coaching staff and Montana-era throwbacks for Monday night's season-opening game against the Cardinals.
• Other memorials: The Patriots are have added a "91" helmet decal for Marquise Hill, the Broncos have a dual memorial decal for Darrent Williams and Damien Nash, and the Chiefs are wearing an AFL patch with the initials "LH" in memory of Lamar Hunt.
• Several Giants players are wearing a new prototype helmet design that features some bizarro molded ridges that kinda make the players look like Optimus Prime. Further details on the helmet are available here.
• Speaking of newfangled headwear designs, LaDainian Tomlinson was wearing a seriously intense-looking facemask during Chargers practices last month. LT doesn't suit up for preseason games, so it's not yet clear if he was just experimenting with the new design or if he'll be wearing it for regular game action.
• The Louisiana jersey patch that the Saints wore last season has been removed.
• The Browns' striped socks, which had vanished last year, reappeared for the team's first preseason game. Sadly, they were then mothballed for the rest of the exhibition schedule, but Uni Watch holds out hope that they'll return for the regular season, which really ought to be a no-brainer. Just compare this to this -- it's not even a fair fight.
• The trend toward black footwear continues. In 1999, there was only one black-shod squad among the league's 32 teams; now there are 19, with the latest converts being the 49ers (last year, this year) and Ravens (last year, this year).
That's it for this year, at least for now. But one change for next has already been announced: The league will be changing its logo, in part so the logo patch below the collar of each jersey will "pop" more on TV (further details here). You can read Uni Watch's take on the new shield design here.
Back to School: Remedial Edition
As expected, there were some omissions from last week's rundown of college football uniform changes. The most egregious was Uni Watch's failure to mention that Virginia Tech is wearing a memorial patch to honor those killed in April's shootings. In addition, other ACC teams are showing their solidarity by wearing a black memorial jersey strip, although the placement varies from team to team, as seen here, here, here, here, and here.
Other late-breaking Division I-A uni changes break down like this (with thanks to everyone who contributed info):
• In addition to Air Force's jersey and pants changes, which Uni Watch duly reported, the Falcons are honoring several Air Force wing units by wearing their official military patches, as seen here and here (further details here). Also, the helmet striping has been removed.
• Very slight change to Arizona's pants: The red and blue panel behind the knee is now just red. A corresponding change has been made to the blue pants, where the red and white splotch is now just red, although the team hasn't worn those pants yet.
• Boise State has changed from this to this (here's another view).
• Bowling Green's road jersey has changed from this to this. (And as an aside, several readers have noted that the team's new helmet design looks a lot like the old 1965 Cleveland Browns prototype that Uni Watch discussed a few weeks back.)
• Colorado State will wear throwbacks this Saturday to celebrate the 50th anniversary of the school's name changing from Colorado A&M. No photos yet.
• Uni Watch reported that stripes had been added to Duke's jersey but neglected to mention that they've also been added to the pants.
• It's tough to see, but Georgia Tech's helmet logo has been slightly enlarged -- compare last year to this year.
• Uni Watch had mentioned how Indiana was memorializing former coach Terry Hoeppner with a chest patch and helmet decal but didn't have a photo of the latter -- until now.
• Kent State has switched from this to this.
• Louisiana Tech's helmet, which used to be stripe-free, is now stripe-clad.
• Miami has switched from white shoes to black. (And in a related item: Uni Watch had stated that the Hurricanes' new rear belt-loop logo was an NCAA first, but several readers pointed out that Texas Tech debuted a similar concept last year.
• Uni Watch mentioned Minnesota's new helmet logo but didn't realize the Gophers had also added an I-35W sleeve patch (in memory of those killed in last month's bridge collapse) and switched from black shoes to white.
• New Mexico's road uniform now has red pants, instead of last year's silver. And although it's hard to see, this year's shade of red is a bit darker than last year's.
• N.C. State is changing from white cleats with red-flared pants piping to black shoes and plain black piping.
• Northwestern, which has used a variety of uniform number fonts in recent years -- none of them particularly good -- has now switched to traditional block numbers.
• Ohio State's sleeve numbers have become shoulder numbers.
• Oklahoma is wearing a version of the state centennial logo as a helmet decal.
• Uni Watch had reported Rice's new helmet design but hadn't realized that the Owls were also unveiling new jerseys and pants, changing their look from this to this and this.
• Slight changes to TCU's jersey: The TV numbers, which used to be on the shoulders, are now on the sleeves (where the "TCU" sleeve acronym used to be). And the uniform numbers, which used to have a black drop shadow, are now shadow-free.
• Tennessee's helmet stripe has gone from skinny to not so skinny.
• Toledo has added some piping to its pants (compare last year to this year) and to the sleeve/shoulder area (last year here and here, this year here and here). Also: No more drop shadow on the uni numbers.
• Expect to see this logo all over UCLA's athletic program this year, including at the base of the football team's helmet (where it replaces the uni numbers that used to be there). Also: The Bruins have switched from black shoes to white.
• UConn has switched from white shoes to black.
• USC's memorial helmet decal for Mario Danelo (previously reported but not shown) looks like this.
• UTEP has a new orange alternate design.
• Western Michigan has gone back to basics, switching from this and this to this and this.
• Wisconsin is going red-on-red for home games this year. Details in the "Fashion Statement" section of this page.
Phew! If there are still more changes that haven't been covered, you know what to do.
Paul Lukas vows never to explain the green dot ever again. His Uni Watch blog, which is updated daily, is here, his answers to Frequently Asked Questions are here, and his Page 2 archive is here. Got feedback for him, want to learn about his Uni Watch membership program, or want to be added to his mailing list so you'll always know when a new column has been posted? Contact him here.