Uni Watch Visits the N.Y. Giants
At the risk of offending a noble fraternity, Uni Watch always has thought being a baseball equipment manager is a pretty cushy job. You mostly have to make sure everyone's wearing the right jersey, that nobody's name is misspelled (oops), and that all the batting helmets are polished (well, almost all of them). In basketball, it's even easier, since there are no helmets or other gear to keep track of -- it's mostly just a matter of remembering who likes to wear high socks.
But football -- now there's a sport that really puts the "equipment" in equipment manager. You've got more than 50 players to keep track of, a wide range of helmet models (many of them with inflatable padding, and some of them equipped with radio receivers), an even wider range of facemasks, loads of pads, a variety of different jersey tailoring templates, players who insist on having the tightest-fitting uniforms possible, a coaching staff that has to be outfitted in a rotating array of league-approved clothing, and a league office that's notoriously nitpicky about the smallest visual details. It's a demanding job, one that's usually split up among several people.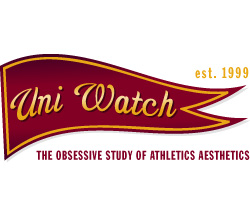 For the Giants, one of those people is equipment director Joe Skiba, who's been working for the team since he was 17 (and who also happens to be a regular Uni Watch reader). "I went to high school with the director of player personnel's son, so that's how I got started," he says. "It began as a summer job -- I was just a towel guy, a laundry guy." Thirteen years later, Skiba now obsesses over every little detail, including several that he's added himself, like the
raised, rubberized "ny"
on the Giants' nose bumpers (an idea he borrowed from the University of Oregon) and the team's
sloping, rounded name plates
(which he designed to
match the curvature of the seam
that runs below the name).
Skiba recently made time in his busy schedule to accommodate a visit from Uni Watch, a summit meeting of such momentous import that a camera crew was on hand to document the proceedings. You can watch the resulting video at the top of this page. Meanwhile, here are a few details that got left on the cutting room floor:
• Your typical NFL team keeps a massive amount of facemasks on hand. That photo shows about one-third of Skiba's stash.
• How tight are NFL jerseys these days? So tight that Uni Watch was able to wear Osi Umenyiora's jersey and pads fairly comfortably, despite being outweighed by Umenyiora by more than 100 pounds. (For the record, Jared Lorenzen's jersey was a bit roomier.) Like many NFL linemen, Umenyiora is so obsessed with a skin-tight fit that he puts Velcro on his shoulder pads so opposing players can't get a good grip on his jersey.
• Speaking of Umenyiora, it turns out he likes to have his jersey partially untucked in the back (sort of like Wayne Gretzky), so Skiba has the back of his jersey tailored with a diagonal hem.
• Many of the Giants' players -- and, presumably, players on other NFL teams -- comply with the NFL's leg-coverage rules (pant and sock must meet, with no exposed knee showing) by having socks sewn into the bottom of their pants. Many of these players then wear an additional pair of socks over those, which apparently explains how we end up with sights like this.
• Skiba mentioned a new footwear regulation Uni Watch hadn't been aware of: Prior to this season, a player's shoes had to be predominantly black or white (depending on the team's official shoe color) but could be accented with team colors. Since the Giants' official colors are blue and red, for example, this meant that some players' shoes were black with red accents and others were black with blue. This year, however, the NFL has required each team to settle on one accent color. The Giants chose red (a mistake, in Uni Watch's never-very-humble opinion), so no more blue-accented cleats for Big Blue.
• And here's a little contest, just for Uni Watch readers: A certain Giants player likes his jersey tight up top and baggy below the numbers. All readers who can correctly identify that player by next Wednesday, Sept. 26, at noon ET, will go into a drawing, with the winner receiving some free Giants swag from Skiba. Uni Watch has set up a special mailbox for this contest, so send your highly researched response (or wild guess) here. One entry per reader, please, and be sure to put the player's name in the subject line. The winner will be announced in Uni Watch's next column.
XXXXL-sized thanks to Joe for his hospitality, and for illuminating so many inside details of his job.
Speak of the Devil Rays
The major sports leagues like to keep new uniform designs under wraps until they can stage their carefully planned unveiling ceremonies. But information, as they say, wants to be free, and Thursday afternoon it freely made its way over to the St. Petersburg Times Web site, where the Devil Rays' new uniforms -- home and road -- were leaked. Within a few hours, the team (which is dropping the "Devil" from its name and will henceforth simply be known as the Rays) had confirmed that the leaked design was legit.
Uni Watch had seen the designs several weeks ago but had promised not to reveal or discuss them until the November unveiling. Now that they're publicly circulating, however, Uni Watch is free to weigh in with some highly detailed analyzzzzzzzzzzzzzzzzzzz.
Sorry, Uni Watch dozed off there for a sec. No wonder, because this is the blandest, least dynamic excuse for a baseball uniform since the Brewers based their design on a middlebrow sitcom. It's not good, not bad, just a stupefyingly characterless monument to tedium, so boring that it almost defies critique. Years of development, a gazillion dollars, and this is the best you can come up with? It fairly screams, "Come watch us play -- or don't." And you've gotta love the irony of the sunburst pattern ("rays" of light, get it?) being used by a team that plays indoors. A fitting testament to a franchise that can't do anything right.
The sad part is that Uni Watch loves the Rays' current uniforms, which are among the most underrated in baseball and provide a much-needed splash of green to a sport dominated by red and blue. In fact, the uniforms are the only thing about the Rays that don't stink. Well, that and Carl Crawford. But he won't look nearly as good next year as he does right now.
Numbers Game
Associated Press photographer Mark Humphrey recently took the single most amazing uniform-related photo Uni Watch has ever seen, involving a number decal that that was literally knocked off of a player's helmet -- take a look. Further details on the photo, the circumstances surrounding it, and another view of the same play are all available here.
Speaking of numbers, there's been a lot of discussion lately on the Uni Watch blog about teams that use inconsistent number styles on different parts of their uniform. For example, compare the 5 on Tracy White's chest to the one on his shoulder, or the similar chest/shoulder distinctions between these 2s and these 4s. Additional examples that are certain to change (read: ruin) the way the you watch football this weekend are available here, here, and in the "Typography Update" section here.
College Gridiron Changes, Continued
Still more Division I-A football uniform changes (in addition to the ones documented here and here) have tickled in. For those keeping score at home:
• Fresno State, whose jerseys previously had player names, has now gone name-free.
• Houston has tweaked its white jersey, going from this to this.
• Uni Watch had previously noted that Minnesota is wearing an I-35W left-sleeve patch to honor those killed in the recent bridge collapse. But it turns out they're also a wearing something on the other sleeve: an "FK" patch, in memory of athletics compliance director Frank Kara, who recently passed away.
• The patch on Nebraska's road jersey used to be up on the shoulder, but this year it appears to be lower. In addition, the sleeve stripes don't wrap around as far as they did last year.
• Oklahoma State has changed from white cleats to black.
• Texas has changed its uni numbers from screen-printed to sewn on.
• Troy's home jersey has changed from this to this. The road jerseys remain the same as last year.
• Another team that's removed player names from jerseys this season: UConn (last year, this year).
• Bill Walsh is being memorialized with "BW" helmet decals at Stanford (where he coached) and San Jose State (which he attended as an undergrad).
And yes, there are dozens of other Division I-A changes out there, but Uni Watch already has documented most of them. So before sending in any additional changes, check to see if they've already been listed here or here, OK? OK.
Paul Lukas has no plans to try on any of Osi Umenyiora's or Jared Lorenzen's other clothing. His Uni Watch blog, which is updated daily, is here, his answers to Frequently Asked Questions are here, and his Page 2 archive is here. Want to learn about his Uni Watch membership program, be added to his mailing list so you'll always know when a new column has been posted, or just ask a question? Contact him here.