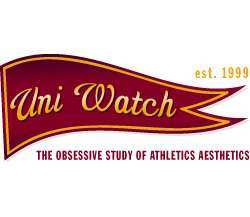 Here's something you don't see very often: Vlad Guerrero wearing a clean batting helmet, instead of his usual gunked-up model.
Spring training is full of uni-related sights you won't see anywhere else, whether it's unseemly uniform numbers, a Hall of Fame legend wearing an embarrassingly undignified cap, or John Daly looking svelte (well, comparatively speaking).
So forget about all the regular-season uniform changes that are in the offing -- Uni Watch will deal with those next time around. For now, let's just stick with the Grapefruit and Cactus Leagues. Here's a rundown of sights from baseball's rites of spring:
• The Rays (no longer "Devil"-ish) have undergone a complete rebranding, which of course means a new batting practice jersey and cap. Is Uni Watch the only one who thinks the chest insignia looks a tad oversized?
• A handful of other teams have made minor tweaks to their BP jerseys and/or caps: The Padres' jersey insignia has gone from white to bronze; the Blue Jays' word mark has gone from this to this; the back of the Diamondbacks' jersey has gone from dark letters with light numbers to vice versa; the Reds' cap logo has gone from this to this; the Mariners have tried to camouflage their cap's flex panels by changing them from silver to navy. But really, who cares? The jersey side panels still look bad, the cap stretch thingies still look worse, and the whole thing still makes for a chaotic mishmash. But of course Uni Watch has been saying that all along.
• Some teams prefer to wear their regular uniforms for spring training games, instead of the BP jerseys and caps. But the Cardinals and Tigers have put their own unique spin on this: They wear their home caps for all their exhibition games, even the ones on the road, as seen here and here.
• The Under Armour logo is now appearing on outer armor, in the form of catching gear. If that chest protector design looks familiar, that's because it's essentially the same format used in recent years by All-Star, right down to the sports bra-ish design on the back (All-Star, Under Armour). What's the deal? "Just a seasonal partnership with a respected manufacturer," says a UA manager. "Due to timing, this season necessitated the shared design."
• You may have noticed a major revival of the flapless batting helmet this spring, because first-base and third-base coaches are now required to wear them (a move that's proved to be somewhat controversial among the coaching corps). Actually, the coaches are allowed to wear single- or double-earflap helmets if they prefer, but they all seem to be going for the flapless models, because they need to be able to touch their ears while giving signals.
• Speaking of revivals, there's been a surfeit of stirrups on the mound in Giants camp, as the team's starters have all agreed to go with the old-school hose. Further details on this welcome development are available here.
• In what may be a first, the Pirates are wearing a spring training sleeve patch commemorating the 40th anniversary of their Florida facility. As you might imagine, this stirring tribute has inspired the team to meet and even exceed its usual high level of play.
• What with all the split squads, bus trips, minor leaguers and non-roster invitees, it's almost a given that some jerseys will get lost or misplaced. That's what happened to Jonathan Papelbon on March 1, when he was forced to wear a Manny Ramirez jersey instead of his usual No. 58 (an apt solution, since Manny is notorious for poaching his teammates' gear).
• Expect to see even more of those titanium necklaces this season, because the company that manufactures them has struck a licensing deal with MLB. But spring training is probably the only time you'll find one of them being worn by Tommy Lasorda (who maybe ought to shop for a windbreaker).
• And just to bring us full circle, Vlad isn't the only one who's had an uncharacteristically clean helmet this spring. Behold: a spotless Manny Ramirez lid!
But that didn't last long.
ABA Revisited
Last column's examination of ABA uniforms led to a flood of queries about this photo. The standard query: "What's up with the ladder and the mannequin at the top of the picture?"
Good question. And here's the answer, courtesy of Arthur Hundhausen, who runs the authoritative Remember the ABA site:
"That shot is from the 1975 playoff series between the Nuggets and Pacers. During that year's playoffs, the Pacers had a slogan for each series. For the previous series against the Spurs, it was 'Hang 'Em High' (their program actually had a cartoon of two Pacers hanging two Spurs). For the series against Denver, the slogan changed to 'Hang 'Em a MILE High.' They even passed out stickers saying this. So the mannequin in the photo represents a Nuggets player being hung. As for the ladder, the tunnel to the visitors' locker room was directly below that spot, so the Nuggets had to run underneath the ladder (bad luck) as well as the hanging mannequin. Only in the ABA!"
Uni Watch Seattle Road Trip
Remember, there's a Uni Watch meet-and-greet gathering this Friday, March 14, in Seattle. We'll be convening at 7:30 p.m. at the Pyramid Alehouse. Come on down, meet other readers, prove to the wife that you're not the only one who's into this stuff, and so on. See you there.
Paul Lukas looks forward to the annual crop of St. Paddy's Day uniforms that should be sprouting up over the next few days. His Uni Watch blog, which is updated daily, is here, his answers to Frequently Asked Questions are here, and his Page 2 archive is here. Want to learn about his Uni Watch membership program, be added to his mailing list so you'll always know when a new column has been posted, or just ask him a question? Contact him here.