The great thing about the Olympics is -- uh, wait a sec, it'll come to me.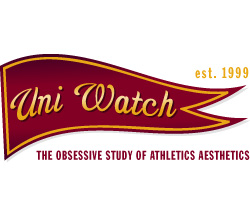 Seriously, the Olympics are pretty great, although sometimes it's hard to remember, what with all the hype and sis-boom-bah. From Uni Watch's perspective, though, the Olympics present two major problems: (1) They keep insisting that gold is better than silver, which is only slightly less ridiculous than claiming that the world is flat; and (2) there are too many uniforms to keep up with, even for Uni Watch.
So instead of trying (and, inevitably, failing) to present a comprehensive survey of all the sartorial goings-on in Beijing, Uni Watch hereby presents a list of frequently asked questions -- along with some infrequently asked ones -- that have come up since the games kicked off last week:
How tight is Speedo's LZR swimsuit?
So tight that it doesn't leave much to the imagination (but provides plenty of work for Photoshoppers). So tight that it reportedly takes at least a half-hour just to put one on. So tight that at least one Japanese authority is concerned that it may cause circulatory disorders. So tight that Nike-sponsored swimmers are allowed to wear the LZR design (but only if they cover up the Speedo logo, so let's not give Nike the Nobel Peace Prize just yet). So tight that it squeezed some whiskers out of Michael Phelps' pores.
How come the national soccer crest, which normally appears on the jersey and shorts of the American men's and women's soccer teams, has been missing (or sometimes covered up or obscured) on both American teams in Beijing?
Actually, quite a few countries aren't wearing their national crests. According to ESPNSoccernet contributor Ives Galarcep, the reason is that such logos are banned by the International Olympic Committee. "If you have seen other teams with crests," he writes, "it is because the national federations for those countries have ignored the IOC mandate, and are subject to fines by the IOC." This has been particularly controversial in Brazil, where the banishment of the five-star crest has ruffled a few feathers.
Is this a newfangled tiki torch that I can set up in my backyard?
Nope. And this isn't a roll of wrapping paper, this isn't a whisk for your kitchen, this isn't a candleholder, and this isn't the latest razor design from Gillette. Each of those is an official Olympic torch design from the past century. You can see a really cool torch timeline, complete with background info on each design and some audio commentary on the torch's evolution throughout the years, here.
Please settle a bet: I say the entire American team was recruited from a country club, but my friend insists they're from a yacht club. Who's right?
Neither of you. The American squad is actually the entire student body of Choate. (They get extra credit as part of the deal.) For further thoughts on the Opening Ceremony attire, look here.
Who designed those USA outfits, anyway?
It's a deep, deep mystery. Whoever it was, he sure was subtle about it.
Is there a "Nike conspiracy" regarding the USA men's basketball team?
Granted, Uni Watch has occasionally had some issues with Team Swoosh, but this time around there are plenty of other voices wondering whether there might be something rotten in Denmark Beaverton, Ore. First, it didn't take people long to notice that Dwight Howard is the only non-Nike player on the USA hoops squad. Then the team posed for this photo, which attracted attention because Howard (that's him holding the ball at far left) is the only one whose sneakers are obscured and who isn't exposing his shorts logo. Coincidence? Maybe, or maybe not.
Then there's Nike's "Road to Redemption" documentary, which chronicles the team's story. Uni Watch hasn't watched it, but TrueHoop's Henry Abbott has, and he recently wrote the following (excerpted from the middle of this page): "I wondered if Nike would have the nerve to keep the one non-Nike athlete, Dwight Howard, from the spotlight. It's galling: Howard is a ghost. Almost never on the screen at all. We are told again and again that nothing matters more than representing your nation, being a selfless teammate, and being patriotic. Then we don't see Dwight Howard, and we do see archival footage of Michael Jordan covering the Reebok logo on his Team USA warmups with an American flag. So, nothing matters more than all that stuff, except perhaps your choice in sports apparel brands." Again, coincidence? Draw your own conclusions.
Hey, speaking of Nike and the USA basketball team, why'd they choose white lettering on a white jersey, which makes the players' names almost impossible to read?
Good question. It's an inexplicable design choice, but you already know who all these guys are anyway, so save your energy for more relevant questions, like why the Chinese team's uniform numbers appear to have been applied with yellow electrical tape.
There are so many corporate-branding shenanigans going on -- can't you pick on someone else besides Nike?
Sure. You may have noticed that American beach volleyballers Phil Dalhausser and Todd Rogers have been wearing sunglass frames with no lenses (no, they're not clear lenses -- they're really just lens-free frames). Why? Because their lenses were fogging up, but they didn't want to scrap the eyewear altogether because they have an endorsement deal with Oakley. So going with the plain frames allows them to keep wearing the Oakley "O."
Hey, speaking of eyewear, has the British women's field hockey team been overrun by zombies?
Nope. They're just wearing tinted contact lenses.
How do you pronounce "dressage"?
"Flip over to the ballgame and see if the rain delay is over yet."
What's the worst coaching attire you've seen so far?
No question: The shirts being worn by Belarus' women's basketball coaching staff. Put on sunglasses before taking a closer look.
Aren't you gonna include a gratuitous shot of female beach volleyball uniforms?
Yeah, but only as another excuse to poke more fun at Nike. (For actual beach volleyball uni analysis, look here.)
Well, at least all this talk about branding keeps us from talking about international politics, right?
Yeah, until you check out the Chinese Taipei softball uniforms. Kyle Whelliston, who runs this Olympics blog (and is also an ESPN.com contributor), explains:
As you probably know, Taiwan (or its preferred name, the Republic of China) considers itself to be an independent state, and China disagrees to the point of insisting that Taiwan's government is illegitimate. The only reason the Olympic Movement refers to Taiwan by that name at all is so as not to damage China's pride. There was a major conflict between the Olympic organizers and Taiwan in June, when they insisted that Taiwan march in the Opening Ceremony as "Taiwan, China." (They dropped it, but the subtle difference between descriptive adjective and comma'd possessive is a huge point of contention.) So then the softball team showed up in Beijing wearing the most amazing display of swallowed pride I've ever seen on fabric -- you can barely read the "Taipei." I don't remember any of their baseball uniforms in past Olympiads being this politically conciliatory.
Indeed, they're still wearing those "CP" baseball uniforms in Beijing, and their uniforms in the 2006 softball world championships featured "Taipei" in larger type than "Chinese."
Any other random tidbits worth mentioning?
Marc Gasol, playing for Spain's basketball team, is wearing his first name on his jersey, so you'd figure his brother, Pau, would be wearing his first name as well, right? Wrong. Meanwhile, teammate Raul Lopez is wearing his first name -- even though he's the only Lopez on the team. … Spain's women's hoops team members are wearing little basketball symbols on their socks. … Uni Watch has always liked this look. Glad to see the Australian women are still wearing it. … Brazil's libero has a volleyball tattooed on her leg. … The Russian basketball uniforms appear to have been cobbled together from discarded pajamas. … David Nalbandian's shirt has a really cool collar. … If swimmers are so obsessed with hydrodynamics and eliminating drag and all that, why do some of them wear earrings?
What will Brett Favre be wearing as he wins the decathlon?
Very funny, smart guy. The truth, of course, is that Favre is slated to sweep the gold in heavyweight boxing, weightlifting, fencing, archery and rhythmic gymnastics (just to show he's secure with his masculinity). And he'll be wearing Wrangler jeans and stubble for all of them.
(Special thanks to the many Uni Watch blog readers who contributed research assistance, including Mike Vanne, Jeremy Brahm, Jeff Barak, Jonee Eisen, Ronald Covert, Dawn Santin, Sam McCullough, Vince Grzegorek, and Uni Watch bench coach Bryan Redemske.)
---
Didn't They Used to Wait Until September?
Don't look now, but football season is upon us. Uni Watch will have comprehensive coverage of the season's many NCAA uniform changes on Aug. 28, and the annual NFL season-preview column will follow a week after that.
Stumptown Road Trip
Have you ever suspected that there might be others out there like yourself? That you might not be the only one who obsesses about whether Mark McGwire's name should be styled like this or like this?
It's true: Fellow uni watchers walk among you, but it's hard to pick them out on the street. Fortunately, Uni Watch will be passing through Oregon this weekend and will be convening a gathering in Portland, so you can come out and meet a bunch of your fellow uniform enthusiasts. We'll be meeting up on Sunday at 2 p.m. at Kay's. Uni Watch's ESPN.com colleague Rob Neyer (who has a pretty good eye for uniform details himself) will be on hand as well, so this event should offer the opportunity to discuss sabermetrics and sleeve lengths in equal measure. Unprecedented! See you there.
Paul Lukas reminds everyone that the Olympic torch relay is why they invented the phrase "Don't try this at home." His Uni Watch blog, which is updated daily, is here, his answers to Frequently Asked Questions are here, and his Page 2 archive is here. Want to learn about his Uni Watch membership program, be added to his mailing list so you'll always know when a new column has been posted, or just ask him a question? Contact him here.