In case you hadn't noticed, there has been a steady buzz of excitement and hullabaloo emanating from Colorado in recent days, and it's slowly building to a fever pitch.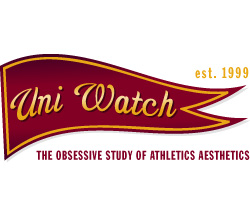 No, not that hullabaloo. Uni Watch is referring to the fuss over the University of Colorado's new football jerseys, which feature these weird shoulder panels pockmarked with raised resin dots (for further details, look here). The overall effect looks sort of like inverted epaulettes, or maybe just a high-tech version of candy dots.
Colorado's new look (which will make its on-field debut this weekend, when the Buffs open their season against Colorado State) is probably the most radical Division I FBS uniform revision for the upcoming season. It's already generated a lot of reaction, most of it negative. But Uni Watch, usually no fan of Nike's design shenanigans, is intrigued by this one. In a football world where everything is increasingly slick and shiny, the shoulder dots provide a welcome sense of texture, which makes them a de facto throwback to the leather jersey strips of yesteryear. Still, it's impossible to be sure how this design will look until we see it worn with full pads, so let's wait and see how they look on game day before rendering an official yea-or-nay verdict.
No wait-and-see is necessary at Oregon State, where the Beavers will definitely look a lot better this year. To understand what they've done, take another look at the Colorado jersey and focus on the negative space between the shoulder panels, the collar, and the gold chest stripe. That space essentially forms a sports-bra shape, which is what everyone ridiculed Oregon State for wearing last year. Thankfully, they're switching back to a conventional design template this year (here's a closer look).
With the Division I FBS schedule set to kick off Thursday night and swing into high gear on Saturday, here's Uni Watch's annual back-to-school rundown of the season's other uniform changes, adjustments, and developments -- more than three dozen strong -- broken down by conference:
ACC

• Clemson is wearing a 75th-anniversary patch for its booster club, IPTAY (which originally stood for "I Pay Ten a Year").
• If you dress exactly like the Indianapolis Colts, will your quarterback perform like Peyton Manning? Probably not, but Duke is gonna find out. Yeah, it's derivative, but it's better than the characterless design they'd previously been wearing. Also: The facemask, which had been black, is now gray.
• Minor adjustment at Florida State, where the uni numbers are now sewn-on tackle twill instead of heat-pressed.
• The good news at Georgia Tech is that the Yellow Jackets will now be wearing white jerseys at home. The bad news is that they've traded in this and this for this -- woof! You know you're scraping the bottom of the design barrel when your uniform is based on an Arena League template. Thing is, the jersey could've been soooo much better if that horiztonal chest stripe had been left out, as you can see in this Photoshop job. Too bad they didn't go that route. Lots of additional photos here and here.
• Maryland has never given out merit decals for players to wear on their helmets. But according to this article, coach Ralph Friedgen may start using Terps stickers this season.
• Miami has added a black alternate jersey.
• Remember that weird little pants squirt that North Carolina began wearing last year? It now has more of a corner on the front edge. In addition, the white collar and cuffs have been banished. There've also been lots of rumors about a navy alternate jersey -- a potentially controversial move, because the prospect of the Tarheels wearing non-Carolina blue has many fans aghast. So will they actually wear the navy top? On Wednesday a UNC spokesman told Uni Watch, "We have not made a decision to wear an alternate/dark jersey in a game at this time" -- a classic non-denial, which means they'll probably wear it but aren't ready to say so yet.
• Odd mix of revisions at NC State. On the plus side, the black piping on the jersey and pants is now gone, but the clean, streamlined effect is cluttered up by that huge chest logo (not to mention the rear neckline logo, which is always a bad idea). Lots of additional photos here.
• Virginia will wear throwbacks on Sept. 6, but the athletic department is keeping the design secret for now.
• Big changes at Virginia Tech, which is switching from this to this. Many readers have already weighed in with thumbs-down assessments of this one, but Uni Watch likes it. The side panels don't look bad at all because they don't extend down to the waistline (so much better than this style), and the rear view is relatively straightforward. The only problem: the uni number typeface, which is way too choppy (and also includes an open-top "4," something rarely seen on sports jerseys). Also, depending on the light, the different fabric across the chest area can look like a sweat stain. In addition, the Hokies will be wearing a throwback "white-out" uni for their home opener on Sept. 6. More details on that here.
BIG EAST
• Cincinnati has gone from bad to worse, although they may be the first football team with rear-view vision. Lots of additional photos here, if you dare.
• Pitt is marking the city of Pittsburgh's semiquincentennial (i.e., its 250th anniversary) with a helmet decal.
• Another season, another uni revision for Syracuse, and this one's a keeper. The vibrating colors used last year have been softened by the addition of white to the color scheme. Even the helmet logo, which was just navy on orange last season, now has a white outline, and the center stripe now has white as well. Lots of additional pics here, and there's a good analysis here.
• USF has changed from Nike to Under Armour -- note the new typeface and the collarbone horns (the latter of which are more apparent on the green jersey). Lots of additional pics here.
BIG TEN
• Illinois will be wearing 1950s throwbacks for their home opener Sept. 6.
• Indiana has apparently added a white helmet stripe, although this photo is the only visual evidence so far.
• Michigan has switched from Nike to adidas. No major changes to the home jersey (unless you count the little inspirational messages stitched into the inner fabric), but the road whites now have some unfortunate wraparound piping (which offends some fans because they think it looks too much like West Virginia, but offends Uni Watch because it just looks idiotic). There's a really good video clip about all this, which you can access on this page -- click on "Topics," choose "Football" from the drop-down menu, and then scroll down to "Countdown to Kickoff - Day 23." In addition, there's a good article about the Nike/adidas brand changeover here, and a press release here.
• Michigan State has added green pants striping.
• Minnesota has gone from old-school to modern, switching from this and this to this. Lots of additional photos here and here, and further details here.
• Ohio State's been wearing black socks in recent years, so it was surprising to see them going with white hose in this recent team portrait. But they were back in black for this magazine cover shoot. Uni Watch hasn't been able to get the full scoop on this highly pressing matter, so we'll have to see what they're wearing when they take the field against Youngstown State this Saturday.
BIG 12
• Several small adjustments for Baylor's helmet: The center stripe has gone from green to green-white-green; the outlining on the BU logo has gone from green to white; and the facemask has gone from green to gray.
• Iowa State is switching from this and this to this. Looks sharp, but also looks a lot like USC, no? Further details here.
CONFERENCE USA
• Remember last year's Kentucky uniform? Change the dominant color to red, switch some letters around, and you've basically got this year's Houston uniform, which is a major step down from last season.
• Big congrats to SMU, which has come up with the best makeover of the year, going from last year's pointless mediocrities to a more classic look. Additional views of the helmet here and here.
• Here's a weird one: Southern Miss will be wearing little decals on their facemasks.
• Major downgrade for UAB, which has traded in its clean, classic look for this, plus their helmet logo has been downsized to make from for an LSU-ish acronym treatment. Pfeh.
MOUNTAIN WEST
• UNLV has switched from Russell to Nike, with tragic results. Additional photos here, and further info here and here.
• Utah has switched from Nike to Under Armour (here's a rear view). Additional images here and here.
PAC-10
• Arizona State has a new 50th-anniversary logo (for Sun Devil Stadium and for ASU itself, which was a teacher's college prior to 1958), which will be worn as a helmet decal.
• Cal, which had been using a Broncos-ish template, is now playing up the "Golden Bears" angle, with lots of claw marks and slash graphics on the pants, chest, and shoulders. Additional images here, and further info here.
• Oregon will be wearing a memorial helmet decal for Todd Doxey, who drowned in a tubing accident this summer.
• Stanford has eliminated black from its color scheme and gone back to its pre-2002 look. So the black shoes from last year are now white, the black-cardinal-black helmet stripe is now just cardinal, and all black trim has been removed from the pants (just two cardinal stripes now, without the black center stripe) and jersey (no more black collar and cuffs).
• Washington State has long been the only major college team with two helmet designs (silver at home and red on the road), and now they'll have two different helmet logos. The stylized "WSU" that's been used since 2000 will still be worn on the road helmet, but the old-school "Cougars" script, which in recent years has only been worn in the annual Apple Cup game, will now be featured at home. According to this article, expect a major uni overhaul next season, when the school's outfitter switches from Russell to Nike.
SEC
• Uni Watch's gravest sympathies go out to fans of Arkansas, where a classic look has given way to some serious nonsense. The white swoops around the ribcage supposedly represent razorback tusks, which would be fine except for two things: (1) This is the exact same template adidas is using for Michigan's new road jersey, and nobody's claiming that that design has tusks. (2) Tusks, um, don't grow on ribcages. And amidst all the obvious deficiencies in this design, here's a non-obvious problem: If your last name is longer than "Fish," your nameplate is going to collide with the rear shoulder stripes. A failure on every level. (Masochists can find a video clip of the uni's unveiling embedded on this page.)
• Kentucky is another team switching to Nike's sports-bra template, but they're keeping it solid-colored. Man, that's a lot of seams and panels, but they all blend in when viewed from a distance. Certainly no sillier than last year's design.
• Lots of little changes for Tennessee. The TV numbers, which had been on the shoulders, have been moved down to the sleeves. Player names on the road jersey, which had been black, are now orange. And orange pants have been returned to the wardrobe mix, but now they'll be striped, instead of the solid citrus knickers worn in last year's SEC championship game.
• Vanderbilt has a new gold jersey (additional pics here). No photos yet of the white and black versions, but they'll follow the same newfangled template as the gold design, instead of the old-school look used last year. For additional info, look here.
SUN BELT
• Florida International, which had looked like this, will now dress like this. As you can see, this is yet another team going with adidas' ribcage tusks. Further details here.
WAC
• Hawaii has switched from Nike to Under Armour.
• Idaho is changing from this and this to this. Gotta like the gold pants -- an upgrade.
• Two small helmet changes for Louisiana Tech: They've added a blue border around the "T" and slightly streamlined the state silhouette. Here's last year's version for comparison.
• Nevada has new uniforms, but the athletic department is being inexplicably hush-hush about it. For now, all they're confirming is that the facemasks have switched from blue to gray. The rest of the new design will be unveiled Saturday.
Know of any college gridiron uniform changes that Uni Watch missed? Send your contributions and observations (Division I FBS only, please) here.
(Major thanks to Uni Watch bench coach Bryan Redemske for his research assistance, and to all readers who've contributed uni-change news over the past several months.)
Paul Lukas expects to have a much livelier college football preview column next year, when Oregon is due for a redesign. His Uni Watch blog, which is updated daily, is here. Want to learn about his Uni Watch membership program, be added to his mailing list so you'll always know when a new column has been posted, or just ask him a question? Contact him here.