The first week of the pre-Super Bowl break is a good time to clear the decks and catch up on things before the serious Super Bowl hype kicks in next week. As always, Uni Watch will have a full uni-based preview of the big game, but that can wait until we get closer to kickoff. Here's some other uni-related news to tide you over until then: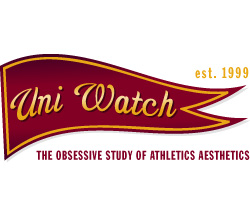 ITEM! 'Tis the season for all-stars: Three of the four major sports leagues will be holding their all-star festivities in the next few weeks. Here's a breakdown of how the uniforms will look:
• NHL All-Star Game (Sunday): Hockey's annual All-Star showcase, which is being played in Montreal this time around, has featured embarrassingly weak uniforms in recent years, but this year's designs are a major improvement. The stars on the sleeves represent previous years the game has been played in Montreal, a nice touch. Uni Watch's only major gripe: The number font is annoyingly stylized.
The All-Star Game is also when the NHL likes to test-drive new uni designs for the officials. In 2000 they added an orange stripe down the referee's back, and in 2007 they tried changing the refs' armbands from orange to silver (both experiments were then quietly abandoned). This year they're breaking out a new uni set featuring updated zebra striping, superhero-ish referee arm stripes, and orange outlining on the refs' collars. The plan is for these designs to be adopted full-time at the beginning of the 2009-10 season, but the silver armbands were originally supposed to become a full-time thing as well, and that never happened, so let's wait and see how this one plays out. (Further details on all of this are available here.)
• NFL Pro Bowl (Feb. 8): The nice thing about having an all-star game that nobody watches is that you can dress the players as ridiculously as you want, year after year, and no one will care. The game's low profile notwithstanding, this year's uni set continues the Pro Bowl's proud tradition of comic relief, with two-tone jerseys that are white on one side and colored on the other, along with the usual blizzard of sublimated stars and the annual pants weirdness. As an added bonus, this year's NFC squad will be coached by Andy Reid, who, as you might recall from past Pro Bowls, cuts a rather unique figure in those Hawaiian shirts the coaching staffs are forced to wear. (Alas, no more Hawaiian shirts after this year, because the game is leaving Honolulu in 2010. A pity.)
• NBA All-Star Game (Feb. 15): This season's NBA All-Star Game is being played in Phoenix, a scary prospect for anyone who remembers the last time the game was played there, in 1995. Fortunately, this year's set is a bit more restrained. Will most fans realize that the designs on the shorts are supposed to represent a rising phoenix? Probably not, but it looks pretty good anyway. In fact, the whole package looks sharp, except for the drop-down player names, which are an unnecessary gimmick.
Also gimmicky, but harmless: The uniforms will have lots of little pinholes arranged in specific patterns (super close-ups here and here), which are designed to channel heat away from muscle groups, or provide better ventilation, or one of those other performance-based claims that sound great but probably don't amount to much. Most likely you won't even see the pinholes unless you're watching the game in hi-def. You'll see plenty of special sneaker designs, though. Uni Watch will have a rundown of this year's crop in a later column. (For further info on the uniforms' design and performance features, look here.)
ITEM! 'Tis also the season for misplaced luggage: There was an odd scene last week in NAIA basketball, as the Cedarville (Ohio) hoops team traveled to Mount Vernon Nazarene (Ohio) but forgot to bring their uniforms. So Mount Vernon loaned them an old set of road uniforms, which created a Cougars vs. Cougars situation. This meant the Mount Vernon fans couldn't break out their usual "Let's go Cougars!" chant, so instead they chanted "Where's your jerseys?", possibly history's first uni-centric chant.
Three days later, Nebraska-Omaha's hockey team, ranked 20th in the nation, headed north to play the University of Alaska, but their luggage never arrived. So they ended up borrowing uniforms from a local junior team. (For a more extensive list of lost, stolen or otherwise missing uniforms, look here.)
ITEM! Less than a month until pitchers and catchers: With spring training just around the corner, the Pirates and Rangers will be unveiling new uniform sets Friday. Uni Watch isn't at liberty to show you the designs before they go public, but let's just say you won't have a hard time figuring out which state the Rangers play in.
Meanwhile, the World Baseball Classic will be played again this spring, so teams are starting to unveil their new uniforms and announce uni number assignments. One small change for the American team: In 2007 they went with a classic no-frills jersey, but this time they've added red sweat-stain panels. (And no, those American flag patches are not backwards. The blue field is always supposed to be positioned toward the front, so the flag looks like it's fluttering back as the wearer moves forward. That's why the flag is always oriented this way when worn on the right sleeve.)
ITEM! Clue Train leaves station, Wilpons still not on board: Speaking of baseball, after Uni Watch pointed out that the Mets' new Citi Field sleeve patch puts the "lame" in "lame-o," the story quickly went viral, with the New York Post, the New York Times, the New York Daily News, the Detroit News, Yahoo and even Stephen Colbert all weighing in on the Metsies' sadly inadequate attempt at graphic design. Fans have gotten in on the act, too: Since the patch design bears more than a passing resemblance to a certain pizza chain logo, some fans have come up with suggestions for alternate designs; others have gone for the sarcastic approach.
Despite this avalanche of ridicule, the Mets haven't reached their shame threshold yet. "Everyone has their own point of view," said Mets exec David Howard in the New York Times story, apparently with a straight face. Yeah, and all those points of view are in agreement: The patch is a joke.
It's not too late for the Mets to save face here. An industry source tells Uni Watch that Majestic (MLB's jersey outfitter) didn't begin putting the Citi Field patch on retail jersey orders until the beginning of January, so there aren't many of those jerseys in stores yet. If the Mets could come up with a new patch design quickly enough and get it approved by the MLB brass, they'd only have to cover the relatively negligible costs of manufacturing new patches and recalling and re-patching the small number of jerseys that have gone into the retail pipeline over the past few weeks. (Oh, and they'd have to pay a real graphic designer to design a new patch, but there should be plenty of money in the budget for that, since they obviously didn't hire one the first time.)
Want to help give them a nudge in that direction? The Mets, like all MLB teams, are easy to contact and always eager to hear from their fans. If you think they should call a do-over on that patch, let them know, pronto.
ITEM! Uni Watch party this weekend: The latest Uni Watch gathering will be taking place Saturday, Jan. 24, at 2 p.m., at Sheep Station in Brooklyn. As usual, this will be an informal opportunity for readers to make fun of the Mets' sleeve patch meet and mingle, plus we'll have a special guest this time around: Jerry Dior, the man who designed the MLB logo. Hope to see some of you there.
Paul Lukas figures there's no chance the Cardinals will wear their blood clot uniforms for the Super Bowl, but even the faint possibility of it is keeping him awake at night. His Uni Watch blog, which is updated daily, is here. Want to learn about his Uni Watch membership program, be added to his mailing list so you'll always know when a new column has been posted, or just ask him a question? Contact him here.