A uniform probably can't win a game for you. But it could lose you a game.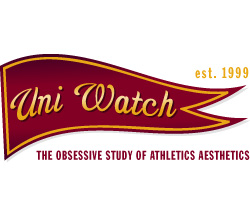 That's the lesson learned over the weekend by North Lawndale College Prep, a Chicago high school that was competing in the Class 3A state semifinals in Peoria, Ill. Before its Friday night semifinal game against Champaign Centennial tipped off, North Lawndale was assessed a technical foul for wearing a uniform that violated uni guidelines set by the National Federation of High Schools. Champaign made one of the two penalty free throws, which means it began the game with a one-point lead -- the same margin by which it eventually won, 66-65. (For further details, look here and here.)
High school basketball is pretty big in Chicago, so it's no surprise that this story was literally front-page news the next day. But is this a travesty of justice, a deserved comeuppance, or something in between?
First, let's take a look at the offending uniform design. Looks normal enough at first glance, until you see the unusual side stripes, which wrap around to the back of the jersey. That striping (which also appears on the team's road jersey) is what earned North Lawndale the T, as explained here. (You can download a full explanation of the uni guidelines here.)
The North Lawndale people say they've been wearing this same uniform design all season long and it had never been a problem until Friday night's game, when an Illinois athletic administrator instructed the refs to assess the technical. And they say the foul's impact went beyond that one converted free throw: Once North Lawndale had been hit with the T, coach Lewis Thorpe wasn't allowed to stand or use the coaching box for the rest of the game (i.e., the entire game), which limited his ability to communicate with his players. So this sounds like a ticky-tack ruling that cost North Lawndale a shot at the state title.
Or at least that's one way of looking at it. But here are some other factors to consider:
• State officials say North Lawndale had received multiple warnings about the uniforms. One of those warnings came during a shootaround the day before the semifinal game, and another one came at a banquet that evening.
• North Lawndale led by eight at the half and by 10 after three quarters. The uniform kerfuffle was probably a distant memory at that point. If they simply take care of business and don't squander that lead, we're not even having this discussion.
• North Lawndale wore the same uniforms the very next day for the third-place game. They were assessed another technical and once again started the game with a one-point deficit and with Thorpe anchored to his chair. Somehow this didn't keep the team from cruising to a 91-77 victory.
• If your uniforms are causing a problem, it's usually not that hard to get your hands on some other uniforms. Just two weeks ago, for example, Terry Sanford High School in North Carolina showed up for a tournament game with its white home uniforms -- a problem, since it was the designated road team. So it borrowed road uniforms from nearby J.H. Rose High and wore the Rose jerseys with its regular white shorts. It made for an odd-looking game, but the Terry Sanford squad avoided being penalized (and ended up winning the game to boot). Did North Lawndale even investigate doing something along those lines?
Is the whole thing sort of silly? Yeah. Was the state official who ordered the technical on a power trip? Probably. But rules are rules, actions have consequences, and it's hard to complain too much when you blow a 10-point lead in the fourth quarter.
One final thought to consider: North Lawndale's offending jersey stripes were nothing compared to the stripes on Coach Thorpe's attire. You could definitely argue that he earned a uni-related T, even if his team didn't.
Paul Lukas thinks North Lawndale's side stripe, whatever its legality, looks stupid. His Uni Watch blog, which is updated daily, is here. Want to learn about his Uni Watch membership program, be added to his mailing list so you'll always know when a new column has been posted, or just ask him a question? Contact him here.